People who refuse to pay their rent cannot get housing so it is everybody elses's fault?
And it was even a subsidized welfare rent. But they can afford to feed pets! Boo hoo!
A Tasmanian family living in a broken down car for the past five months is no closer to getting a home -- with the only offer of help being for their dogs. The Mercury yesterday revealed the plight of Glenn Charles, 32, his partner Shelley, 37, and her daughters Caitlyn, 13, and Courtney, 10. Until this week they were also sharing the car on the Devonport foreshore with a dog and six puppies, but they were seized by the RSPCA on Tuesday because of the unsuitable living conditions.
Mr Charles, who has a life-threatening illness, said none of the many authorities he had approached would help his family. Despite the family's renewed plea for help the only offer of assistance came from a Hobart boarding kennel which said it would accommodate the dogs until the family found suitable accommodation.
No such offers were forthcoming for the family. And if the comments on the Mercury's website are an accurate reflection of the community it is perhaps not surprising. Although the story created a huge response, almost none of the comments expressed any sympathy. Instead Bob of Hobart said "I'm glad they are living in their car -- they don't deserve a state funded house". And Bronwyn said: "He would be on blood thinners to fix the DVTs so he could work, not drop dead any minute although not a bad idea as it is one less to worry about sleeping outside."
Colony 47's chief executive Therese Taylor said the tone of the comments demonstrated how hard it was going to be to educate the community about the complex issue of homelessness. "A very strong blame mentality was revealed in those comments and I don't know how that is going to take us forward," Ms Taylor said. "From the comments it seems people don't care as long as they are all right." She said she found it incredible no one had commented on the welfare of the two young girls. Ms Taylor said although she had no personal knowledge of the case it appeared the family had exhausted a lot of their options.
Director of Housing Tasmania, Mercia Bresnehan, yesterday said although the family had been reclassified as priority one applicants it might be some time before a suitable property became available. Ms Bresnehan also confirmed the application had been suspended because of a failure to enter into a repayment plan for an outstanding debt of $8655 from a previous tenancy.
Source
A little bit of fun
Read the following and see what you think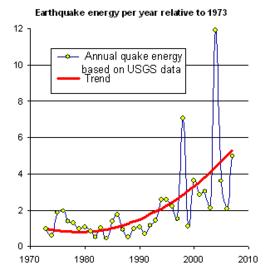 New research compiled by Australian scientist Dr Tom Chalko shows that global seismic activity on Earth is now five times more energetic than it was just 20 years ago. The research proves that destructive ability of earthquakes on Earth increases alarmingly fast and that this trend is set to continue, unless the problem of "global warming" is comprehensively and urgently addressed.
The analysis of more than 386,000 earthquakes between 1973 and 2007 recorded on the US Geological Survey database proved that the global annual energy of earthquakes on Earth began increasing very fast since 1990. Dr Chalko said that global seismic activity was increasing faster than any other global warming indicator on Earth and that this increase is extremely alarming. "The most serious environmental danger we face on Earth may not be climate change, but rapidly and systematically increasing seismic, tectonic and volcanic activity," said Dr Chalko.
"Increase in the annual energy of earthquakes is the strongest symptom yet of planetary overheating. "NASA measurements from space confirm that Earth as a whole absorbs at least 0.85 Megawatt per square kilometer more energy from the Sun than it is able to radiate back to space. This 'thermal imbalance' means that heat generated in the planetary interior cannot escape and that the planetary interior must overheat. Increase in seismic, tectonic and volcanic activities is an unavoidable consequence of the observed thermal imbalance of the planet," said Dr Chalko.
Dr Chalko has urged other scientists to maximize international awareness of the rapid increase in seismic activity, pointing out that this increase is not theoretical but that it is an Observable Fact. "Unless the problem of global warming (the problem of persistent thermal imbalance of Earth) is addressed urgently and comprehensively -- the rapid increase in global seismic, volcanic and tectonic activity is certain. Consequences of inaction can only be catastrophic. There is no time for half-measures."
For further information please read Dr Chalko's scientific article published at NU Journal of Discovery. http://nujournal.net/EarthquakeEnergyRise.pdf. Dr Tom Chalko, MSc, PhD, former Melbourne University academic (between 1982-2001) is Head of Geophysics Division at Scientific Engineering Research, Mt Best, Australia.
Source
It sounds sort of plausible, doesn't it? Until you think about it. How can minor changes in the atmosphere affect events deep down beneath the earth? I downloaded the story from a press-release service that Tom Chalko used to circulate it. So did quite a few other people. No need to think much more about it, however. It is pseudo-science -- as even
a Leftist blogger
pointed out.
The amusing thing, though, is that Associated Press -- the great grand fact-checking news service that newspapers worldwide rely on -- was also taken in and included it in their feed. And even the proudly-fact-checking
CBS (remember Dan Rather?) was taken in
. They have however now taken it down. If you have forgotten the CBS Dan Rather fun and games, see
here
. Once again pajamas beat the (largely mythical) media fact-checkers.
For yet another AP booboo see
here
(fifth picture caption).
Doctors old, foreign and busy
This is pretty absurd. There is no shortage of people wanting to get into Australian medical schools. I sure am glad that my GP has a similar background to mine. It makes visits a lot more pleasant
MORE than half of the GPs working in Australia were born overseas, with one in seven GPs in Queensland having only arrived in the country since 2001. An analysis of data from the 2006 census shows Australia is increasingly relying on overseas-born, ageing and overworked doctors - a situation condemned by a leading health expert as "an absolute crisis" and a risk to patients' lives.
According to the census figures, more than 50 per cent of Australia's 35,000 GPs were born overseas, compared with 22 per cent of the general population. At the time of the census, one in 10 of Australia's GPs - and 15 per cent of those in Queensland - had lived in the country for less than six years. Among specialists, 41 per cent were born overseas, with about 9 per cent here for less than six years at the time of the census. Of those medicos arriving in Australia in the previous five years, one in five GPs and nearly a quarter of specialists came from India.
The figures also show Australia has more older doctors in the workforce, with 12 per cent of GPs and 14 per cent of specialists aged 60 or over. And Australia's doctors are working long hours, with city-based GPs working an average of 49 hours a week.
Founder of the Australian Health Care Reform Alliance, Professor John Dwyer, said the statistics showed the national health system was in a dire state. "At the moment, patients are being very much short-changed," he said. "Definitely lives are at risk." He said the situation was even more worrying in Queensland, with the census figures showing a shortage of doctors compared with other states. Only Western Australia has fewer GPs per head of population than Queensland and only the Northern Territory has fewer specialists per head of population. Data from the Queensland Medical Board showed more than 5000 oversea- trained doctors are registered to work in Queensland.
Incoming Australian Medical Association president Dr Mason Stevenson said many regional and remote areas were heavily reliant on foreign-trained medical officers. "You actually have some hospitals that are manned 80 per cent by overseas doctors," he said. "In fact, outside of southeast Queensland, 50 per cent of GPs are overseas-trained doctors - not just overseas-born, overseas trained. They are indispensable to fill the void."
A meeting of the National Health and Hospitals Reform Commission in Brisbane yesterday heard calls for a 100 per cent Medicare rebate for doctors in rural and remote areas. The Brisbane-based Need More GPs support group also told the commission it should be easier for overseas doctors to move into GP roles.
Source
A separate orthodox branch is justified by homosexual bishops, say Conservative Anglicans
A new "orthodox" movement must be created within the Anglican Communion because of the divisive issue of homosexual clergy, claims a leading traditionalist. Dr Peter Jensen, the Archbishop of Sydney, said Anglican leaders in America had driven the worldwide church to the brink of schism by ordaining the first openly gay bishop, the Rt Rev Gene Robinson, in 2003.
He insisted he and other conservatives were trying to preserve the Communion and remain faithful to scripture by proposing new structures. Dr Jensen said, at the start of a breakaway summit in Jerusalem: "If there is a schism we believe it is the North American churches that have rent the Communion and it is us who are trying to renew the Communion."
As The Daily Telegraph reported yesterday, a document produced by the leaders of the Gafcon conference states that "there is no longer any hope for a unified Communion" because of divisions over homosexual clergy and same-sex unions. Some hardliners say the only way they can remain faithful to scripture is through "amputation" from the Archbishop of Canterbury and the establishment of a new wing outside the existing church.
However Dr Jensen said the crisis over sexuality would just lead to a "realignment" in the balance of power to Africa and South America and a new movement within the Communion. He said issues such as homosexual clergy are of "such monumental significance'' that the creation of a new orthodox branch was justified.
Source