The usual rush to shriek "racism"
It is only racist that blacks get more severe treatment from the legal system if you assume that blacks are just like us only browner. And anybody who knows the first thing about Aborigines knows that not to be so. Even advocates for Aborigines don't say that and governments from both sides of politics have treated Aborigines differently -- and continue to do so. And a major reason for that is the extraordinarily high rate of child abuse and domestic violence among Aborigines -- something that has often been documented and is denied by no-one involved with Aborigines. I have seen quite amazing examples of Aborigine misogyny with my own eyes.

The different treatment of Aborigines can be explained in many ways without invoking racism. For a start, their much lower IQ will often mean that they present poorly in court -- giving little impression of penitence or hope for reform. Secondly, the extraordinarily lenient sentences handed out when tribal custom can be invoked in some way (try 6 month's jail for raping a 13 year-old, for instance) suggests that the justice system leans over backwards to be lenient, with the result that an Aborigine will sometimes be charged with a much lower level of offence than the crime warrants. And the sentence in such cases might well be expected to be more severe that the norm for that category of offence. It is in fact that which would be my immediate explanation for the statistics below
POLICE across Australia are far more likely to arrest young Aborigines and see that they go to court than non-indigenous juveniles, who are considerably more likely to be let off with a warning or caution. A groundbreaking study by the Australian Institute of Criminology to be published today paints a disturbing picture of young Aborigines' contact with police.
It may go some way to explaining why indigenous 10 to 17-year-olds are 28 times more likely to be in detention than non-indigenous youths.
Pulling together for the first time comparative national data on young people's contact with police and the courts, the AIC report reveals the differential treatment of indigenous children doesn't stop at the front gate of the juvenile justice system. In at least two states, Western Australia and South Australia, young Aborigines are more likely to be convicted in children's courts than non-indigenous juveniles for the same type of offences, the report shows. No other states provided data on conviction rates.
In Western Australia, the one state that issued statistics on sentencing, young Aborigines are more than twice as likely as non-indigenous juveniles to be given a jail term after being found guilty.
The AIC study, "Juveniles' contact with the criminal justice system in Australia", finds that in NSW, Queensland, South Australia, Western Australia and the Northern Territory, police are more likely to arrest and refer to court young Aborigines, compared with non-indigenous youths. Information from Victoria and Tasmania was not available.
"(In NSW in 2007-08), 48 per cent of indigenous juveniles were transferred to court, compared to 21 per cent of non-indigenous juveniles," the report says. "And 32 per cent of non-indigenous juveniles receive warnings compared with 18 per cent of indigenous juveniles. "(In Queensland in 2006-07), indigenous juveniles were more likely to be processed by way of arrest (39 per cent) than any other method, while non-indigenous juveniles were more likely to be dealt with via a caution (49 per cent) than any other method of processing." In Western Australia, where half of all juveniles arrested are Aboriginal, 71 per cent of the cautions issued in 2005 were to non-indigenous youths, 29 per cent to Aboriginal juveniles.
SOURCE
Penny-pinching government healthcare system refuses to save seriously ill young woman
Forcing her into expensive but successful private treatment. In their "kind" socialist hearts, they condemned her to death. Now they are in coverup mode and refusing to admit error -- even though she is living proof of their wrong call
THE Department of Human Services has been accused of abandoning a Victorian woman with a brain lesion who survived only because of life-saving surgery interstate. Victorian medicos ruled her condition was inoperable and the DHS has refused to pay $300,000 for the surgery in a private NSW hospital.
Alicia Withington was sent home to die, but the 30-year-old is living proof the Victorian system failed her.
In another twist, the state Opposition has accused the department of hiding documents relating to Health Minister Daniel Andrews' decision not to fund her operation. Details of the case come after a string of controversies involving the DHS, including:
REVELATIONS vulnerable women in state-monitored care homes were trading sex for cigarettes, or being raped.
CLAIMS the DHS was aware of violence in the home of a toddler six months before she died after an assault by her father.
SHOCK details of a man fathering four children with his daughter who he used as a sex slave for 30 years.
Mrs Withington said Victoria's top neurosurgeons refused to operate on her arteriovenous malformations (AVM) - a tangled mass of abnormal blood vessels 12.5cm long in the right side of her brain. "I had a ticking time bomb in my head about to explode and I was told it was too risky to operate," she said. "I feel I was sent home to die at the age of 27."
But Mrs Withington, now 30, who runs a cafe in Ocean Grove with husband Daniel, sought a second opinion. Sydney specialist Prof Michael Morgan agreed it was risky, but operated in March 2008. "No one should have ever said my AVM was inoperable, because here I am today walking, talking and very much alive," Mrs Withington said.
Mrs Withington and other family members have taken out second mortgages on their homes to pay the bill. "The Health Minister, Daniel Andrews, refused to pay it because he said I had gone through the private system in NSW," she said. "It's not like I went to another country." She says the Victorian Government should have funded the operation because it should have recognised it could be successful.
Opposition community services spokeswoman Mary Wooldridge has taken up Mrs Withington's cause, applying under Freedom of Information for documents held by Daniel Andrews and DHS. Officials told her there were no documents held by Mr Andrews' office on Mrs Withington, in correspondence seen by the Sunday Herald Sun. But in a letter obtained by the paper, Mr Andrews discusses with a Labor MP why the Government would not fund Mrs Withington's treatment. A tribunal has ordered the department to answer requests for information.
A spokesman for Mr Andrews said: "It would not be appropriate for the Government to selectively fund private treatments." He said the minister's letter discussing Mrs Withington's plight was not in Mr Andrews' office, but held by the DHS.
SOURCE
Solar Energy Hits the Dust
Dust on a solar panel will reduce its efficiency by up to 50%. See here
The Day Solar Energy disappeared in the Australian Dust Storm (23/9/09). This picture was taken from the office of the Carbon Sense Coalition in south eastern Queensland, Australia.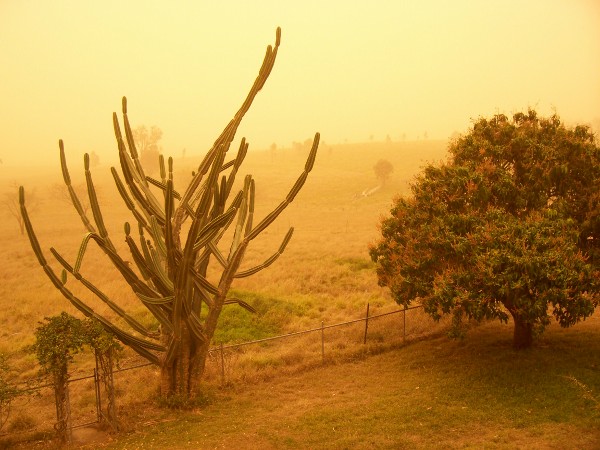 The green coalition in Canberra recently decreed that by 2020, just a decade away, Australia must produce 20% of its power using feeble energy sources such as sunbeams and sea breezes. This Green Plan will require vast areas of dry and dusty Australian deserts to be covered by solar panels.
Have they allowed for the army of cleaning persons and the Murray Rivers of water that will be needed to wash the panels after every dust storm? Maybe this where the Green jobs are coming from, and why Penny Wong is hoarding water permits?
SOURCE
And still they come
More responses to Mr Rudd's welcome mat
TWO more boatloads of suspected asylum seekers have been intercepted by authorities in waters off Australia's northwest coast. Border Protection intercepted a vessel approximately 93 nautical miles northwest of Darwin just after 4pm on Sunday. It was carrying 12 passengers.
About an hour later another boat carrying an estimated 28 passengers and four crew was intercepted seven nautical miles north of Ashmore Reef. All on board the boats are on their way to Christmas Island for security, identity and health checks.
Home Affairs Minister Brendan O'Connor said people smuggling was a worldwide problem and Australia was committed to working closely with its neighbours to address the issue. "Situations around the world mean that large numbers of displaced people are looking for settlement in stable, democratic nations such as Australia," he said in a statement. Such people can "fall prey to people smugglers", he added. "People smuggling is not just an issue for Australia - it is a global and regional problem," he said.
Mr O'Connor maintained recent meetings with government officials in Indonesia and Malaysia "had led to positive steps forward in bilateral and regional cooperation to deter people smuggling".
More than 1,400 people have arrived on 28 unauthorised vessels so far this year.
The opposition wants an inquiry into border protection and believes the increase in boat arrivals is leaving security at sea and airports exposed as customs assets are deployed to the north in increasing numbers.
SOURCE
Even Victoria is now making nonsense of the Greenie "drought" panic
ONCE parched creeks are now flowing across Victoria as reservoirs fill from days of heavy rain and snow after days of wild weather. The weather bureau has issued a string of flood and flood-watch warnings after deluges in some areas, with up to 175mm of snow and rain at Mt Baw Baw in Victoria's high country over the past week.
There are minor flood warnings for the Goulburn River, Macalister River, Westernport catchments. Flood watches have been issued for the La Trobe, Thomson and Avon catchments. And initial minor flood warnings have been issued for the La Trobe, Moe and the upper Yarra river.
Ski operators, farmers and gardeners are among those who have welcomed the much-needed spring rains, which are now drifting east of the state....
Senior forecaster Peter Newham said today there would be a "significant improvement to the weather in the next 24 hours" after nearly a week of rain, although the climate was still "pretty miserable" in the city, with showers in the east and Gippsland region. Forecasters now expect a weak front to pass through the state on Wednesday, bringing the potential for showers.
Mr Newham did not expect the falls to be significant compared with the past week of rain, which also saw heavy falls at Monbulk (132mm) and Marysville (122mm). He said the significant falls had seen most catchments receive 50-150mm of rain, with the reservoirs set to rise gradually as water flowed into them from burgeoning streams. Water catchments are finally seeing some rain soak in, and inflows to dams are picking up to push our storages to 31.3 per cent full....
Spring snow has been falling thick and fast on our ski slopes, with such good cover some operators are staying open an extra week for school holiday fun. There have been falls all across the state. Mt Baw Baw and Mt Buller have been belted with rain, with Mt Baw Baw copping more than 80mm since Friday.
Ski resort owners are rubbing their hands as some of the best falls of the season hit the slopes. Mt Buller and Falls Creek have decided to extend their seasons. Mt Buller spokeswoman Rhylla Morgan said almost 60cm of snow had fallen during the weekend, providing excellent cover. "We were pretty much out of snow and were going to close but I was out today and snow was up to my thighs,'' Ms Morgan said.
Deb Howie, from Falls Creek, said a variety of beginner and intermediate lifts would remain open this week. "It's been an amazing season, we have had almost 35cm this weekend,'' Ms Howie said.
Wet weather looks set to continue throughout parts of the state. Forecaster Dennis Luke said the east of the state would get some good falls at the end of the week.
SOURCE