Bottled water boofheads slowly waking up
You see people, particularly women, carrying bottles around as if their life depended on it. Maybe it would in a desert but not in a modern city
Bottled water producers are facing increasing pressure as the product falls from favour among the industry's most loyal buyers.
Figures provided to Fairfax by Roy Morgan Research show that in the 12 months to September last year 30 per cent of 25- to 34-year-olds said they drank bottled water, compared with 36 per cent in 2007. In the 14 to 25 age group, 33 per cent drank bottled water compared with 35 per cent in 2007.
The industry's opponents believe the numbers show a tipping point has been reached, and bottled water sales will fall as people learn more about a product that is, according to Clean Up Australia chief Ian Kiernan, "a bloody disgrace".
The Australasian Bottled Water Institute claims volume growth is expected to be between 7 and 8 per cent this year, but concedes there has been a marked drop in the number of young people buying the product.
"We think it's due to a number of reasons," says the institute's chief executive, Geoff Parker. "Maturity of the category is part of it, the anti-bottled water detractors are good in their messaging, and other categories within health and wellness, such as iced teas, are doing very well."
The fall among younger people is heartening for those who see bottled water's success over more than a decade as built on scare campaigning and environmental damage. There has been a long battle between industry representatives and opponents.
The central argument of proponents is that people are entitled to free choice and bottled water is a good option compared with sugary soft drinks. They claim to support increased water consumption from the tap, bubbler or bottle.
Opponents say the industry is pushing a product that makes huge profits from a precious natural resource, has no dietary benefit compared with tap water and produces large amounts of waste.
"It's really encouraging to see such a drop in consumption of bottled water among young people, because as they grow up, the overall market is definitely going to decline further," says Jon Dee, the managing director of activist group Do Something!
"Once you stop the habit at a young ages, it carries through. We've finally reached the tipping point."
Dee says the reason the volume of bottled water sales still grew, despite fewer people buying it, was that the companies were doing "two-for-one promotions" as the product was so cheap to make.
By way of illustration, the NSW Office of Water says the cost of applying for water supply works approval ranges from $2257 to $5889. If approval is granted, a company pays the annual charges set by the Independent Pricing and Regulatory Tribunal. The tribunal says the cost of water extraction is about $5.50 to $6.50 per megalitre - one million litres.
Sally Loane, director of media and public affairs at Coca-Cola Amatil - which sells about half of Australia's bottled water - says the company buys water at prices set by licence holders. It then sells the bottled product to retailers at wholesale prices, and the retailers determine the cost to consumers.
"There are massive costs involved in setting up the bores, then monitoring them, making sure everything's sustainable, the ongoing hydro-geological tests … There are very big costs involved," Loane says, adding that the company has invested heavily in producing light plastic bottles. Loane says the product's retail price "comes down to what people are willing to pay".
"If people didn't want bottled water, the industry would go broke," she says. "The fact is it's demand-driven and people want it."
But Dee describes the supply price as "a scam". "You look at petrol - it goes through a massive production line to get to the point where it can be used," he says. "Yet bottled water is twice the price. It's a huge con."
Mineral or spring water is sourced from groundwater reserves. Bottled water may also come from treated municipal water or rain. The final product must comply with the Australian Food Standards Code.
"People think they're just using the water that comes out of the spring," Dee says. "But the quality of spring water much of the time isn't that great. It has to be filtered, just like tap water."
Tap water contains fluoride. Jason Armfield, a senior research fellow at the Australian Research Centre for Population Oral Health, says the association is investigating the links between bottled water and the increasing rates of childhood tooth decay.
"There's a general perception that drinking bottled water is good for you," Armfield says. "Compared to drinking soft drinks, it is. But it's not healthier than drinking fluoridated tap water. There's been an increase in the number of children suffering dental decay, and bottled water may be one of the contributing factors."
A more easily measurable impact is waste. Kiernan says more than 12 per cent of all rubbish collected on Clean Up Australia Day last year was soft drink and water bottles.
"These bottles last 450 years or more," he says. "They break up into smaller pieces … It gets ingested into the food chain, which then gets ingested by us all, with toxic effect. It's sinister."
Kiernan says "brilliant marketing" is behind bottled water's success, despite the fact it comes in a petro-chemical container and is much more expensive than petrol.
"Meanwhile, the cost of what comes out of the tap - which is the best quality water you can get - is two cents a litre," Kiernan says.
"How mad are we? Most of these water bottle companies are multinationals - Coca-Cola, Schweppes … and what they're doing is stealing our aquifer water. It's ours, not theirs. They're stealing it and then selling it to us in plastic containers. It's a bloody disgrace."
Loane says Coca-Cola Amatil's move towards lightweight plastic containers is a reaction to consumer sentiment. It is hoped smaller producers will follow suit.
But Jeff Angel, executive director of the Total Environment Centre, says there's a lot of ground to make up. "The recycling of plastic bottles is down into the low 30s," Angel says. "One of the reasons is that a lot of plastic bottle drinks are consumed away from home.
"But people are starting to realise this is one of the dumbest consumer products ever to appear. You can't get Coca-Cola out of your tap at home. You can get water. Yet people still want to buy it. It's consumerism gone mad."
Angel suggests a reason for the drop in consumption could be that people are getting used to filling water containers at taps and carrying them. And councils are starting to install more bubblers, for example at Manly and Bondi beaches. "The damage to the environment from plastic bottles is so serious - the CSIRO estimates up to 50 per cent of marine plastic pollution is from beverage containers - we have to set up systems that massively reduce the number of plastic bottles left in the environment," he says.
But Parker suggests the environmental concerns on the subject are overblown. He says bottled water has "the lowest environmental footprint of any commercial beverage".
"Over the past decade the industry has made significant progress with lightweighting, which is about using less plastic to make the bottle," Parker says.
"Some of those 600ml bottles now are hovering around the 10 or 11 grams of plastic, which is pretty light. People talk about landfill, but the whole bottle is recyclable. All people need to do is put it in the right bin and the recycling takes care of itself."
Parker says the bottled water industry uses 650 million litres of underground water a year, just 0.001 per cent of Australia's national supply, "a pretty small drop in the proverbial bucket".
Tap water is the best option for consumers, Parker admits, but bottled water is not in competition with tap water.
"Bottled water competes with the beverages it sits next to on a supermarket shelf or petrol station fridge, not water from a tap.
"As an industry, we're all for people drinking more water from whatever source - be it from the bottle, the tap or bubblers," Parker says.
"A nation that ranks fourth in the OECD for obesity should be drinking more water. But we're not for promoting one particular source of water to the detriment of another.
"We're not for things like the sleepy little hollow that's Bundanoon a few years ago implementing an unofficial ban on bottled water. We're against those draconian measures. If Manly wants to put in more bubblers, fantastic. But let all the shop owners there and the visitors to Manly have a free choice over what type of water they want to consume. It's about free choice."
SOURCE
Qld. State Government to combat classroom assaults on teachers
THE State Government says violent children in schools will be booted as new figures show 600 Queensland teachers successfully sued for $2 million in the past 2 1/2 years as a result of injuries sustained in the escalating battle against classroom assaults.
WorkCover claims obtained by The Sunday Mail under Right to Information laws show teachers are increasingly subjected to student assaults, including bites, kicks, punches and being hit by furniture that has been thrown at them.
Education Minister John-Paul Langbroek said violence would not be tolerated and he had been asked by Premier Campbell Newman to this year come up with a plan to toughen school discipline and give principals "more teeth".
He said there was no doubt student bad behaviour was the biggest issue facing schools today but the key was to not "give them an inch".
"Principals tell me that their greatest problem is dealing with behavioural issues," Mr Langbroek said.
"We need to make sure we can crack down at an earlier level by getting rid of a lot of red tape that currently exists.
"If you let them get away with things we end up having some kids who are belligerent enough to think that they can keep getting away with it.
"I want to make it so the principal can act immediately and that will give them (students) a bit of a shock, but that precise detail I'm still working on."
Mr Langbroek said when he attended Sunnybank State High School in the 1970s, the worst he saw was verbal abuse.
The Queensland Teachers Union said it was harder than ever being a teacher, which was backed by WorkCover claims showing that along with attacks, they're being spat on and forced to restrain "aggressive" students.
Union president Kevin Bates said the problem was two-fold: an increasing lack of respect from students for people of authority, and teachers being unprepared for the challenges that await.
"Clearly teachers are coming under increased risk and threat from physical violence in their day-to-day work," Mr Bates said.
"Within our community people are desensitised (more) to violence.
"There's much greater need for professional development for teachers in terms of how do you manage situations and avoid escalation."
Overall, an average nine teachers a day are being paid out WorkCover claims, with 4193 made since July 1, 2010, worth $18.39 million, triple that of previous years.
Most of the claims were in response to accidents or wear and tear, but Mr Bates said many so-called accidents masked other violent attacks.
"I know I've come across a lot of examples of people hit in the head with a ball, ostensibly an accident," he said.
"In the circumstances it's a situation where you can very easily argue that in fact it was a deliberate action to injure or intimidate the teacher."
The most that was paid out to a teacher by WorkCover was $642,194.50 after being exposed to asbestos.
SOURCE
Early parole not working with re-offending rife
ONE in three Queensland criminals who are spared jail or are released early from prison break the law again within two years.
Community frustration about how prisoners are sentenced, coupled with new national recidivist data, looks set to spark tension between State Government and the judiciary.
Attorney-General Jarrod Bleijie is now "considering the issues" surrounding court-ordered parole handed down by judges.
"There is a genuine concern in the community that offenders receive immediate court-ordered parole without serving actual jail time," Mr Bleijie told The Courier-Mail.
"I know there are concerns within the community about people not serving jail time and I believe offenders should be made to earn their parole."
The 2013 Report on Government Services reveals that, at 32 per cent, Queensland had the nation's highest rate of offenders sent back to jail or community corrections orders for committing more crimes or breaching their reporting conditions. The transgressions happened within two years.
Eligibility-based parole is determined by the Parole Board, however, court-ordered parole is a fixed date dictated by the court at sentencing.
Asked if parole was working, Chief Justice Paul de Jersey said it served several purposes.
He said courts exhausted non-custodial responses before imprisoning offenders.
"Actual imprisonment bespeaks a real criminal orientation and a real risk of re-offending," he said. "Ultimately the best chance of avoiding that situation is to ensure an optimal rehabilitative effort during incarceration."
A Queensland Corrective Services spokesman said the approach was "to be tough on high risk and high impact crime".
SOURCE
GREENIE ROUNDUP
Three current articles below
Marine park poorly conceived
Up to 150 mantas have been spotted by divers off Lady Elliot Island after a spike in nutrients flushed out by record flooding at Bundaberg.
Rated as the best place on the planet to dive with the marine creature, Lady Elliot is home to the Project Manta survey.
The project's latest research shows the graceful animals can migrate up to 3000km every year.
Scientists also found they stop at "cleaning stations", the aquatic equivalent of a fishy car wash, where smaller fish nibble off dead skin. Popular sites are North Stradbroke Island and Osprey Reef in the Coral Sea.
But the Osprey Reef site is under threat, with outraged dive operators and researchers condemning as a "sham" the latest plans by the Federal Government to lock up nearly a million square kilometres of the Coral Sea in the world's biggest marine reserve.
Underwater filmmaker Richard Fitzpatrick said the giant mantas were at risk because the critical "cleaning station" site known as The Entrance, on the western side of Osprey Reef, was unprotected under the plan.
"(Federal Environment Minister) Tony Burke has singled out Osprey Reef yet he has failed to protect it," the Emmy-award winning diver said.
"Green zones are useless unless they take in movement patterns of animals. The plan takes no notice of the science."
Veteran dive operator Mike Ball said the new no-go zones need more bite to protect sharks and manta rays.
Osprey Reef, a 2km-deep seamount that plunges into the deep blue, is the state's only underwater shark feeding dive site and an iconic $16 million-a-year dive expedition destination.
Mr Ball and others want a 3km-wide no-go fishing zone to protect the entire seamount, 140km outside the Great Barrier Reef.
The 25-year veteran of Coral Sea dive expeditions said the whole Coral Sea plan was a sham if it did not protect the most iconic of the isolated ocean reefs.
"There is zero protection for the southwest part of the reef," Mr Ball said.
But aquarium collectors, charter boat operators and spearfishing crews oppose the move to lock up such a vast swathe of the ocean, home to prized black marlin, whales, tuna and swordfish.
Mr Burke said plans would be finalised mid-year before coming into force in July 2014.
SOURCE
Everything is caused by global warming says Australia's official Warmist
Since there has been no global warming for 16 years (even the head of the IPCC says so), he is clearly talking through his anal aperture
CATASTROPHIC bushfires, damaging rain and the most intense heatwave on record this summer are just a taste of what climate change will bring, a new report says.
Climate Commissioner Will Steffen said the extreme weather of 2012/13 was climate change in action, and more events are on the way.
In his Climate Commission report, Angry Summer, released today, Prof Steffen also said Queensland's one-in-100-year flood was one part of a "very, very unusual summer".
"We've been storing extra heat in this system for about a century now, due to increasing greenhouse gases," he said. "When we do the sums, as we do in the climate models, for the next couple of decades you're going to see increasing likelihood of very hot weather and more record hot weather."
That means wilder weather than last summer, when a staggering 123 records were broken throughout Australia in 90 days.
It was the hottest summer, capped by the longest and most extreme heatwave on record. Sydney, Newcastle and Hobart sweltered through their hottest days on record. The average temperature in Australia was 40.3C on January 7.
Rainfall records were smashed along eastern Australia, tropical cyclones wreaked havoc, bushfires raged in every state and territory and tornadoes hit Bundaberg.
Prof Steffen acknowledges Australia has always had extreme weather
. But he argues the way these events are shifting "tells a very, very compelling story" because extreme weather events are occurring in a climate system that is warmer and moister than it was 50 years ago.
Prof Steffen said action taken now to cut greenhouse gas emissions would have a big influence on how hot it would be in the second half of the century.
Climate Commissioner Professor Tim Flannery argues the events of summer didn't happen out of the blue and were forecast decades ago by scientists warning of the dangers of man-made climate change.
"As these record-breaking conditions continue, it gets ever more difficult to deny there is a link between them and human activity," he said.
SOURCE
Cooking Books for Hot Summers
The lack of good history at the BoM makes their pronouncements of "hottest" etc. of dubious worth. It should be remembered that Watkin Tench recorded Sydney temperatures very similar to the recent Sydney maximum in 1790. BoM records are a long way short of 1790 (Yes. 1790. Not 1970) -- JR
The Australian Bureau of Meteorology has "confirmed" that it is been the hottest summer on record in Australia. But I'm sceptical.
The "record breaking hot summer" is apparently a statistical fact derived from simply averaging across 104 or 112 localities - depending on whom at the Bureau is providing the information. No mention is made of how the temperatures for all of these localities have been "corrected" over recent years through the ACORN program [2]. In general the "corrections" are such that temperature records for specific localities pre-1970 are adjusted down, while records for specific localities post-1970 are adjusted up.
In their media release [1] attention is drawn to the town of Moomba in South Australia which apparently had the highest temperature recorded at 49.6 degrees C. Interestingly the station of Moomba only opened in 1972 - this of course is not reported in the same media release.
I've been trying to get a good long temperature series for some rainfall hindcasting that I've been doing for southeast Queensland, and have found that none of the Brisbane temperature recording stations have had any permanence. While once the main temperature recording station for Brisbane was in a bay-side suburb, in recent years the temperature recording station has been moved to the middle of East Brisbane just south of the city's CBD - where coincidently it tends to be hotter.
The Bureau's media release goes on to claim this summer follows a pattern of extremely hot summers in various parts of the world over the last few years.
The phenomena whereby government climate scientists correct the historical temperature record to support their theory of anthropogenic global warming is not unique to Australia. In fact the Australian Bureau of Meteorology may be simply following instructions from The Team. The Team are, of course, that notorious in-group who run policy at the Intergovernmental Panel on Climate Change, the IPCC. In the leaked Climategate emails there is discussion involving The Team focused on the need to reduce global sea surface temperatures, SST, during the early part of the 20th Century by about 0.15 degree C.. By reducing, the blip in SST temperatures for example between 1940 and 1945, it is suggested that the rate and magnitude of global warming for the period 1910 to 1945 can be made to not exceed the rate and magnitude of warming for the 35 year to 2009.
Interestingly recent "corrections down" to historical global temperatures by the Goddard Institute for Space Studies, GISS, have been concentrated in this period, Figure 1. The net effect of the adjustments has been to generate a more smoothly increasing global temperature since 1880, and reduce a warming blip that occurred in the late 1930s and early 1940s.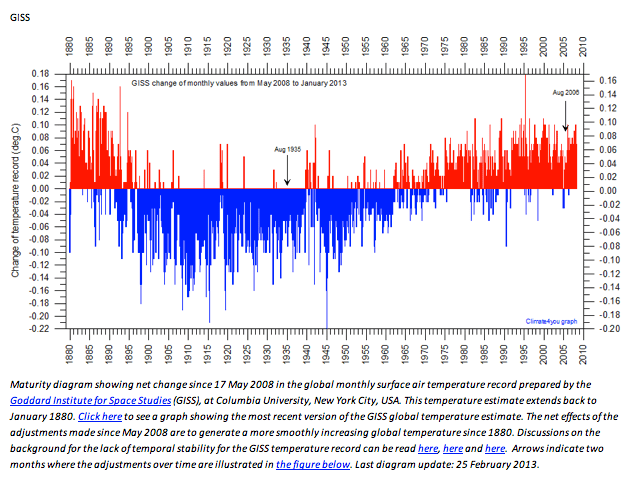 The US National Climatic Data Center has also been making "corrections" to the historical global temperature record, Figure 2. Indeed through administrative means January 1915 can be made to appear significantly cooler than January 2013, Figure 2.
This used to be known as cooking the books, however, of course, our esteemed climate scientists have detailed justifications for all the changes they have been busily making to all the global historical temperature databases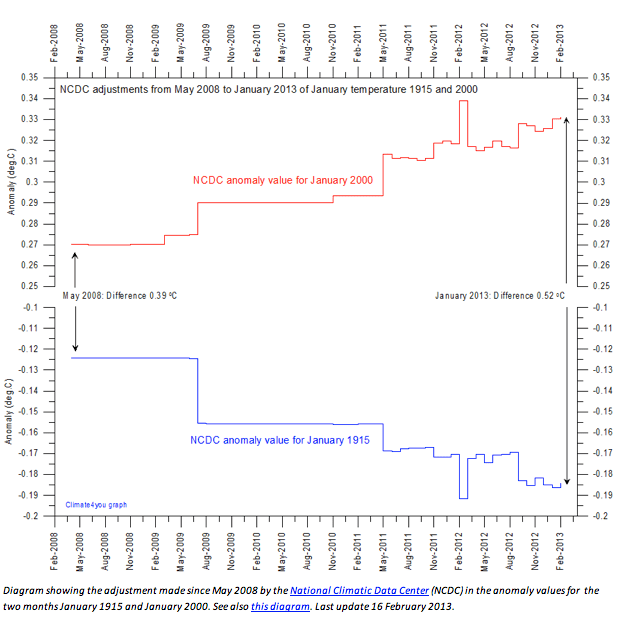 SOURCE