What a pic!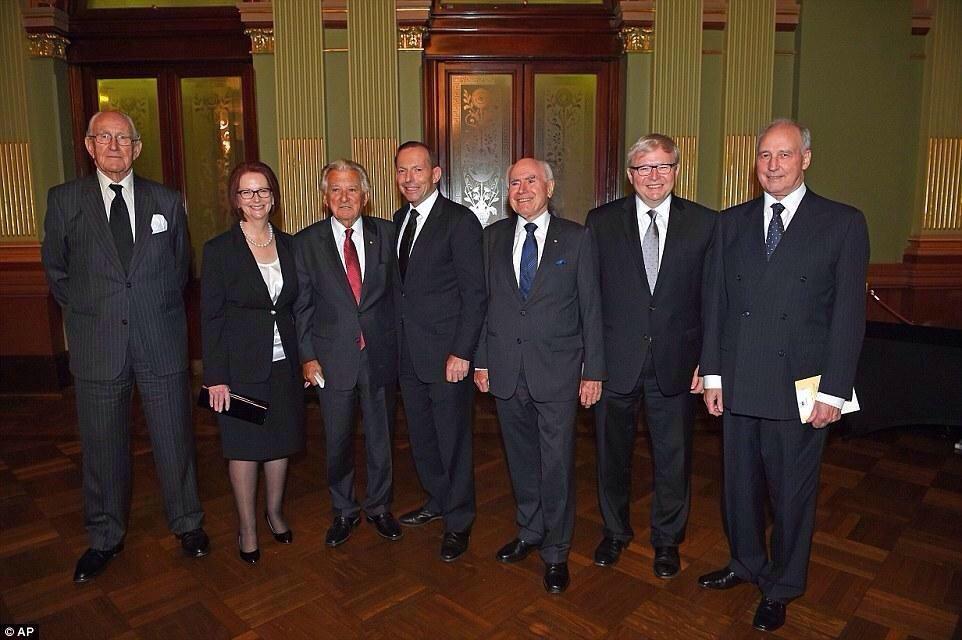 Former Prime Ministers at the Whitlam memorial service. Keating has bulked out
The photo also captured the imagination of social media, which focused on what appeared to be the careful division of political rivals – Julia Gillard and Kevin Rudd, Paul Keating and Bob Hawke, John Howard and Malcolm Fraser, all of them separated by a prime ministerial gap of three in the line up.
There were some rather sickening eulogies during the service, all with a notable lack of balance.
Noel Pearson's speech
was particularly praised. Let me take just one excerpt from that speech:
"In June 1975, the Whitlam Government enacted the Aboriginal and Torres Strait Islanders Queensland Discrimatory Laws Act. The law put to purpose the power conferred upon the Commonwealth Parliament by the 1967 referendum, finally outlawing the discrimination my father and his father lived under since my grandfather was removed to the mission as a boy and to which I was subject the first 10 years of my life."
Pearson neglects to mention that the referendum enabling Whitlam's legislation was pushed through by the conservative Holt government.
He also fails to mention that the old restrictions on Aborigines have to a considerable extent been re-introduced at the behest of do-gooders on both the Left and the Right: Bans on alcohol use in Aboriginal settlements and "income management" for Aborigines only. Whitlam destroyed what he didn't understand and put in nothing to replace it. So it has all been downhill for Aborigines since -- with soaring rates of alcohol abuse and the resultant abuse of Aboriginal women and children.
I could go on ...
In objecting to the media's praise of Whitlam, Andrew Bolt asked: "Will John Howard, a conservative who ruled four times longer and left the economy in wonderful shape, be given this massive and worshipful coverage?"
I think I know the answer to that
And the winner is ...
There were two great races on at Flemington yesterday. And the horse race was a nail-biter as usual: Another amazing finish, marred only by the fact that two of the runners had to be put down after the race. A truly sad aftermath. I had 4 horses in various sweeps and none of them got anywhere!
I always take an interest in the other major contest of the day: The fashions on the field. I know nothing about fashion and for 364 days of the year take no interest in it -- but I figure I can once a year try to inform myself about it. And what I thought I knew was turned upside down yesterday. I thought the winning fashions were bound to be pretty sober and wearable anywhere. That's not what happened. I couldn't get past the winner's aluminium hat!
Anyway, some pix from the great day:
Christine Spielman in her aluminium hat
The dress was OK but are those leather gloves?
The winner with the runners up
Megan Gale let colour do the talking
" />
And the anti-skin rules were not always enforced
More
HERE
Hooray! Federal bureaucrats face pay 'rises' of 0 per cent or worse
Military personnel may be seething over a below-inflation pay offer but federal bureaucrats could receive substantially worse: nothing.
At least two agencies – the Australian Crime Commission and the Australian Research Council – are proposing a 0 per cent pay rise for staff.
If inflation forecasts hold true, that would amount to an effective pay cut of about $2500 to $3000 a year for a typical employee (an executive level 1 officer).
Most attempts by other government workplaces to negotiate higher increases have been knocked back after the Public Service Commission deemed them too generous.
In contrast, the Abbott government has endorsed a 1.5 per cent a year raise for its soldiers, sailors, airmen and airwomen – an offer military families described as "insultingly low". Reserve Bank forecasts suggest the annual inflation rate will be about 2.5 to 2.75 per cent over the next two years.
The federal bureaucracy began negotiating more than 100 separate wage deals for public servants earlier this year but has made little progress.
Under the government's bargaining policy, agencies can only increase staff salaries if they prove to the Public Service Commission that they can pay for them with productivity savings, which are notoriously difficult to measure in the public sector.
The commission, individual agencies and unions remain tight-lipped about the deals under negotiation. The commission said "no enterprise agreements have been approved", but added that agencies did not need its approval if they planned to offer staff no extra money.
Staff at the Crime Commission and the Research Council confirmed this week that their workplaces have drawn up agreements that contain no pay rises.
But despite its 0 per cent offer, it is understood the Research Council, which employs just 120 people, is still struggling to gain approval for the rest of its deal, due to government concerns that council staff have better conditions than other public servants.
The Public Service Commission has informally approved an Australian Financial Security Authority proposal to offer its staff a 0.5 per cent raise in the first year of their agreement.
Authority staff at the top of their pay levels could then receive raises worth about 1.4 per cent in the agreement's second and third years, but only if they cut significantly the amount of sick leave they take.
Prime Minister Tony Abbott said on Tuesday he would like to pay defence personnel more but "until we get the budget back under control, there has got to be general pay restraint across the public sector".
"... I would be very surprised if anyone in the Commonwealth public sector receives more than is received by our defence forces," Mr Abbott said.
The Community and Public Sector Union has applied for permission for staff at several agencies to strike.
Employment Minister Eric Abetz said on Tuesday the union's "unrealistic 12.5 per cent pay claim, backed by threats of industrial action, is neither responsible nor realistic and cruelly raises expectations".
"The CPSU's unhelpful approach seems to be the product of it needing to justify its extravagant claims to save face," Senator Abetz said.
"It would be highly unfortunate if industrial action disrupts the processing of pensions and other payments to vulnerable Australians in the lead-up to Christmas."
SOURCE
The asbestos scare rages on in Canberra
I have followed the asbestos panic for many years but I have seen no evidence that asbestos products used in buildings have ever harmed the buildings' occupants. All cases of mesothelioma were among people working with asbestos. In Canberra they are destroying perfectly good homes in their mania

A small personal anecdote: When my father had his house built he used, as was the fashion then, asbestos cement sheeting ("fibro") to line its internal walls. So between the ages of 5 and 13 I lived in a room entirely surrounded by asbestos products. And the room I mostly live in to this day is similarly lined. So at age 71 am I suffering from mesothelioma? To the contrary, my spirometry is excellent -- JR
Like more than 1000 Canberra homeowners Kathleen Read faces the devastating prospect of being forced to have her home demolished in the wake of the Mr Fluffy asbestos crisis.
But the Watson resident has vowed to fight to save her home of more than 50 years as she believes it never contained Mr Fluffy insulation and has ACT government laboratory results to prove it.
When the quest to find homes with the deadly Mr Fluffy amosite asbestos began in the 1980s Mrs Read and her late husband were shocked to find out their home was one of them.
But it wasn't until halfway through the nine-week clean up in 1993 that contractors working on the home told her husband the home did not contain Mr Fluffy.
It led Mrs Read to insist on the laboratory report, which showed the home contained cellulose insulation and only a "trace" of amosite in an extension added to the back of the house in about 1973 – accounting for about a quarter of the total floor area.
"I feel appalled that we won't told until we actually forced the issue that we didn't even have it in the roof and yet I'm not being treated any differently to the poor unfortunates that have had it in their roofs," she said.
"I'm expected to attach this sticker to the fuse box, and I've decided I'm going to put my own notice in beside it saying 'it isn't [a Mr Fluffy house], it never has been'."
An air monitoring report Mrs Read found in her home after the clean-up showed there were no asbestos fibres found.
Mrs Read believes others may have also had their home mistakenly identified as a Mr Fluffy home and hopes to get a group together to mount a legal battle to fight the acquisition and demolition process.
"I feel very sorry for the people who are finding fibres drifting into their houses, but we've all got our own fight to fight," she said.
"I feel perfectly safe, this is home, this is where my husband and I planned to see in our old age."
She said she would be prepared to allow the ACT government to "re-clean" the extension.
"Rebuild it to my satisfaction and we'll call it quits, which is a lot cheaper than knocking the house done and destroying everything that's been planted over the past 50 years," she said.
But a spokeswoman for the ACT Asbestos Response Taskforce was confident all Mr Fluffy homes were identified correctly and said remediating a portion of a house was "not effective or practicable".
"The Taskforce has matched its list of known affected properties with the properties positively identified and remediated during the original program," she said.
"Demolition is the only enduring solution to the health risks as well as the social, financial and practical consequences of the presence of loose-fill asbestos insulation in homes."
The spokeswoman said the taskforce "strongly" recommended Mrs Read arranged a free assessment of her home by a licensed asbestos assessor to "assist in informing future decisions".
But Mrs Read said she did not plan to co-operate.
"What gives them the right to compulsorily acquire people's homes without compensation?" she said.
The spokeswoman said the buyback program was voluntary "at this time" and sought to accommodate the individual circumstances of affected homeowners, including those who wished to stay in their homes in the medium term.
"Those residents wanting to stay in their homes in the medium term will be required to undertake at their cost a range of risk-mitigation measures such as the sealing of entry points to prevent asbestos fibres entering living areas," she said.
Asanother Mr Fluffy home backs on to her's, Mrs Read said she was cynical about the motives behind the demolition program.
"Deep down, it's a land grab," she said.
"They're going to be able to subdivide a block like this … they've got two houses for the price of one."
It's not the first time Mrs Read has fought the process. She also tried to stop the 1993 clean-up, which she says left her house damaged, with possessions missing.
"I understand how refugees feel ... the only thing is we weren't being shot at," she said.
"Our lives were just taken away from underneath us and the government is going to do it to us again."
The spokeswoman said homeowners would receive more details on the buyback and remediation scheme this week.
SOURCE
Alert - State Education Minister The Hon. John-Paul Langbroek MP and Stephanie Rice to open new Think Education Campus in Brisbane‏
* State Education Minister The Hon. John-Paul Langbroek MP and Olympic Gold Medallist Stephanie Rice will officially open the new, state of the art Think Education Campus in Fortitude Valley
* The new campus took six months to build at a cost of over $5 million
* The campus will cater for over 2000 students studying bachelor-level degrees in business, hospitality, fashion, health and design
* Instead of looking to traditional academic institutions, Think Education have referenced Brisbane's vibrant inner city surrounds and taken inspiration from local bars, restaurants and cafés to create an upbeat and state of the art educational space for local students
* The official opening will also mark the beginning of the Festival of Change, a 3-day educational event featuring over 150 free and interactive workshops across the areas of design, fashion, beauty, health, food, hospitality, and business
When? Friday 7 November, 1030am for a 1045am start
Where? Think Education Brisbane Campus – 90 Bowen Terrace, Fortitude Valley
Via email