Disclose or leave: Immigration Department workers face 'Organisational Suitability Assessments'
Thousands of Immigration Department public servants face the sack if they fail to comply with tough new security tests imposed by their new bosses.
Immigration's 8500 officials have been told they must complete an "Organisational Suitability Assessment" if they want to work at Border Force Australia, the new merged agency combining Immigration and Customs and Border Protection.
The move by the Customs bosses, who are taking up many of the key posts at the top of the merged entity, comes despite all Immigration public servants already holding the "baseline" security clearances that are standard across the Australian Public Service.
But the new requirements go further, probing into past activities in the private lives of Immigration's bureaucrats and those of their families, friends and other acquaintances.
The move comes as part of a general workplace crackdown on Immigration public servants. This also includes being breathalysed and drug tested in their offices under the tough workplace regime.
But a spokesman for the department said the organisational suitability tests were vital to a "unique operating environment" where there were "a range of additional agency-specific factors".
Public servants at the department will begin holding meetings from mid-January to discuss their bosses' decision, due to be implemented when the merged department is launched in July, with the new security environment set to be a hot topic at the gatherings.
There will also be a crackdown on second jobs, social media use and sloppy appearances among the department's public servants, as the Customs agency hierarchy tightens its grip on Immigration.
Holders of a baseline security clearance must declare any criminal or other legal matters in their past, changes to their personal circumstances and even any shift in political or religious belief or affiliation.
But under the organisational suitability rules, the public servants must disclose "criminal or high risk associations, conflicts of interest, criminal history and/or involvement in criminal or illegal activities, compliance with border-related laws, use of illicit substances [and] compliance with the Australian Public Service values".
In Customs, where OSA's have been in force since 2010, officers were told that a failure to take part in the process or getting an adverse ruling would result in employees losing their jobs, or at least being transferred to another public service department.
"For ACBPS [Australian Customs and Border Protection Service] officers, both an endorsed OSA and appropriate Commonwealth security clearance are considered conditions of engagement and essential qualifications," Customs officers are warned.
Immigration officials will now have to conform to an "integrity" framework, already adopted by Customs as part of its ongoing battle against its internal corruption problems, and seen by DIBP officials as another step in what is being referred to internally as the "Customisation" of their department.
A departmental spokeswoman confirmed in a statement that the organisational suitability rules would be a mandatory requirement for Immigration staffers but would not say how many Customs officials had completed the process.
"Due to ACBPS's [Customs'] unique operating environment, there are a range of additional agency-specific factors which must be examined to determine whether an individual or individual's circumstances pose a risk to the mission, resources or people of the ACBPS," the spokeswoman said.
"The OSA is used by the ACBPS to identify and mitigate these risks, and together with a Commonwealth security clearance, provides assurance that an individual is suitable to access ACBPS assets."
SOURCE
Charlie Hebdo attack prompts renewed calls for race-hate law changes in Australia
The deadly terror attack waged on the Paris headquarters of the French satirical magazine Charlie Hebdo has prompted renewed calls to revive abandoned plans to change Australia's race-hate laws.
The former NSW Solicitor-General Michael Sexton says those advocating free speech in the wake of last week's Paris attacks should also support the right of media organisations like Charlie Hebdo to print material which can insult or offend.
Currently, under Section 18C of the Racial Discrimination Act it is unlawful to "offend, insult, humiliate" a person or group of people on the basis of race, colour or ethnic origin. "The journalists in Paris were killed because they published offensive material," Mr Sexton wrote in News Corp on Monday.
"They defenders of Section 18C no doubt deplore what happened but they would not approve of the publication of offensive cartoons."
Section 18C was used successfully against conservative columnist Andrew Bolt in 2011 over a column he wrote in 2009 in which he accused a group of Aborigines of seeking advantage because of their skin colour. The judge found the piece was likely to have "offended, insulted, humiliated or intimidated" those named.
In 2012, Tony Abbott vowed to repeal the section, which he labelled a "hurt feelings test" in a speech to the free market think tank Institute of Public Affairs.
Soon after being elected the Abbott government revealed plans to change the the act, removing the words "offend, insult and humiliate". But after an outcry from ethnic groups, the Prime Minister later abandoned the plans saying it was more important to get Muslim groups on board with new anti-terror laws.
Family First Senator Bob Day subsequently introduced a bill into the Senate that, if passed, would remove the words "offend" and "insult" from the Act. The bill was co-sponsored by crossbencher, Liberal Democrat David Leyonhjelm and two Liberal senators: Dean Smith and Cory Bernardi.
But there are many Liberals, including the prominent Western Sydney MP Craig Laundy, who represent multicultural seats and oppose change.
Senator Bernardi told Fairfax Media on Monday people were "bullied" out of following through with the original plan to repeal the Act but "the time for being bullied is over - we cannot negotiate with the intolerant". "Let's fight for fundamental freedoms and reject those who will pursue aims that are at odds with that," he said.
However, Acting Prime Minister Warren Truss on Monday said race-hate laws don't need to be changed for people to speak their minds about issues they feel are important.
"We should be bold and speak out about the things we want to speak out about but we can do that without changing section 18C," Mr Truss told AAP. "The government's come to a decision in relation to that issue and we're not proposing to change."
On the weekend, Mr Abbott said "we have to be prepared to call things as we see them". "Of course from time to time people will be upset, offended, insulted, humiliated," he told Sydney Radio 2UE.
"As a politician I sometimes pick up the paper and think, 'My God, this is so unfair!' but it is all part of a free society," he said. "Sure, we would like it to be polite but where it is not, so be it, because in the end the cornerstone of progress is free speech," he said.
SOURCE
These crimes have everything to do with Islam
When French president Francoise Hollande addressed the nation on Friday in the wake of terrorist attacks that left 20 dead, he uttered the predictable mantra: "These fanatics have nothing to do with the Muslim religion".
His comment is understandable given that France has more than five million Muslims, a stagnant economy, 24 per cent youth unemployment and endemic social alienation among young Muslims.
His comment is also nonsense. A de facto world war is under way and it has everything to do with Islam. It is not thousands of lone wolfs. It is not un-Islamic conduct. It involves thousands of Muslims acting on what they believe is their religious duty to subjugate non-believers, as outlined in the Koran.
And the problem is growing, not contracting. There was once a tradition among young Australians to travel overland from Singapore to London. That route has become a hell-hole:
Pakistan is dangerous. Afghanistan is a no-go area. Iran is an oppressive theocracy. Iraq is disintegrating. Syria is a disaster area. Lebanon is dangerous. In Turkey, for the first time, Australians travelling to Gallipoli will be going under a security alert.
All these Muslim countries used to be safe for transit. The intimidation being practised in the name of Islam by a small minority is a by-product of something much larger – the state-mandated conservatism that is systemic in the majority of Muslim societies. Most of them are dictatorships, monarchies, theocracies or failed states.
An investigation by Kings College London and the BBC World Service found that in a single month, November 2014, 5042 people were killed by jihadists in 664 separate attacks across 14 countries. That is one death every eight minutes.
It is ongoing. On Thursday, the Islamist group Boko Haram (which translates as "Western education is forbidden") is believed to have murdered up to 2000 people in Nigeria. These crimes, far greater in scale than those in Paris, received only a fraction of the attention.
In the 35 years since the Islamic revolution in Iran in 1979, at least a million people have been killed in tens of thousands of jihad attacks, religious civil wars or wars between predominantly Muslim countries.
In France, a form of dissimilation (to borrow a term from phonetics) is taking place. About 40 per cent of young Muslims are unemployed and thousands have embraced radical Islam as a form of social retaliation.
Surveys have found that between 16 and 21 per cent of respondents in France hold positive views of Islamic State. Given that France has more than five million Muslims, the social catchment of sympathy for jihad is about one million people.
This explains why France has 751 special security zones, an endless sequence of violent incidents involving young Muslim men, anti-Semitic incidents have become routine and Muslims represent 60 per cent of the prison population. Two of the three jihad killers in Paris had served time in prison.
France and Australia are linked by the past week's events. Both countries have been drawn into an asymmetrical global jihad, fed by notoriety and thus self-sustaining.
In Australia, the pressures are much less severe in the Muslim diaspora but there are self-evident problems.
Here is a statistic to ponder: Australian Muslims are statistically more likely to engage in jihad than to enlist in the Australian Defence Forces.
As at June 30, 2014, there were 57,036 permanent members in the ADF, plus 24,028 in the reserves. When I asked Defence Media how many ADF personnel were Muslim, I received this response:
"As at 26 October, 2014, 100 ADF members have declared they are of Islamic faith … The reporting of religious faith is voluntary and, as such, the data provided may not be a fully accurate representation."
With about 500,000 Muslims in Australia, representing 2.1 per cent of the population, there would be about 1200 Muslims in the ADF if they served on a per capita basis. Instead, the number is miniscule, about 0.2 per cent.
In contrast, 20 Australian Muslims have been killed in fighting in the Syrian civil war, an estimated 60 are still in the combat zone, another 20 have returned from Syria, and an estimated 100 more have provided support for jihad. These figures are from the federal government.
Another 20 Muslims are serving prison terms in Australia for serious terrorism offences or are facing terrorism charges. Two more Muslims, Man Haron Monis and Abdul Numan Haider, were killed during attacks in Australia in which they both invoked Islamic State.
Obviously, if 220 Australian Muslims are known to have engaged in jihad or supported jihad, it follows that 500,000 Muslims, or 99.95 per cent, have not.
Equally obvious, the diverse Muslim diaspora cannot be treated as a dangerous monolith, given that Muslims are the primary victims of oppression by Muslims and the overwhelming majority of Muslims either prefer the peaceful precepts of the Koran or are not highly religious.
But the calculus of terrorism relies on the leveraging of small numbers. It only took three jihadists to occupy 90,000 French police and military personnel, at enormous cost to the state, with enormous global publicity. That will have been duly noted by jihadists.
Australia's security agency has thus become extremely busy. Last financial year, ASIO conducted 159,000 security assessments. This helps explain why the Lindt Café killer was taken off the watch list.
Because of the leveraging of small numbers, the deaths of 22 Australian Muslims in the cause of jihad represents serious social capital. In per-capita terms, it the equivalent of more than 1000 Australian soldiers being killed in Afghanistan. This dwarfs the death toll of 43 Australian military personnel killed in the Iraq and Afghanistan wars over the past decade, regarded as a heavy social cost.
In these terms, 22 is a large number and 220 is a very large number.
SOURCE
Sunday Style magazine forced to apologise over sexist ad for interns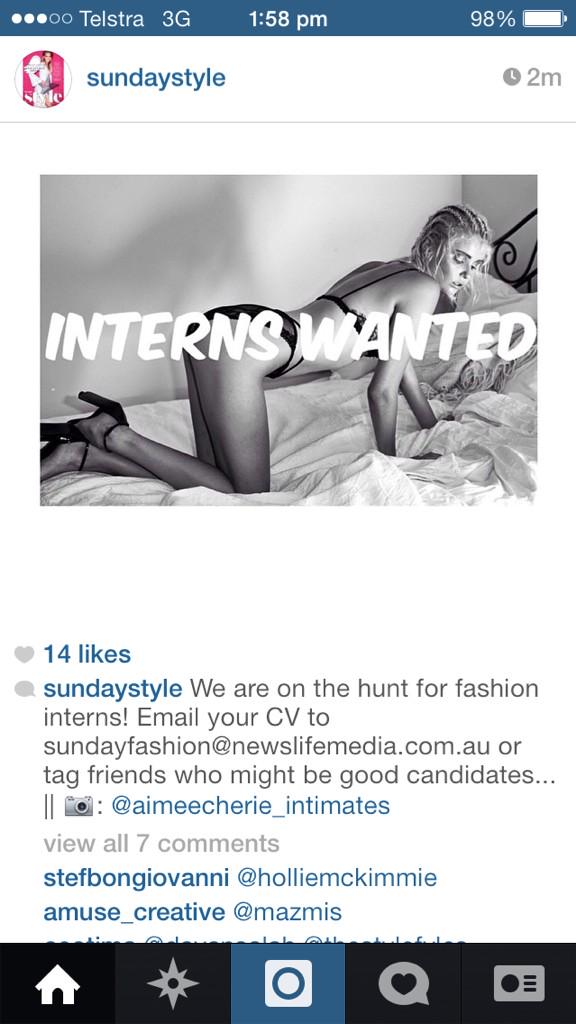 This does seem a bit gross. Porno interns. Is it a brothel?
Interns: always having to fetch coffees and brownies for their bosses without getting paid, and while uncomfortably dressed in skimpy lingerie too. Uh, according to Murdoch's News Corp anyway.
Sunday Style, the company's weekly fashion and beauty insert, was forced to apologise on Friday after posting a bizarre job ad for intern positions.
"We are on the hunt for fashion interns," went the magazine's advert, accompanied by a picture of a woman in lingerie posing on a bed. (Nope, not even a photocopier in sight).
The image was quickly deleted after criticism from Twitter and Instagram users, who called the ad "sexist" and "offensive".
The magazine - a liftout in The Sunday Telegraph and Herald Sun with a circulation of almost 900,000 - later replaced the post with an apology for their "error in judgement".
"We made an error in judgement today with an image used in a recent Instagram post calling for interns that has since been taken down. We take our intern program seriously and apologise for any offence caused," the new post said.
SOURCE