There's a touch of fluidity in comments on Safe Schools program
Premier Annastacia Palaszczuk argues that the Marxist-inspired Safe Schools gender and sexuality program is not being taught in Queensland's schools and, if re-elected, her government has no plans to impose it on students.
The LNP, in its election policy, says that if it wins government it is committed to "withdrawing the Safe Schools Coalition resources from Queensland schools" and implementing a general anti-bullying and anti-discrimination program.
Who to believe? Based on the ALP's 2017 state platform document Putting Queenslanders First, it's clear, while not specifically mentioning Safe Schools, that a Palaszczuk government intends to force schools to adopt similar radical gender and sexuality programs. These are programs and resources that a commonwealth inquiry found unsuitable for students and that have been withdrawn from schools interstate, except for Victoria, the Albania of the south under the Andrews ALP government. The Palaszczuk platform document says an ALP government would "invest in professional development, training and ongoing support for school principals, teachers and support staff so that they can support lesbian, gay, bisexual, transgender, intersex and queer/questioning students".
Couple that with the ALP's plans to "reduce discrimination, harassment, abuse and bullying against lesbian, gay, bisexual, transgender, intersex and queer/questioning students" and it's clear who to believe.
The only comfort is that the ALP's gender and sexuality policies are not as extreme as the Greens'. A watermelon party that argues gender, instead of being genetically determined, is a "lived" social construct where individuals, including schoolchildren, can self-identify as whatever gender they desire.
It's not just gender and sexuality where the two major parties differ. The LNP is committed to giving schools greater autonomy over decision-making based on research that proves flexibility at the local level raises standards.
Queensland Labor promises to stop funding the program and to undertake a review. This review, no doubt, given its reliance on the support of the Australian Education Union, would return schools to inflexible, bureaucratic control. As an example, instead of letting schools choose staff best suited to their culture and mission, the ALP document states teachers will be chosen by a "a statewide staffing system".
Dr Kevin Donnelly is director of the Education Standards Institute and author of Dumbing Down
SOURCE
China will finance Adani coal mine, insiders say, as Greenies vow obstruction
The Adani Group is close to securing finance for its controversial coal mine and railway project in outback Queensland, with an announcement expected in coming weeks that Chinese state-owned enterprises, banks, and export credit agencies are backing the venture.
Australian taxpayers may be let off the hook under the deal, which could mean Adani no longer requires an Australian Government-subsidised loan of up to $1 billion for the railway it needs to transport the coal to port.
But China's money will come at the cost of local jobs.
Chinese enterprises and export credit agencies invariably require that materials for key infrastructure are sourced from China, effectively shifting work out of Australia and undermining Adani's claims its project will create many thousands of additional jobs for Queensland.
Jobs and exports from existing coal regions will be decimated by new project, according to new research.
Just days ago, a director of Adani Mining, an Australian subsidiary of the Adani Group's flagship company Adani Enterprises, told industry figures Adani had secured Chinese funding for the Carmichael mine in North Queensland and the Carmichael rail project.
He said Adani would not need the loan from the Northern Australian Infrastructure Facility (NAIF) to fund the 388-kilometre railway, and claimed a formal announcement of "financial close" was imminent, the ABC has been told.
Details are sketchy, however the ABC revealed earlier this month that a Chinese state-owned enterprise, China Machinery Engineering Corporation (CMEC), was in negotiations with Adani for contracts to build key mining plant and equipment in return for China's financial backing of the Carmichael mine.
CMEC is listed on the Hong Kong stock exchange, but is 78 per cent owned by the giant Chinese state-owned enterprise China National Machinery Industry Corporation Ltd, or Sinomach.
Media player: "Space" to play, "M" to mute, "left" and "right" to seek.
We asked if you thought leaving Australian taxpayers off the hook in funding the coal mine was more important than keeping jobs in Queensland.
Adani Mining's chief executive Jeyakumar Janakaraj told Reuters in October that Adani was in talks to secure loans from export credit agencies for its mining equipment and tie up other funding.
"The company is in advanced discussions in all these cases with merely term sheets under final negotiations," he said.
Mr Janakaraj said Adani was looking to sell minority equity stakes in the coal project, and rail line, to financial institutions and contractors to help fund it.
"By the end of this financial year, all things will be in place," he said.
The Indian financial year ends on March 31.
SOURCE
Manus Island: Police enter former Australia-run asylum centre
Image caption PNG authorities have given asylum seekers a deadline to leave, the former detainees say
Police in Papua New Guinea (PNG) have entered a former Australian-run detention centre in a bid to get asylum seekers who remain there to leave.
Hundreds of men have refused to leave the Manus Island centre since it was shut down on 31 October, citing fears for their safety.
On Thursday, men inside the camp said that PNG police had given them a one-hour deadline to leave. One refugee, a journalist, was reportedly arrested.
Australia said it was a PNG operation.
Under a controversial policy, Australia has detained asylum seekers who arrive by boat in camps on Manus Island and Nauru, a small Pacific nation.
Australia shut down the Manus Island centre after a PNG court ruled it was unconstitutional, urging asylum seekers to move to transit centres elsewhere on the island.
Prime Minister Malcolm Turnbull said his nation would "not be pressured" into accepting the men, reiterating a long-held policy that such a move would encourage human trafficking.
"They should obey the law and the lawful authorities of Papua New Guinea," Mr Turnbull said.
One refugee, Abdul Aziz Adam, said about 420 asylum seekers were in the centre early on Thursday. PNG police later told Australia's ABC that about 35 men had left voluntarily.
The Sudanese refugee told the BBC a large number of police officers had entered the compound.
"They had a really big microphone in their hands and started telling people 'you have to move'. They are taking all the phones away, destroying all the rooms and belongings and everything," he said.
Another refugee, Iranian reporter Behrouz Boochani, was arrested, according to Australian media outlets and journalism union Media, Entertainment and Arts Alliance (MEAA).
The MEAA called the arrest of Mr Boochani, a prominent voice within the centre, an "egregious attack on press freedom". A video and a separate photo appeared to show him being led away by officers.
SOURCE
Australian school apologises for 'suggestive' saint statue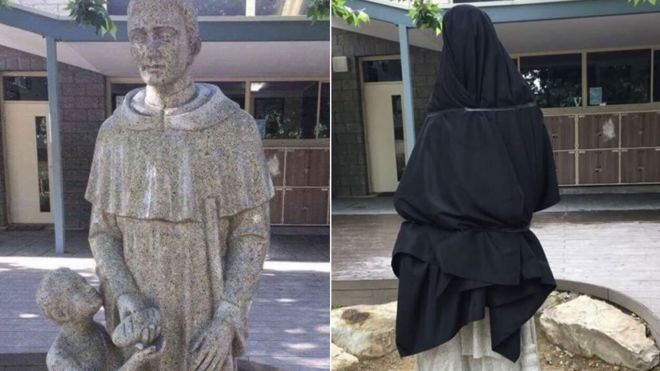 An Australian school has covered a statue from view because of its "potentially suggestive" depiction of a saint handing a loaf of bread to a boy.
The Catholic school in Adelaide apologised on Wednesday for the statue, which was completed recently.
The sculpture, portraying St Martin de Porres, was widely criticised after images of it were posted online.
The unfortunate position of the loaf of bread held by the saint led to some misreading the scene.
Blackfriars Priory School said it had commissioned a new sculptor to "substantially alter" the design.
In a message posted on Facebook, principal Simon Cobiac apologised to the school community for "any concerns and publicity" caused by the statue.
He said the school had approved its design and commissioned a sculptor in Vietnam, but "upon arrival the three-dimensional statue was deemed by the [school] to be potentially suggestive".
The Adelaide Advertiser newspaper said the statue had been installed last week and later covered with a black cloth.
It drew public attention after an image of the statue was posted on a popular Adelaide Instagram account, where it attracted hundreds of comments.
"Who designed that...surely someone has to say 'mmm big mistake'," wrote one commenter, in a sentiment echoed by many.
Mr Cobiac said the design had been intended as a "depiction of the tireless work of St Martin de Porres, a Dominican brother, for the poor and downtrodden of the 16th Century".
SOURCE
Posted by John J. Ray (M.A.; Ph.D.).
For a daily critique of Leftist activities, see DISSECTING LEFTISM. To keep up with attacks on free speech see Tongue Tied. Also, don't forget your daily roundup of pro-environment but anti-Greenie news and commentary at GREENIE WATCH . Email me here