Standing on it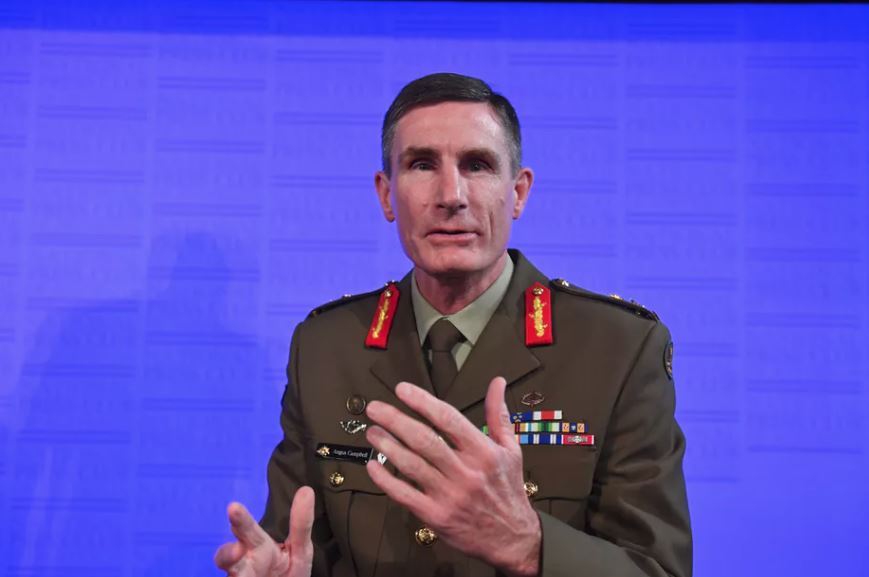 General Campbell: Look at those long slim fingers. They are the fingers of a clergyman or an office-worker, not any kind of manual worker
There's a saying in the Army that describes in vivid Digger language 'stupidity'. I won't finish it here. But it starts like this: the general managed to stand on his own…
I'll let you work out what the '…' could be, but it appears that we have a general who's done just that, realised the pain it has caused himself, and is now trying to rearrange his body parts without losing any more dignity or falling over.
I guess that's because even the left-of-left Defence Minister, Marise Payne, can see that the incoming Chief of Defence Force has done something stupid. From The Australian today:
"But a spokesman for Defence Minister Marise Payne last night revealed commanders could apply for an exemption to the ban on death symbols. He said Senator Payne supported the intent of the Chief of Army's minute but noted "that applications from unit commanders for exemption of a symbol or icon will be considered on a case-by-case basis". It was not clear whether that policy was already in place or came in response to anger over the ban."
I guess that's another way of saying that Lieutenant General Campbell's directive banning images is already in retreat.
Along the way, however, it will cause confusion. Units are removing works of military art and morale has taken a hit.
So will the new Chief of Defence Force's credibility and reputation. The name 'Care Bear Campbell' is going to stick.
SOURCE
Victoria University exposed as future teachers found wanting
Victoria University was in franker times Footscray Tech. It still seems to have tech standards
Students of a Melbourne university that has enrolled teaching undergraduates with ATARs significantly below Victoria's minimum entry prerequisite have performed poorly in a national literacy and numeracy test, with about a quarter failing to meet the standard required for entering the profession.
Victoria University, a major provider of initial teacher education degrees, was one of the worst-performing universities to sit last year's test, with 27 per cent of students failing the literacy module and 24 per cent failing numeracy, sparking calls for entry requirements for initial teacher education courses to be tightened.
Almost 1000 students from the university sat the test, which aims to assess whether aspiring teachers have literacy and numeracy skills in the top 30 per cent of the adult population.
Nationwide, standards fell slightly in 2017 compared with the previous year, with 92 per cent of 23,000 students passing both components of the test. In 2016, 95.2 per cent passed the literacy component and 94.2 per cent passed the numeracy component.
Victoria University was among 19 out of 52 tertiary institutions to report failure rates in excess of ­10 per cent in at least one component of the test. In contrast, students from the University of Western Australia were among the highest achievers, with 98 per cent meeting the literacy standard and 99 per cent numeracy.
The results, which have been provided to The Australian, are set to reignite a push to toughen university entry requirements for teaching courses. In Victoria, the government requires that students achieve an ATAR of at least 65 — rising to 70 next year — to be admitted to study teaching.
Yet a Victoria University report detailing the profiles of incoming students reveals that the median ATAR of those offered places in Education (P-12) and Physical Education (Secondary) courses this year was 58.45 and 56.65 respectively. The lowest ATAR of a student to be offered a place was 45.3.
The university has recently rolled out a new Bachelor of Education Studies as a pathway course that is not bound by the minimum ATAR score requirement. Students are able to transfer at a later stage into a Master of Education.
Associate professor Anthony Watt, director of learning and teaching in the university's education faculty, said the ATARs listed were "raw scores" and did not account for "special consideration bonuses" applied to disadvantaged students. He said he was confident that, after adjustments, "every student admitted to study education had achieved an ATAR of 65".
Dr Watt likened the numeracy and literacy test to testing for one's driver's licence: "You don't always get it first time. We're keen to support everyone to achieve the benchmark and we're working with students on that," he said.
Centre for Independent Studies senior research fellow Jennifer Buckingham said it was concerning that some universities continued to enrol teacher candidates with low ATARs as the results suggested there was a correlation between rankings and poor literacy and numeracy.
"The literacy and numeracy assessment does actually not set a high bar; it's really the equivalent of a Year 9 level of literacy and numeracy," Dr Buckingham said.
Federal Education Minister Simon Birmingham said parents rightly expected graduating teachers would have solid literacy and numeracy. "These results highlight that some higher education providers simply aren't delivering the skills Australians would expect of graduate teachers or are dropping standards too far," he said.
"The Turnbull government has been crystal clear in our view that students who don't make the minimum literacy and numeracy standards should never make it into the classroom."
Victorian Education Minister James Merlino expressed his disappointment. "For too long universities in Victoria have been accepting students with ATARs as low (as) in the 30s or the 40s. It isn't good enough and it has to change."
SOURCE
Hero dad or playground villain? Father who tried to CHOKE his step-daughter's 15-year-old bully reveals the final insult that pushed him over the edge
A father who tried to choke his daughter's 15-year-old bully has revealed the final taunt that pushed him over the edge.
Mark Bladen, 53, was giving the boy a 'good old fashioned talking to' when the boy smiled at him, making the father's blood boil.
'Dr Jekyll came out,' he said of the moment he snapped at The Gap skate park in Brisbane last month, recalling the event in a 60 Minutes preview ahead of Sunday's full episode.
His daughter claimed the child had relentlessly bullied her by calling her names and giving her insulting gifts.
'(He) called me names like gorilla and King Kong, he would buy me shaving cream for Christmas so that I would shave,' she told reporter Liz Hayes.
Bladen explained he intended on giving the boy a 'good old fashioned talking to' on the day he ended up physically assaulting him.
'(But) he smiled at me,' the man said, alluding to the moment that pushed him over the edge and into a violent rage.
Chilling footage showed the moment the grown man threw himself towards the boy, who was sitting on a bench at the time, as one of his friends yelled 'get the f*** off him'.
Friends of the father have since praised him for sticking up for his 'princess', with one saying he hoped he 'would do it again'.
'He's got to stand up for his family,' one member of Chermside Darts Club said, as another agreed, saying, 'I would hope that he would do it again, to be honest.'
A woman, believed to be the mother of the bullying victim, defended the father saying, 'he did what any parent would do'.
Mr Bladen pleaded guilty to one count of assault occasioning bodily harm and was sentenced on March 20 to pay $1000 with no conviction recorded, and ordered to pay $500 compensation.
His victim suffered bruising to his throat and scratches to his limbs in the fight, which was eventually broken up by his friends.
Mr Bladen told police he was 'aghast' at his behaviour, and apologised outside court to the victim.
'I'm very sorry for what I did, very regretful and ashamed,' he said. 'Please don't do what I did, I just lost control. It's definitely not the way to handle things,' he said.
In his interview, Mr Bladen said he thought there was too much 'political correctness' evident in current society.
'When I was young you treated a lady like a lady and it should be the same way now,' he said.
'We live in a day of political correctness, and I hate it.'
SOURCE
Australia Set To Have Its Coldest Winter On Record
While we've all been freezing our arses off in the Northern hemisphere over the past few months, folk in Australia have been busy enjoying the summer sun and sticking shrimp on the barbie.
Well, Aussies, it's probably time to invest in some thermals - the land down under is set to be hit by its coldest winter on record, an amateur weather forecaster has confirmed.
David Taylor, who runs the East Coast Weather Facebook page, has said that temperatures and snowfall may be worse than previous years and impact huge swathes of the country, the Daily Mail has reported.
"It will be slightly cooler than normal in the north but the real cold will be in the southern states and southeast Queensland," Taylor told the Cairns Post. "I wouldn't be surprised if there is snow in places where it hasn't snowed for a long time."
Taylor makes his forecast using a formula which considers changes in sunspot activity, Global Forecast System modelling, and the European Centre for Medium-Range Weather Forecast.
If you're wondering why you should listen to the advice of some bloke off Facebook, Taylor has been right about meteorlogical events in the recent past - putting his success down to his sunspot tracking.
Taylor was the only person to correctly predict the massive weather event that hit Townsville last week which saw the north-east coast hit with 600m of rain on 28 February.
He also predicted that this week a 'decent cyclone' will cross the Queensland coast between Cairns and Gladstone, backing his assertion up by pointing to other forecasters who are saying the same thing. "It's looking pretty scary," he said.
Europe and America have already endured a hard winter this year with huge parts of the world seeing historic amounts of snowfall and freezing temperatures.
Back in January, Storm Grayson battered the eastern coast of the United States, sending temperatures in some areas plummeting to an unfathomable -69C.
The arrival of the 'bomb cyclone' brought with it a massive blizzard, freezing lakes and rivers across the north-east of the US and making -39C temperatures feel twice as cold due to icy winds.
The weather was so cold that it even temporarily froze Niagara Falls, turning the famous waterfalls into giant icicles.
Over the past few weeks Europe's been bearing the brunt of the weather too thanks to the arrival of Storm Emma and the Beast from the East.
The weather was so bad in the UK that the Met Office were forced to announce red severe weather warnings for snow, high winds and ice in some areas - the first time that's happened since 2013.
SOURCE
Border control is key to successful multiculturalism: Malcolm Turnbull
Prime Minister Malcolm Turnbull has told a German audience that the "sovereign right" to control a country's borders is vital to successful multiculturalism, drawing applause for the remark at a time of heightened concern over immigration.
Mr Turnbull told a Berlin foundation that using firm policies to stop people smugglers was important to keeping community support for immigration, as he acknowledged the big growth in the number of Australians born overseas.
The remark came hours before the Prime Minister met German Chancellor Angela Merkel, who said she expected to discuss migration policy with Mr Turnbull in their formal meeting in Berlin on Monday. "We shall discuss migration policy, an exchange of views on that. Development policy will also loom large on the agenda," Ms Merkel said before the meeting.
While trade talks figured strongly in the meeting, Fairfax Media understands immigration policy was not addressed directly. Instead, there was a brief discussion of Australia's population make-up and its links to the Asian region, given the leaders have discussed border control policies before.
Ms Merkel's controversial decision to allow about one million Syrian refugees into Germany cost her significant popular support ahead of the last election, which resulted in a Bundestag that took months to form a government.
Mr Turnbull delivered a speech on trade and security to the Konrad Adenauer Foundation on Monday, just before his meeting with the Chancellor, but found that one of the questions was about how Australian succeeded as a multicultural nation.
"We manage our immigration program very carefully," Mr Turnbull replied. "We go to great lengths to ensure that when people come to Australia, they, particularly through the humanitarian programs for refugees, they are settled. The settlement services are always a very big part of our immigration program."
The Prime Minister said the government was "absolutely determined" to ensure that people do not come to Australia other than with the consent of the government of Australia.
Mr Turnbull told the audience that Labor had "allowed border protection to slip" and produced the "tragic" story of thousands unauthorised arrivals and 1200 deaths at sea.
"So we know what works and what doesn't. Migration programs, a multicultural society, need to have a commitment, an understanding and the trust of the people, that the government, their government, is determining who comes to the country," he said.
"So being in control of your borders is absolutely critical. I think that is a fundamental foundation of our success as a multicultural society, as a migration nation as people often describe us. "You have to exert your sovereign right to control your own borders."
Those comments drew applause from some in the audience, signalling the concern over questions of migration and settlement in Germany.
SOURCE
Posted by John J. Ray (M.A.; Ph.D.).
For a daily critique of Leftist activities, see DISSECTING LEFTISM. To keep up with attacks on free speech see Tongue Tied. Also, don't forget your daily roundup of pro-environment but anti-Greenie news and commentary at GREENIE WATCH . Email me here