Disaster in Rocklea again
I once owned a house in Heaton St., Rocklea so I know a bit about this. Homes in Rocklea regularly sell cheaply because of the flood danger so they do tempt people. Some government action to prevent such mistakes would be kind. People can be completely wiped out financially by a flood

The houses in the suburb that have been raised up high in response to past floods are a vivid warning of what can happen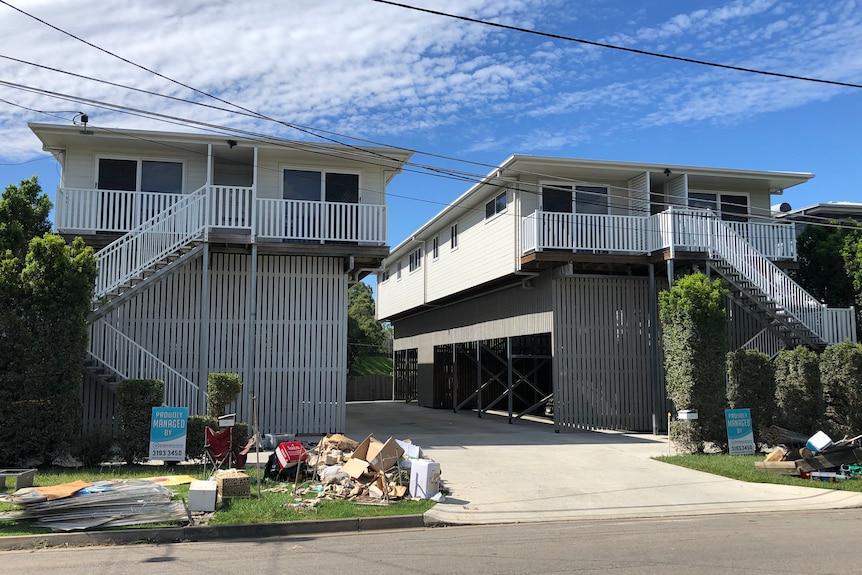 Rocklea resident Luke Greaves and his partner lost everything when the low-lying house they bought in 2016 was submerged in floodwater for three days.
Mr Greaves said although he knew flooding was a possibility, the information available when he bought the house did not show the full extent of the risk.
"The house right now has been submerged worse than the 2011 flood," he said.
Several properties around Mr Greaves's house were acquired by the council and demolished as part of the Voluntary Home Purchase Scheme before it was axed.
The father of three young children said, given the extent of last week's flood disaster, voluntary buybacks should return.
"Seeing the waters come in, I think it would be better that future residents aren't impacted by this," he said.
He also said it's "disgraceful" that the council's Flood Resilient Homes Program has not been rolled out in flood-prone Rocklea.
As part of the program, invited property owners are given financial assistance to adapt their homes through measures including raising them.
Mr Greaves said he has been asking to be included in the scheme since it began but said he was told by the council that Rocklea is not impacted severely enough by flooding and does not meet the criteria.
Mr Greaves's neighbour, Sandy Xia, is in an even worse position because she does not have insurance. Her house flooded so badly that parts of the ceiling caved in and there are holes in the walls. She, her partner and baby are now living in a hotel.
Ms Xia said when she bought the house in 2015, a real estate agent told her floodwater would never come into the house. "Back then, it was said the 2011 flood was an every 30 years kind of flood, I thought I would be living in another place in 30 years," she said.
"Buyback, that's the best option, that's the best thing I can think of," she said. "To buy back this property so we can start to find some place with no flood risk or lower flood risk area."
Councillor for Moorooka Ward Steve Griffiths has long called on the Brisbane City Council to bring back the Voluntary Home Purchase Scheme.
"It was cut by this Mayor and there are so many homes and so many people who want to participate in a voluntary buyback so we can remove those homes that are worst affected," he said.
"In the past, it's worked on a voluntary basis where residents have applied to council, council have assessed the need and the depth to which they flood … it's for homes where water is coming into their living areas," Mr Griffiths said.
He said the council was responsible for originally approving residential development in the low-lying area. "I believe council's got to take responsibility for fixing the problem up, eliminating the problem so we don't have the problem in the future," he said.
Brisbane Lord Mayor will 'consider all options'
When asked yesterday if he would consider reinstating the voluntary buyback scheme, Lord Mayor Adrian Schrinner said, "a number of residents" in flood-affected areas did not want to sell but that, "we'll consider all options."
He said he is "very keen" to ensure the council gets support from other levels of government.
"There's lots of different things we can do, there's lots of different programs we can continue to gear up and we're really keen to make sure that all levels of government help people build back better," he said.
Deputy Premier Steven Miles said the state government was considering all "appropriate" options.
"We're just doing the disaster assessments now so it will take some time to work through both assessing the level of damage in those locations and assessing the best, the most appropriate resilience projects there," Mr Miles said.
https://www.abc.net.au/news/2022-03-08/queensland-flood-victims-plead-voluntary-home-buyback/100890018
*****************************************
Dishonest climate propaganda from the ABC
Another instance where Leftists deliberately lie to prop up their ideology
As residents of Northern New South Wales, a region known as the Northern Rivers, are still clinging to their rooftops awaiting rescue from emergency services and selfless fellow citizens in the wake of this week's devastating floods, the ABC was playing politics with their lives.
While the façade of ABC news reporting sort to shine a light on the personal misfortune of thousands of affected residents and their local communities and businesses, the real underlying agenda was to weaponize this misfortune in its religious quest to proselytise Anthropogenic Global Warming (AGW) aka 'climate change'.
Cue the NSW, Sydney-based edition of the 7PM nightly news bulletin on March 1. Those of us who are familiar with the ABC modus operandi of AGW propaganda know that slotting in the word 'unprecedented' at every available opportunity, whether factually correct or not, is foundational in spreading the word of their climate change overlords. And when 'unprecedented' doesn't quite fit the historical facts, well why not alter the playing field so that an unsuspecting audience is none the wiser?
Approximately a third of the way through the bulletin, after fielding reports from reporters on the ground in northern NSW and beyond, the anchor brought the weather presenter into the frame to highlight rainfall totals for the town of Casino, located on the Richmond River, in a historical context. We were informed in a stern 'you have been a bad boy' kind of way utilising a bar graph visual prop, that the 2022 rainfall totals to date already represented over half the mean annual rainfall for Casino dating back to the seemingly arbitrarily chosen year of 1953. We were psychologically implored to be convinced that such a phenomenon was outside what could be attributed to a pre-AGW world. The implied pitch and tone were clearly aimed at convincing viewers that this was 'unprecedented'. However, as is so often the case with the ABC, all is not what it seems or more specifically all is not what their ABC is seeking to have you believe.
Let's start with rainfall data for the town of Casino itself. The nearest Bureau of Meteorology (BOM) weather station that is currently in service is the Automatic Weather Station (AWS -58208) at the nearby Casino airport which is located almost 4km from the town centre. Now that seems like a relatively central location to be representative of the greater Casino region. The February 2022 monthly total for rain at this station was a hefty 573mm adding to the January total of 155mm to register over 720mm for the year to date – well above average – but is that unprecedented when compared with historical data?
This is where we encounter our first significant issue with the ABC news report. The Casino AWS situated at Casino Airport has only been operational since 1995, hardly a comprehensive sweep of historical rainfall data for the region. The 2022 (January and February combined) totals above are certainly the most substantial in the period 1995 to 2022, with the next largest combined total for the first two months of a year being 574mm in 2008. Where did the arbitrary starting point of 1953 come from as referenced by the ABC news report broadcast to at least a quarter of a million viewers statewide at the time?
Well it seems data was merged for Casino from the old decommissioned BOM weather station (58063) that was located around 1km away at the Casino Airport from the current station and about 3km from the centre of town. This weather station has uninterrupted data commencing from 1858 through to 2011. What does this treasure trove of data reveal in regards to the 'unprecedented' nature of Casino's 2022 rainfall to date? Those who retain the capacity for critical thinking may not be surprised to learn that the year to date 2022 rainfall totals for Casino have to take a back seat to 1893, which recorded a truly eye-watering 1005mm to the end of February exceeding the 2022 total by almost a third again. Other notable contenders were 1890 (644mm), 1959 (612mm), 1953 (597mm), 1947 (575mm), 1954 (563mm), and 2008(574mm). What of the highest daily totals for Casino across its 170 years of records? On February 28 the AWS station recorded 240mm, however on May 14, 1921, 279 mm was recorded in one 24 hour period and on February 22, 1954, 267mm was recorded. To be sure some weather stations recorded in northern NSW recorded over double these 24 hour totals in the last week, but again this is unlikely to be historically unprecedented in the wetter regions of Northern NSW of which Casino is not one of them.
So why did the ABC choose to cut off its historical lens on Casino's rainfall in 1953 when the same data source extended back another 100 years from that point?
It would seem that the 1890s data represented a truth bomb to their ABC's 'unprecedented' AGW rain bomb narrative. To add to their discomfort and difficulty the ABC has in addressing the real data in the face of cult-like adherence to AGW dogma, the wettest year on record for Casino was 1890 with 1955mm and the runner up was 1893 with 1844mm when atmospheric CO2 concentrations were thought to be between 280 – 300ppm. Go Figure!
All of this recent commentary around record rainfall in NSW and beyond has occurred in the aftermath of the ABC repeatedly reporting, especially since 2019, that Australia's eastern seaboard was becoming hotter and drier and that this trend was 'locked in'. Now, in the wake of two consecutive years of above-average rainfall across the eastern seaboard (indeed much of Australia), along with cooler than average temperatures, it's as if that previous 'settled climate science' and associated prognostications never happened.
Ask yourself, how many of these same ABC journalists are willing to look the residents of northern NSW in the eye and guarantee them that if only, just only, we reach Net Zero CO2 emissions their towns will never flood again? Answer – net zero… So, the next time you hear an ABC presenter utter the words 'Net Zero, it may well be a reference to the ABC's credibility.
https://spectator.com.au/2022/03/the-abc-where-activism-beats-compassion/
*************************************************
A feminist failure
Trophy wife can be an attractive role still
By MAGGIE McPHEE
I have been teaching at an all-girls' school for more than 11 years, and I am still astounded at my students' capacity for romance.
Even after 60 years of modern feminism, patriarchal myths sold in the fairytales of childhood, have al alluring pull over many young women.
A case in point: our leavers were asked to dress up as their future selves as a lighthearted activity. We saw astronauts and doctors, but a couple dressed up as "trophy wives".
I asked them if they were being ironic. They were not.
Just the other day when my Year 12 English class was talking about gender politics in society, the subject turned to #MeToo. To my horror several girls asked innocently: "What's #MeToo"?
As their committed feminist of an English teacher, I feel the need to "sell" feminism, to prepare them for when they inevitably leave the protected matriarchy of single-sex schooling and prepare to engage in earnest with the complex reality of a male-dominated world.
It's a hard sell. Some of our strong, clever young women are afraid of the label "feminist" and avoid association with the movement. It is frustrating that some students are blasé about gender issues in a world in which Grace Tame and Brittany Higgins are fighting so hard for their rights as women. What are they afraid of? Being labelled as "difficult"? A complainer? Or perhaps the potential, and unspoken consequences of such an association.
Why are our young women disengaged from this issue that connects so directly to the shape of their futures? Perhaps the subtle messages their context sends them are part of the problem. Often, we underestimate girls, thinking they are not able to cope with the complexities of life. We protect them, enable their relatively harmless fantasies (the Year 12 ball is testament to that) and risk failing to prepare them for the challenges of a life that will expect them to be able to stand their ground and stake their claim.
We also give them an exhausting list of boxes to be ticked – you need to be independent, educated, skilled and trained, but you also need to be soft, empathetic, gentle, kind and feminine. No wonder my students are overwhelmed.
I suppose I can understand the impulse to retreat to the safety of apparently simple roles or solutions. Sometimes it may even be easier to opt out of the discussion altogether.
We all know the statistics trotted out every International Women's Day about the gender pay gap, and we know the reasons : women tend to enter less lucrative industries; they take unpaid or poorly remunerated time out of the workforce for childrearing; women are less likely to go for top jobs and less likely to negotiate the same sort of salaries as their male counterparts. These statistics are stubborn – and although we are preparing girls for a world 60 years on from the second wave of feminism, it seems there is little we can do to shift these numbers.
What can we do collectively as educators to enable girls to be women who can choose to study in a male-dominated field or to have the self-confidence to apply for the top job and sit in front of a room full of men to argue for a higher salary?
At schools such as mine much has been done to try to develop resilient and courageous young women, including the introduction of programs designed to encourage taking a risk, potentially failing and trying again, as well as encouraging students to develop self-leadership skills, the confidence to persist in adversity.
It is important that we don't just teach our young women the content they will need to study or to get a job – they need to have the personal skills to accompany that knowledge. All this is necessary. I see my role as a teacher as educating critical minds that will question assumed wisdom and cultural myths, including those around gender. The tempting illusions that we allow to remain unquestioned by young women should be challenged, for their necessarily complex lives to be rich and fulfilling.
Greater comfort will derive from deep engagement with the world as it is. The great challenge facing young people, not just girls, is disinterest and disengagement from the great ideas and movements flowing through the world. By protecting our students from the fascinating grubbiness, we are potentially robbing them of the chance to be realistic, pragmatic and perhaps even develop enough resistance to change the world.
I have made peace with the fact that my task is to plant a seed, not grow the garden.
Not everything can be taught before they leave school.
https://www.theaustralian.com.au/special-reports/life-plan-for-girls-trophy-wives-or-astronauts/news-story/2a25ce76086a9eff8d17db1e9fd58464
*****************************************
Medical clinics are binning thousands of booster vaccines amid slow uptake
This is despite more than a third of eligible Australians still to receive a booster dose.
"To date we have thrown out about 1,000 doses of Pfizer and 1,000 doses of Moderna," Albury-based GP Priya Kondappan said. "There's definitely been a lack of initiative and people coming forward for the booster. "We have certainly seen very minimal uptake in people 30 years and below."
After months of working to secure the vaccines, Dr Kondappan admits it's hard watching them being thrown away. "Being an immigrant myself I wish we could offer these vaccines to countries where it's more in need."
A few streets away from Dr Kondappan's Sarkon Medical Centre, staff at the iHealth Albury clinic started the week by binning out-of-date COVID vaccinations.
"It's a terrible feeling for us doctors and nurses when we need to throw out these vaccinations, especially because we know that people need them, and it's a real waste of resources," GP Rebecca McGowan said.
Over summer, many border clinics in the area faced huge demand as residents scrambled to get a coveted third dose of the COVID vaccination. But now, lack of demand has lead to some vaccination clinics significantly cutting their hours. The Sarkon clinic has cut back the operation of its vaccination hubs from five days a week to two.
Despite the reduced hours, the clinic's appointment books and walk-in slots are far from capacity.
"Most general practices have even stopped booster doses simply because it's a waste of resources since the uptake has been so poor."
"We think the young groups — and that's over the age of 16 — are becoming a bit complacent about it, people think we are over COVID," Dr McGowan said.
https://www.abc.net.au/news/2022-03-08/albury-gps-call-for-higher-booster-uptake-amid-dose-throwing/100890728
************************************
Also see my other blogs. Main ones below:
http://dissectleft.blogspot.com
(DISSECTING LEFTISM -- daily)
http://antigreen.blogspot.com
(GREENIE WATCH)
http://pcwatch.blogspot.com
(POLITICAL CORRECTNESS WATCH)
http://edwatch.blogspot.com
(EDUCATION WATCH)
http://snorphty.blogspot.com/
(TONGUE-TIED)
***************************************