Prominent lesbian doctor reveals 'devastating' Covid vaccine injury, says doctors have been 'censored'
Former federal MP Dr Kerryn Phelps has revealed she and her wife both suffered serious and ongoing injures from Covid vaccines, while suggesting the true rate of adverse events is far higher than acknowledged due to underreporting and "threats" from medical regulators.
In an explosive submission to Parliament's Long Covid inquiry, the former Australian Medical Association (AMA) president has broken her silence about the "devastating" experience — emerging as the most prominent public health figure in the country to speak up about the taboo subject.
"This is an issue that I have witnessed first-hand with my wife who suffered a severe neurological reaction to her first Pfizer vaccine within minutes, including burning face and gums, paraesethesiae, and numb hands and feet, while under observation by myself, another doctor and a registered nurse at the time of immunisation," the 65-year-old said.
"I continue to observe the devastating effects a year-and-a-half later with the addition of fatigue and additional neurological symptoms including nerve pains, altered sense of smell, visual disturbance and musculoskeletal inflammation. The diagnosis and causation has been confirmed by several specialists who have told me that they have seen 'a lot' of patients in a similar situation."
Dr Phelps married former primary school teacher Jackie Stricker-Phelps in 1998. "Jackie asked me to include her story to raise awareness for others," she said.
"We did a lot of homework before having the vaccine, particularly about choice of vaccine at the time. In asking about adverse side effects, we were told that 'the worst thing that could happen would be anaphylaxis' and that severe reactions such as myocarditis and pericarditis were 'rare'."
Dr Phelps revealed she was also diagnosed with a vaccine injury from her second dose of Pfizer in July 2021, "with the diagnosis and causation confirmed by specialist colleagues".
"I have had CT pulmonary angiogram, ECG, blood tests, cardiac echogram, transthoracic cardiac stress echo, Holter monitor, blood pressure monitoring and autonomic testing," she wrote.
"In my case the injury resulted in dysautonomia with intermittent fevers and cardiovascular implications including breathlessness, inappropriate sinus tachycardia and blood pressure fluctuations."
Dr Phelps said both reactions were reported to the Therapeutic Goods Administration (TGA) "but never followed up".
She revealed she had spoken with other doctors "who have themselves experienced a serious and persistent adverse event" but that "vaccine injury is a subject that few in the medical profession have wanted to talk about".
"Regulators of the medical profession have censored public discussion about adverse events following immunisation, with threats to doctors not to make any public statements about anything that 'might undermine the government's vaccine rollout' or risk suspension or loss of their registration," she wrote.
The Australian Health Practitioner Regulation Agency (AHPRA), which oversees Australia's 800,000 registered practitioners and 193,800 students, last year warned that anyone who sought to "undermine" the national Covid vaccine rollout could face deregistration or even prosecution.
AHPRA's position statement said that "any promotion of anti-vaccination statements or health advice which contradicts the best available scientific evidence or seeks to actively undermine the national immunisation campaign (including via social media) is not supported by National Boards and may be in breach of the codes of conduct and subject to investigation and possible regulatory action".
Earlier this year, Australian musician Tyson 'tyDi' Illingworth said he had been told privately by doctors that they feared being deregistered if they linked his neurological injury to the Moderna vaccine.
Dr Phelps said she had heard stories of vaccine injury from "patients and other members of the community".
"They have had to search for answers, find GPs and specialists who are interested and able to help them, spend large amounts of money on medical investigations, isolate from friends and family, reduce work hours, lose work if they are required to attend in person and avoid social and cultural events," she said.
"Within this group of vaccine injured individuals, there is a diminishing cohort of people who have symptoms following immunisation, many of which are similar to Long Covid (such as fatigue and brain fog), but who have not had a Covid infection. These people would be an important subset or control group for studies looking into the pathophysiology, causes of and treatments for Long Covid. It is possible that there is at least some shared pathophysiology between vaccine injury and Long Covid, possibly due to the effects of spike protein."
She added that "in trying to convince people in positions of influence to pay attention to the risks of Long Covid and reinfection for people with vaccine injury, I have personally been met with obstruction and resistance to openly discuss this issue".
"There has been a delay in recognition of vaccine injury, partly because of under-reporting, concerns about vaccine hesitancy in the context of managing a global pandemic, and needing to find the balance between risks and benefits on a population level," she said.
"Reactions were said to be 'rare' without data to confirm how common or otherwise these reactions were. In general practice I was seeing cases, which meant other GPs and specialists were seeing cases too. Without diagnostic tests, we have to rely largely on clinical history."
In July this year, the independent OzSAGE group of which Dr Phelps is a member issued a position statement calling for better systems and management of Covid vaccine adverse events and "recognition of the impact of vaccine injury".
Dr Phelps, who was heavily involved in crafting the statement, wrote in her submission that the OzSAGE document "outlines the scope but not the scale of the problem because we do not know the scale of the problem". "This is partly because of under-reporting and under-recognition," she said.
According to the TGA's most recent safety update, there have been a total of 137,141 adverse event reports from nearly 64.4 million doses — a rate of 0.2 per cent.
There have been 819 reports "assessed as likely to be myocarditis" from 49.8 million doses of Pfizer and Moderna. Fourteen deaths have officially been linked to vaccination — 13 after AstraZeneca and one after Pfizer.
But Dr Phelps pointed to data from Germany's pharmacovigilance body, the Paul Ehrlich Institute (PEI), which has "undertaken ongoing surveys of vaccine recipients … as opposed to the TGA which only accepts passive reports, or AusVaxSafety whose survey stopped at six weeks".
"They have found that the incidence of serious reactions occurs in 0.3 per 1000 shots (not people)," she said.
"Considering that the majority of Australian adults have now had at least one booster, this suggests that the incidence of serious adverse reactions per vaccinated person could be more than 1-in-1000. PEI admits that under-reporting is a problem, and observers suggest that an order of magnitude of under-reporting is not unreasonable to consider (most estimates put underreporting at much worse than this)."
Dr Phelps said there was concern some adverse events could "cause long-term illness and disability", but data was limited because the "global focus has been on vaccinating as many people as quickly as possible with a novel vaccine for a novel coronavirus".
"Because of this, all of the studies that have been published so far are either small, or case studies only," she said.
"The burden of proof seems to have been placed on the vaccine injured rather than the neutral scientific position of placing suspicion on the vaccine in the absence of any other cause and the temporal correlation with the administration of the vaccine."
She noted some countries had gathered significant databases of adverse events, ranging from allergy and anaphylaxis to cardiovascular, neurological, haematological and auto-immune reactions.
Despite the recognition of heart inflammation associated with the Pfizer and Moderna mRNA vaccines, Dr Phelps said "even then, there has been a misconception that myocarditis is 'mild', 'transient' and 'mostly in young males', when there are many cases where myocarditis is manifestly not mild, not transient and not confined to the young male demographic".
Dr Phelps said until there was acknowledgment and recognition of post-vaccination syndrome or vaccine injury, "there can be no progress in developing protocols for diagnosis and treatment and it is difficult to be included in research projects or treatment programs".
"It has also meant a long and frustrating search for acknowledgment and an attempt at treatment for many individual patients," she said.
"People who suffer Covid vaccine injury may present with a range of symptoms, and results of standard medical tests often come back normal. And like patients with Long Covid, they too are also asking the medical profession and public health systems for help."
Earlier this year, Dr Rado Faletic — who previously spoke out about his battle with the TGA — launched Australian advocacy group Coverse to provide support and collect testimony from those suffering vaccine injuries.
AHPRA said in a statement that the regulator had "been clear in all of our guidance about Covid-19 vaccinations that we expect medical practitioners to use their professional judgement and the best available evidence in their practice".
"This includes keeping up to date with public health advice from Commonwealth, state and territory authorities," a spokeswoman said.
"Legitimate discussion and debate, based on science is appropriate and necessary to progress our understanding and knowledge. The [March 9, 2021 position] statement does not prevent practitioners from having these discussions."
She added that as of June 2022, only 11 practitioners had been suspended "in relation to concerns raised about Covid-19".
"The concerns raised about the practitioners related to the spreading of misinformation about Covid-19 or vaccination advice, including that the Covid-19 pandemic was fake, that the vaccination program was about government led mind control or in some instances representing that patients would develop cancer by having a vaccination administered," she said.
Dr Phelps, who remains a practising GP, was elected as the first female president of the AMA in 2000.
She was also a City of Sydney councillor from 2016 to 2021, and Deputy Lord Mayor under Clover Moore from 2016 to 2017.
In 2018, Dr Phelps ran as an independent candidate in the by-election for the eastern suburbs seat of Wentworth following the resignation of Prime Minister Malcolm Turnbull, defeating Liberal Dave Sharma.
She spent less than a year in federal parliament, losing to Mr Sharma in a rematch in the May 2019 election.
University student banned from classes after she questioned the lecturer's controversial views about Australia
A mature-aged university student has been banned from class and told to take a re-education course for questioning her lecturer's anti-Australian views.
Grandmother Rae Rancie expressed her disagreement with some assertions made by her lecturer in the 'Politics of Indigenous Australia' unit at La Trobe University in Melbourne.
The lecturer allegedly said that Australia was a 's***hole country', that 'white people think they are the most superior race on the planet' and the country 'baulked at the thought of Peter Dutton as prime minister'.
For questioning the tutor's narrative, the grandmother claims she was on the receiving end of a lengthy diatribe and prohibited from attending class.
'I have been banned from classes, I had to listen online to a recording, and I was shocked,' she told Andrew Bolt on his Sky News Australia program.
'To be the subject of a nine-minute humiliating tirade from the lecturer calling me 'a difficult student', 'that person', I was 'making her go crazy,' I was 'a real life example of racism and disrespectful behaviour,' how she encourages speech in her workshops, but not my type of speech.'
But Ms Rancie admitted to also making some more controversial statements during her class, which fuelled her tutor's heated response.
While her class spoke about the Stolen Generation, Ms Rancie said: 'I don't think they are stolen anymore. They get taken away from harmful situations. It's the government's responsibility to do it.'
She also suggested that parents 'failing to look after their children' was the reason why so many indigenous children were in detention.
The problematic comments got Ms Rancie banned from class, and she was also advised to take a re-education course. But when she applied to do the re-education course she 'heard crickets'.
Ms Rancie said one one of the reasons she chose to continue questioning her lecturer's narrative was because other students in her class told her in private that they agreed with her.
After passing the class, Ms Rancie sent her lecturer an email wishing her a Merry Christmas and attached a video of Aboriginal senator Jacinta Price speaking.
She explained that she asked her lecturer in the email to look at 'both sides of the argument'. 'I've been told that that was very intimidating and I'm in line for another disciplinary process,' Ms Rancie said.
La Trobe University told Daily Mail Australia in a statement: 'As a university La Trobe welcomes and encourages diverse and opposing views and opinions, however we expect debate to be conducted in a respectful manner.'
'If a student behaves disruptively or disrespectfully towards others in class, we will take necessary disciplinary action, including requiring the student to attend a course in respectful behaviour.'
'As this particular matter is subject to ongoing investigation, we cannot comment further.'
How the mighty are fallen: Prominent feminist seeks male approval
She has glammed up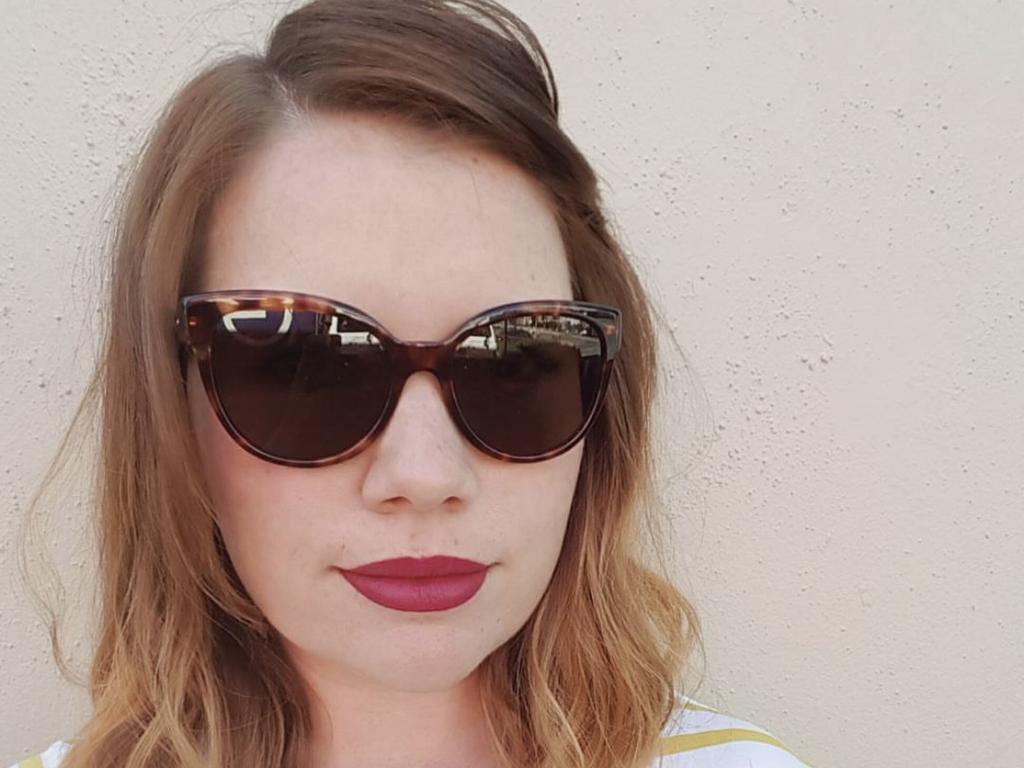 Controversial feminist Clementine Ford has opened up about why she has drastically changed her looks since gaining a huge following.
Ford's dramatic transformation means she has gone from having auburn hair to bleach blonde hair and had a complete style revolution. She started out looking like Andi at the beginning of Devil Wears Prada, and now she looks like Andi at the end of The Devil Wears Prada.
Ford has also lost weight and openly shared her journey online of getting Botox and falling in love with make-up and fashion.
She has gone from having an earthy, minimal, relaxed look to a more chic made-up look, and it is hard not to notice the stark difference.
Ford revealed the sad truth behind her makeover after someone on Instagram accused her of "falling victim to misogyny" by getting anti-ageing treatments and documenting the results online.
The follower said that she'd return to Ford's Instagram "if you come back from this beauty and anti-ageing Influencer stuff that undermines the really important work you've done".
In response, Ford opened up about why she'd altered her looks, and in a lengthy Instagram story, she wrote: "You can disagree with my thoughts and actions on cosmetic interventions, but please don't waste my time by telling me you find it sad or disappointing that I, a woman who has spent almost her entire adult career being called ugly, who has been turned into memes, who has had her emotional and physical wellbeing put at risk because of the things I say about men's violence against women, has found some kind of power in removing some of the means by which men can abuse me online."
Ford shared with news.com.au that now her appearance has changed she's less likely to get such horrible messages about how she looks. "For almost all of my public career, I was abused for being ugly, for being fat, for having freckles – even for having a diastema.
"As I've gotten older and begun to play more with my appearance, I've found the comments have shifted. Now the men who abuse me are more often to say I've had too much plastic surgery (I've had none), which is a welcome respite from the time someone said I was 'uglier than a dead dog on the side of the road'.
In 2017 right-wing provocateur Milo Yiannopoulos during his Australian tour, projected an old photo of Ford with the word, "unf##ckable" on big screens during his talks in Adelaide and Perth and Ford has also faced constant online trolling.
Gas price cap offers political sugar hit, until reality kicks in
The fact that the government was able to pass its incoherent energy measures last week came as no surprise. After all, they were a response to a demand posed in panic: don't just stand there, do something. The trouble is that doing something generally makes things worse, particularly down the track.
The legislation also goes to the heart of this Labor government's approach to policymaking – delivering on promises made to key stakeholders. In this case, one of the most important stakeholders is the Australian Workers Union, whose membership is quite small overall but relatively strong in parts of the manufacturing industry. You may have noticed Dan Walton, national secretary of the AWU, speaking on the issue and demanding lower gas prices as well as a gas reservation scheme.
There are some manufacturing processes that must use gas directly, with no cost-effective alternative technologies currently available. In the case of the larger firms, you would expect them to enter into longer-term contracts with the gas producers at an agreed price. That some of these users have dragged their feet can be explained by an expectation that the government would intervene to get them a better deal. So much for free enterprise.
For smaller users, they can only access their gas supplies via retailers. This is a key point because, notwithstanding the government's far-ranging anti-market interventions, there are no controls imposed on retailers. It's entirely possible retailers will see an opportunity to extract higher margins so the net impact of the price caps on gas will be entirely (or more than) offset. Mind you, imposing price caps on retailers runs the risk of sending some of them broke quite quickly.
There are very strong parallels here with the introduction of Wayne Swan's Resource Super Profits Tax in 2012. During the consultation period – which by the standards of this recent intervention was lengthy – it became clear the Treasury officials designing the new tax didn't have the faintest clue about the key features of the resources industry. It was truly embarrassing.
Fast-forward and nothing has changed. Officials were unable to answer some key questions about key terms in the proposed legislation, particularly the definition of a new gas field.
The Australian Competition & Consumer Commission has a long history of failing to understand the key features of the gas industry, likening it to some sort of infrastructure model. Having said this, the ACCC supported netback domestic pricing – effectively world parity pricing – until very recently.
The AWU quickly realised price caps and the ongoing "reasonable price provision" would not guarantee supply. Hence the powers in the legislation for the Treasurer to demand the companies supply certain quantities of gas. It's at this point geological and engineering reality collides with Marxist dreaming.
The sad fact is that the rate at which the Bass Strait reserves are depleting is extremely rapid. To be sure, the Kipper field is a bit of help, but it's small. On one estimate, there will be a fall of close to a quarter in the reserves in the Bass Strait by the end of next year. By the early 2030s, it will be all gone, although extracting from such small reserves will probably be suspended well before then.
But here's the problem: there is gas in Queensland and most of this is used for the export market, bringing substantial economic benefits to the country. Note here these Queensland fields would never have been developed had it not been for the exporting opportunity. Many of the export contracts are locked in for years into the future.
But even if the government or the ACCC decides more gas is needed in the south, which it will be, there are capacity constraints on the pipelines that were designed for south-to-north transfers. It is simply not possible to rectify this problem quickly.
Australia's coal and gas exports are expected to face up to a $68 billion hit due to a slowdown in global demand… and reduced supply chain disruptions
One solution always was for LNG to be imported into Victoria or NSW – two sites had been identified – to make good this shortfall, particularly at certain times of the year. The irony is that the government's measures are likely to kill off this solution as the business cases that would justify the investment are weakened.
Sensing perhaps that the package would still not satisfy the AWU's demand for lower gas prices and plentiful supply – sadly, Santa doesn't exist in the real world – Anthony Albanese abruptly raised the issue of a gas reservation policy for the east coast. He spoke favourably about the policy that exists in Western Australia.
What the Prime Minister didn't mention was the fact that a reservation policy in respect of the Queensland fields was explicitly rejected by Labor when it was last in government. That's right – it was a Labor government that decided against such a policy. There was a (reasonable) fear it would deter investment.
Most economists don't have a problem with a reservation policy as long as it is determined before the event, when investors can take into account the policy requirements. But it is a serious problem involving sovereign risk after projects have commenced.
In the case of WA, there are immense reserves of gas and the 15 per cent domestic requirement has never been used in full – until recently, at least. It has enabled the state to have low domestic gas prices and there have been some investments, including current ones, spurred by this. Nonetheless, the WA government has so mismanaged its electricity grid that there are now serious problems. The exit of coal generation has been badly bungled and there is even talk of blackouts. Cheap gas is not a cure-all.
Interestingly, the developer of the Narrabri gas field in NSW, which has been many years in the making, has always offered up the gas for 100 per cent local consumption within the state. This offer has never been accompanied by a willingness on the part of the NSW government to facilitate the completion of this project – indeed, quite the reverse.
The recent energy measures demonstrate clearly the lessons of bad approaches are never fully learnt. We are about to repeat the policy mistakes of the 1970s when price caps seemed like a seductively simple remedy. Ironically, these mistakes were recognised by the Hawke/Keating government. The argument for world parity pricing of our resources was until recently regarded as unchallengeable; this is no longer the case. The politics may work for a while but the economics certainly won't.
Also see my other blogs. Main ones below:
http://dissectleft.blogspot.com
(DISSECTING LEFTISM -- daily)
http://antigreen.blogspot.com
(GREENIE WATCH)
http://pcwatch.blogspot.com
(POLITICAL CORRECTNESS WATCH)
http://edwatch.blogspot.com
(EDUCATION WATCH)
http://snorphty.blogspot.com/
(TONGUE-TIED)
http://jonjayray.com/blogall.html
More blogs
***************************************