Australia's approach to indigenous communities is making their lives worse, expert claims
She's right. Conditions for Aborigines have deteriorated steadily since the missionaries left. Putting Aborigines into the hands of bureaucrats was laughably inept. She seems unaware however that governments have tried just about everything since. Her idea of Aboriginal self-management is really old hat. It was tried years ago in the Lake Tyers experiment, with woeful results. I agree however that Aborigines should be left strictly alone by governments. That way they alone will be responsible for however they end up.
Australia is living in a "colonial fantasy" — and unless we radically change our path, the plethora of problems plaguing indigenous communities will worsen.
That's the powerful message put forward by Sarah Maddison, a Professor of Politics at the University of Melbourne, has a game-changing idea which she believes will drastically reshape our nation for the better.
Speaking to news.com.au off the back of her new book, The Colonial Fantasy, Why White Australia Can't Solve Black Problems, Prof Maddison said efforts from both political parties to bridge the gap over the years have just made life worse in indigenous communities.
"It's hard to imagine that the situation can get any worse than it is now," she said grimly, pointing to catastrophic suicide rates and an alarming level of youth incarceration for indigenous people.
"No approach that any government has taken has made any difference, so we need to try something radically different."
In her book, Prof Maddison puts forward this bold new rethinking of Australian society and the solution, she says, is very simple — to give Aboriginal and Torres Strait Islander communities the power to control and manage their own lives.
"There is now a wealth of evidence from overseas that's shows when you give indigenous communities the power to control their own affairs in areas like health, education and economic development, it makes a huge difference to their lives," she said.
She argues that abolishing Australia's current top-down approach and allowing indigenous communities to control their affairs, they can focus on the things that are important to them — rather being told what is important by the government.
In the USA, Native American communities are being empowered in a similar way, and decades of research from self-determination organisations, such as the Native Nations Institute, shows that the approach is working.
The argument is, that once power is handed back, decisions start to reflect local concerns and, perhaps more importantly, indigenous communities are accountable for their own lives — meaning they reap the benefit of good decisions and learn from the bad ones.
"Australia, however, is relentlessly going in the opposite direction by continuing to implement policies that are interventionist and paternalistic," Prof Maddison said.
In the title of her book, she describes the current attitude and methods used to try to improve the lives of Aboriginal and Torres Strait Islander people as a "colonial fantasy".
In her book, she also argues that this heavy-handed approach — whereby increasing amounts of public money is thrown at indigenous communities to no avail — is a continuation of the colonial attitude that has persisted since Captain James Cook first landed here in 1770.
"I'm not saying that the current government is trying to kill all indigenous people, but the aim has always been the same, which is to eliminate indigenous difference and identity because the idea of them living independently of the state is threatening," she said. "And, for indigenous people, this infects everything."
She said evidence of this in the way Aboriginal and Torres Strait Islander people often place much greater importance on their clan name or regional identity rather than describing themselves as "Australian".
But a much more glaring example of this disconnect rears its ugly head every January.
This year's Australia Day debate played out on our television screens in spectacular fashion, when Kerri-Anne Kennerley made a point about there bigger fish to fry than changing the date of a symbolic national holiday.
But, while Prof Maddison said debates about statues of controversial historical settler figures and changing or abolishing Australia Day are a distraction on one level — they also matter on another.
"They matter because they become a deeply symbolic of the colonial relationship, and it shows that just can't face up to the reality of what's happened in our history," she said.
She argues that if "psychological roadblocks" like this had been resolved years ago, Australia would be a lot further down the line in terms handing back power to Aboriginal and Torres Strait Islander people.
However, she added that communities around Australia are not waiting around and they are starting to take matters into their own hands — such as the Yawuru people who are the native title holders of the Western Australian town of Broome and are organising their own affairs independently of the government.
"They are the now the authors of their own destiny and that's what needs to happen right across Australia," Prof Maddison said.
"The government needs to get out of the way and stop telling Aboriginal and Torres Strait Islander people how to live their lives."
SOURCE
Revealed: The ridiculously easy test designed to weed out poor student teachers in Australia - but those who fail are STILL being allowed in the classroom
Now why would that be? It's because they would not be able to staff their classrooms otherwise. After the Leftist destruction of discipline, Australian classrooms are not an attractive environment for work
A skills test to weed out student teachers who can't multiply two numbers or read a simple graph is failing to stop them graduating as universities side step the system.
The Literacy and Numeracy Test for Initial Teacher Education (LANTITE) is a compulsory test that was brought in to remove incompetent student teachers from the system before they graduate and enter classrooms.
It is supposed to guarantee that student teachers have a literacy and numeracy level equivalent to the top 30 percent of the adult population in Australia.
Sample questions to prepare students for the test include problems as simple as multiplying 3.2 by 100.
'The weight of a box of stationery is 3.2 kilograms. What is the weight of 100 such boxes?' reads one sample question.
Another question asks students to look at a table of gym memberships and compare the monthly fee to the yearly upfront fee and work out the difference.
One in ten students fail the 130-question test the first time.
Student teachers have three chances to sit the LANTITE test administered by the Australian Council for Educational Research (ACER).
If they fail on the third attempt, ACER says on its website that it will not allow them to try again without a formal recommendation from the university.
Students are instead trying up to five times after receiving study support and coaching from their universities who back them, the Daily Telegraph reports.
In a separate issue, universities are admitting below-average students directly into teaching degrees using a gap in the rules, according to the report.
After a scandal in 2015 where it was revealed that students with Australia Tertiary Admission Rank (ATARs) as low as 30 were becoming teachers, the NSW Government changed the rules to require students to have a minimum of at least 80 per cent in three HSC subjects, at least one of which had to be English.
The rule was intended to keep poor academic performers out of teaching degrees.
A provision was made to allow students who don't make the grade capable of entry after enrolling in an accredited degree and passing one year of studies in the subjects they will teach.
The University of Newcastle, University of New England and the Australian Catholic University are using this provision to allow students who otherwise would not qualify directly into teaching degrees on the basis that completing the first full year of the teaching degree meets these requirements, the Daily Telegraph reported.
Australian Catholic University Executive Dean of Education Professor Elizabeth Labone said all entry pathways for enrolling in their initial teacher education course had been approved and were monitored by the NSW Educational Standards Authority (NESA).
'ACU continues to ensure we meet the relevant accreditation requirements,' she said via an emailed statement.
A University of Newcastle spokesperson who declined to be named said ATAR was 'but one narrow indicator' for entry to university.
'It is in no way a predictor of whether a person will go on to successfully complete their degree or be a great teacher,' the spokesperson said via email.
The University of New England was unable to respond by time of publication.
Federal opposition education spokeswoman Tanya Plibersek told Daily Mail Australia that in 2005, about a third of teaching entrants had an ATAR above 80 but by 2015 it had dropped to only one in five.
'It is also a waste of students' time and money to allow them to complete a teaching degree if they are unsuitable to teach,' she said via email.
Ms Plibersek said if elected she would cap places in teaching degrees and pay cash bonuses of up to $40,000 to encourage 'top achievers' into teaching by way of 1000 bursaries per year.
Daily Mail Australia contacted the NSW Educational Standards Authority, Federal Education Minister Dan Tehan and the NSW Teachers Federation but they were unable to respond by time of publication.
SOURCE
Al Gore to head Climate Change Week in Queensland in June
What a nauseous prospect! Why does anyone need "training" in global warming? It is obviously not a scientific conference where evidence is discussed. It seems to be a propaganda course. That does need training because it is an education in falsehoods
An Inconvenient Truth presenter and former US vice-president Al Gore will run a three-day climate change training session in Brisbane during Queensland's first Climate Change Week.
Governments from around the Asia-Pacific region will travel to Brisbane for the week starting June 2 for discussion on climate change. World Environment Day is marked on June 5.
Political, business and community groups will also meet to debate issues to develop a strategy to minimise the effects of a changing climate.
After he left politics, Mr Gore developed an international reputation when his grassroots campaign to educate people about climate change became a 2006 documentary, An Inconvenient Truth.
He was a joint-winner of a Nobel prize the following year.
An Inconvenient Sequel came in 2017, while Mr Gore runs and lectures at The Climate Reality Project.
In Brisbane, Mr Gore and The Climate Reality will host climate-change training for between 800-1000 business and community leaders.
Professor Don Henry, chair of The Climate Reality in Australia and the Pacific, said this was the first time Mr Gore would train others on climate issues in Queensland.
"It is a good opportunity for people from all walks of life to be better informed and act on the solutions needed to tackle climate change," Professor Henry said.
"With the Great Barrier Reef threatened by climate change and action needed across the Asia Pacific region, the training will be of global significance."
The Queensland government is developing a green paper on climate-change strategies, which it planned to release in either June or July, the state's new chief scientist Professor Paul Bertsch told Brisbane Times in February.
The Queensland government has set an ambitious target of meeting 50 per cent of its energy needs from renewable energy by 2030 and have zero net emissions by 2050.
"Climate change is the greatest challenge facing our planet today and it is critical that we unite to take urgent action," Queensland Environment Minister Leeanne Enoch said.
Ms Enoch in February said Queensland "was on track" to provide 20 per cent of its electricity needs by renewable energy by 2020, in response to criticism by Queensland Climate Advisory Council senior scientist, Professor Ian Lowe.
The Queensland government is one of 220 members of The Climate Group's Under2 Coalition, a group of "smaller than national governments" committed to keep the change in the world's temperature to below 2 degrees.
Ms Enoch said the Great Barrier Reef was still threatened by the warming climate.
"During Climate Week Queensland, we will bring together sub-national governments from across Australia and the Asia-Pacific region.
"In addition, we will host a First Nations Summit to ensure that these communities, many of which are also experiencing the impacts of climate change, are part of these important discussions."
Climate Week Queensland will include business forums and a public program of arts, music, and panel discussions involving students.
Ms Enoch said that as part of the Minister's Climate Challenge, students would be invited to identify a local climate problem and brainstorm an idea to solve it.
"The students who put forward the most innovative ideas will have the opportunity to be mentored by and have their solutions judged by world-class business leaders during Climate Week Queensland."
SOURCE
Berejiklian's cabinet reflects the direction of her new government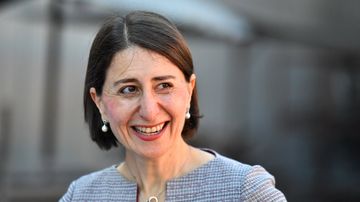 Gladys Berejiklian has been described as the "great hope of the progressive Liberals" and the direction of her new government reflects this. She wants a focus on compassion and empathy.
In announcing her new cabinet line-up, Berejiklian singled out several issues that are clearly top of mind for her and indicate a re-positioning for her government on social issues.
She says she is particularly troubled by high rates of suicide in NSW, as well as the plight of vulnerable young people (especially in the bush) and struggling families who need extra support.
The Premier wants to break the cycle of young people being sent to jail only to re-offend. This can only be done with more "sympathy and empathy" for families, she says.
But as well as social issues, and a bigger push for the environment and climate change, Berejiklian's cabinet also has a renewed focus on the bush.
She has conceded that voters in Barwon and Murray sent her government a "cry for help" when they comprehensively booted out the Nationals in favour of the Shooters, Fishers and Farmers.
The once fringe single-issue party now holds three seats in the lower house. The voters who turned to the Shooters in desperation cannot be ignored.
Together with her deputy, Nationals leader John Barilaro, the new cabinet sends a message to disenfranchised voters in western NSW that the Coalition has heard their message loud and clear.
With a dedicated minister for western NSW, as well someone at the cabinet table with responsibility for regional roads as well as regional youth, the regions are not an after-thought.
Berejiklian is constantly asked if she is looking forward to "cutting ribbons", a reference to the large projects that are underway but were never going to be ready before the election campaign.
There is no doubt that she will be happy (and relieved) to get cutting on some of the more contentious projects, like the CBD light rail and WestConnex.
But her government is no longer defined by cranes in the sky and scaffolding along streets.
Berejiklian has a mandate to deliver what matters to her. She has been dubbed the infrastructure premier but with a huge pipeline of work underway, she will now also focus on people
SOURCE
Posted by John J. Ray (M.A.; Ph.D.).
For a daily critique of Leftist activities, see DISSECTING LEFTISM. To keep up with attacks on free speech see Tongue Tied. Also, don't forget your daily roundup of pro-environment but anti-Greenie news and commentary at GREENIE WATCH . Email me here