Teaching girls to fear boys
Bettina Arndt
I've long been contacted by parents and teachers concerned about anti-male bias in school curriculums – I've made a previous video with an Australian teacher about this issue.
So, I was really delighted to be contacted by a South Australian teacher, Christopher Vogel, who told me he'd just finished his Masters thesis showing his state's school curriculum is systematically teaching children that males are the abusers with females as their innocent victims.
Christopher analyzed Keeping Safe, the mandatory child protection curriculum taught in all public schools in SA from kindergarten to year 12.
He talks to me about his fascinating results in my new video.
I hope you will help me promote this important research. We need to expose this education department for teaching girls to fear boys.
His research reveals systemic bias against boys. The curriculum provides 84 examples of males being aggressive to females (including child rape and abuse) and only one instance of a female being aggressive to a male (looking in his room without permission). See examples in the graphic below.
The introduction to the curriculum reveals the clear bias against boys, quoting from feminist advocacy groups like White Ribbon which are known to distort violence statistics, presenting only males as aggressors. Here's a breakdown of the proportion of male to female aggressors in the introduction.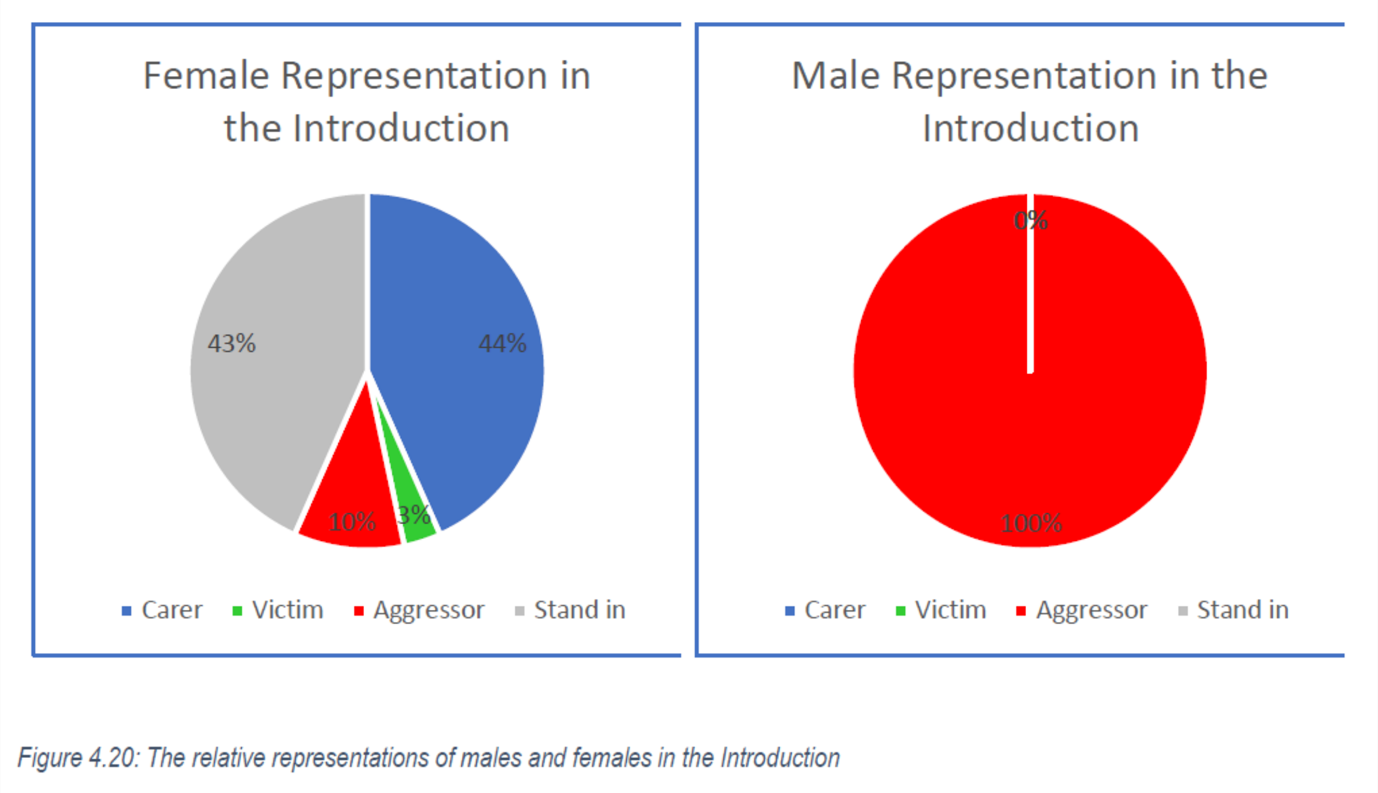 The bias against boys increases with the older age groups, as you can see here.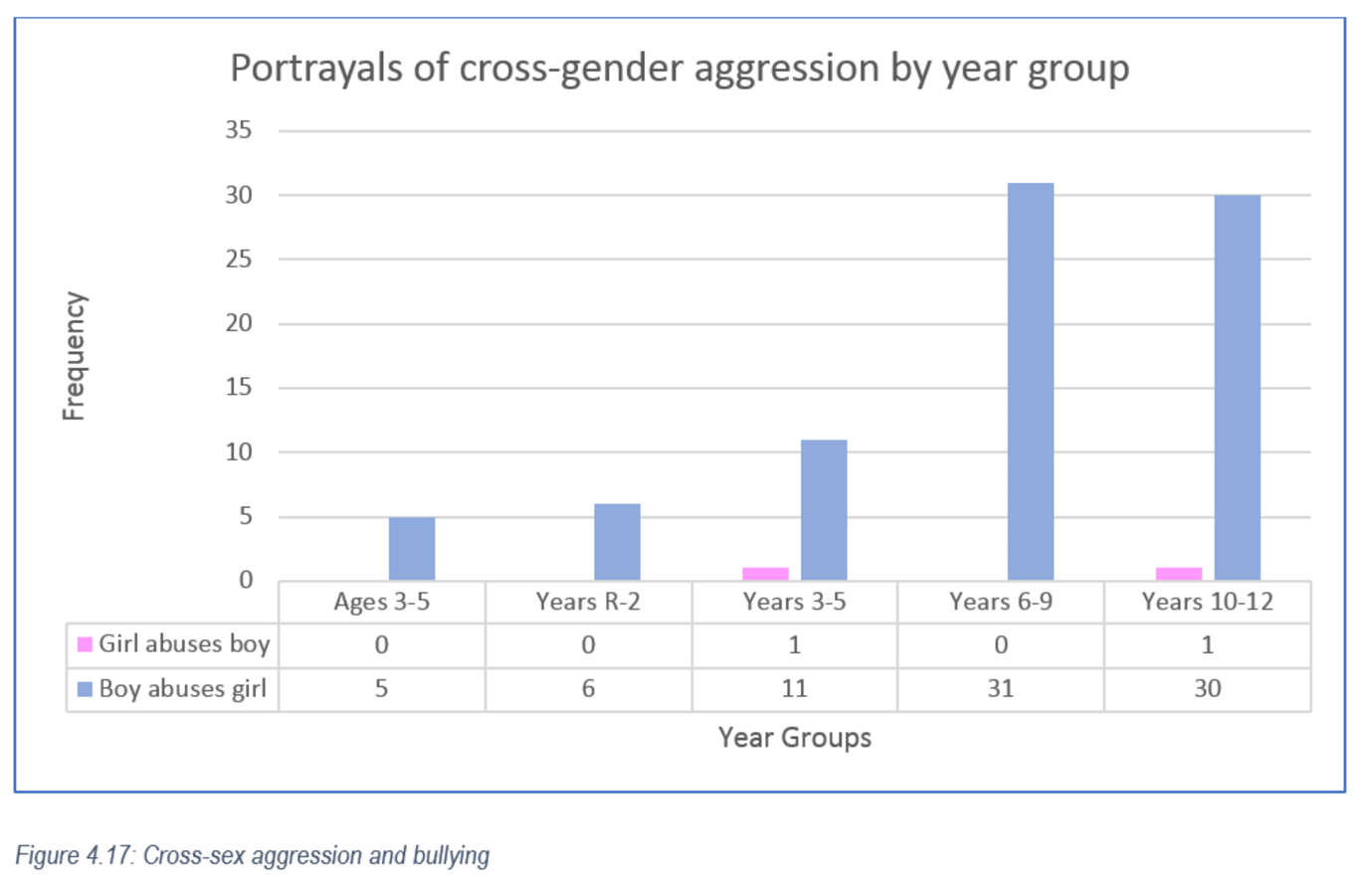 It wasn't so long ago that our society realised, to our shame, that we'd failed victims of sexual abuse by choosing not to hear their stories. But now we have an entire school curriculum which deliberately ignores male victims of abuse, denying their experiences and making them reluctant to seek help. In Australia we have recently had hundreds of victims of child sexual abuse paraded in the media, as part of the Royal Commission into institutional sexual abuse. It was startling how many of these were boys.
It's just one example of the dangerous grip of feminist ideology on our institutions, including school curriculum. South Australia certainly isn't the only state where this is happening. I hope this inspires parents and teachers to check out whether children in your schools are being fed similarly dangerous nonsense. I'll post Christopher's thesis on my website to give the detailed information you might need to ask tough questions. You'll be pleased to hear Kit received an HD for his thesis and was asked to present his results to senior education bureaucrats. We need to be writing to education ministers across the country seeking more balanced treatment of our children.
Here are some of the curriculum's examples of male aggression:
Via email from Bettina@bettinaarndt.com.au
Academics spending big in search for racism
Leftists boost themselves up in a most childish way -- by running down other people. That those they criticize are in fact innocent of any wrongdoing or even wrong thoughts does not seem to matter to them

And when it comes to academics the process is magnified. Because of their great learning in one tiny field of knowledge, they feel that they are much wiser and superior to the average Joe. So, improbable though it is, the whole population can then be found to be at fault

Solid evidence that Australians are NOT systematically racist is the high rate of intermarriage between ordinary Anglo-Australians and East Asians. I see young Asian ladies on the arm of Caucasian men all the time in my local shopping centre

These "anti-racists" live in a delusory little world of their own. Their self-image as noble rescuers is what it is all about
If you were not already convinced that Australia's humanities departments have truly lost their way, the latest research project from the faculty of arts and social sciences at the University of Sydney should get you over the line.
Resurgent Racism is the seventh "flagship" theme of FutureFix, a program devised by academics at the university to show taxpaying Australians their money is being put to good use. Resurgent Racism will "address the emergence of new forms of racism manifesting as national populism and far-right extremism". Researchers will "seek to explain the logics of emboldened white rac­ism in Western liberal democracies", which they predict "will be applicable to majoritarian racism elsewhere". These self-appointed sages have looked into the crystal ball and have seen a future blighted by white supremacists.
But we can be pulled back from the brink of this dystopian nightmare if the team at the faculty of arts and sciences is permitted to spend taxpayers' dollars, and the next few years, "mapping the changes of racism, including anti-Semitism, Islamophobia and white supremacism" in Australia.
That Islam is a religion, not a race, seems not to matter because a great many academics have shifted from focusing on what is real to what is not — in this case an imagined crisis of endemic racism. They are knee-deep in the quagmire of identity politics, that most dangerous and divisive of ideas that insists on distinguishing individuals by their differences rather than by their similarities.
Like so many in the humanities, they view the world through a Manichean lens, in which everything can be explained as a struggle between the forces of good (light) and evil (darkness). Everything they think about, write about and talk about in their capacity as historians, sociologists or political scientists must support the belief that Western civilisation is a white male patriarchy that wields power over, and oppresses, women and racial minorities.
Last year, Sydney University invited American professor, author and "renowned anti-racism educator" Robin DiAngelo so she could tell all the white people attending the launch of What Does It Mean to be White? Developing White Racial Literacy just how terribly, but perhaps not irredeemably, racist they were. According to DiAngelo, white people live in a racially insular bubble that renders them quivering wrecks when it comes to talking about race, a phenomenon she calls "White Fragility". "Why does race seem to be the hardest word for white people?" she asked.
If she were to take a closer, impar­tial look at the Australian university sector, she would encounter many white people who have no problem at all with the word. Many academics are not only not afraid to talk about race but they talk about it so incessantly that if it weren't for gender — the other great preoccupation of 21st-century academe — it would verge on monomania.
Of the 30-odd staff employed at the uni's department of history, for example, 10 make a point of mentioning race or racism as a research interest. When Greg Sheridan criticised the Australian National University for rejecting the Ramsay Centre for Western Civilisation, one Sydney University professor, Dirk Moses, compared Sheridan to Norwegian mass murderer Anders Breivik.
Since 2002, the department has received almost $9m from the Australian Research Council to fund 18 historical studies research projects that focus on racism, in one form or another. These included The Construction of Race and Racial Identity at the Antip­odes of Empire, 1788-1840 (costing $231,000); Southern Racial Concepts: Comparative Histories and Contemporary Legacies ($2.4m); Immigration Restriction and the Racial state, c. 1880 to the Present ($359,000); Enterprising Women, Race, Gender and Power in the Revolutionary Atlantic, 1770-1820 ('$323,000); and The Racial Century ($94,000).
The Resurgent Racism squad comprises, among others, former race discrimination commissioner Tim Soutphommasane, seen by some to have encouraged complaints to the Australian Human Rights Commission following publication of a 2016 cartoon by Bill Leak in this newspaper. Last year Soutphommasane gave the keynote address at the university's National Centre for Cultural Competence, launched in 2013 to the tune of $5.6m of taxpayers' money. It claims its mission is to "roll out cultural com­pe­tence across the university and broader local national and international community", but in real­ity it is a concerted effort to con­vince us Anglo-Celtic white culture is bad.
When vice-chancellor Michael Spence suggested questioning the existence of Chinese influence on his campus was akin to the White Australia policy, he was simply ensuring next year's income. Last year the university pocketed $884m in international student fees, a generous portion from Chinese students.
The Resurgent Racism team is spending taxpayers' money to tell Australians how racist we are. It is evidence the racism industry is flourishing on our university campuses, which are no longer in the business of producing objective and impartial scholarship that will edify, inspire and educate future generations of Australians.
SOURCE
Peter Dutton opens door to cancelling welfare of climate protesters
Home Affairs Minister Peter Dutton has lashed Queensland's soft treatment of climate protesters, as he opens the door to cancelling their welfare payments.
Speaking on 2GB radio this morning Mr Dutton took aim at magistrates who impose "slap on the wrist" penalties for protesters, declaring the sunshine state should introduce mandatory sentences for those who regularly disrupt the community.
It comes as six people were charged with obstruction offences on Wednesday after a road-blocking protest by climate activist group Extinction Rebellion disrupted the Brisbane CBD during peak hour.
Two days earlier, four people involved in the same group were charged over a protest in which a woman climbed up a large tripod on a high-traffic CBD bridge at a similar time.
"The state government can pass laws that do reflect community standards and, at the moment, they don't," Mr Dutton told 2GB.
"It's frustrating for everybody but particularly for those most affected in Brisbane at the moment, these people aren't acting in the law," Mr Dutton said of Wednesday's protest.
"The community expectation is that these people are fined or jailed and they should be jailed until their behaviour changes because they're diverting police and emergency service resources from tasks they should be undertaking otherwise," Mr Dutton said.
"And yet they [the protesters] turn up week after week because they know the slap on the wrist is just not working."
When asked whether three of the protesters who attached themselves to the Brisbane street who received government benefits should have their welfare payments removed, Mr Dutton agreed.
"Well I agree, Ray," he said.
The Home Affairs Minister said the community needed to "push back" against the "unacceptable" behaviour seen in recent protests.
"You know raiding farms, climbing on to the roof of my electoral office and then getting told by the magistrate he would be proud of her if it had been his daughter," Mr Dutton said.
"…While we're annoyed about a lot of this, we let a lot go through to the keeper and we shouldn't. We should push back because these people are a scourge. They are doing the wrong thing and it doesn't meet community expectations."
The call comes amid months of regular protest actions in Brisbane and across Queensland over climate change and the Adani coal mine.
The state Labor government has moved to outlaw items used by protesters which make it harder for them to be removed from roads and train tracks, such as steel cylinders or drums filled with concrete.
The new laws could see those who use such items face prison time and hefty fines.
However, the laws will not pass parliament before the start of International Rebellion Week on October 7, with more protests planned.
SOURCE
Desperate farmers risk hiring illegal workers
Many Australian farm bosses are employing contract labourers who have a good chance of being exploited by "unscrupulous" labour hire companies, a government report has found.
But the peak agricultural lobby group says farmers are in many cases so desperate for labour that they knowingly allow migrants to work illegally and be exploited.
The report from the Australian Bureau of Agricultural and Resource Economics and Sciences released Wednesday found family labour accounts for the majority of the workforce in traditional broadacre farms along with dairy operations.
But horticulture relied on foreign workers for approaching half its labour force.
The "Demand for Farm Workers: ABARES Farm Survey Results 2018" found backpackers dominate the overseas cohort.
Horticulture also employed a large proportion of workers as contract labour, rather than as casual or permanent workers.
Contractors accounted for 37 per cent of the workforce of vegetable growers and 56 per cent of the irrigated fruit and nut industry.
In many cases, ABARES said, their background was unknown to their employers.
"The use of contract workers by horticultural farms is widespread," the ABARES report said.
"Around 10 per cent of horticulture workers were contract labour with an unknown background," it said.
"Although a minority of farmers we surveyed didn't know the background of some of their workers, it is possible someone else in their farm business would have known.
"Not knowing the background of contract labour puts farmers at risk of using undocumented workers from unscrupulous labour hire companies."
National Farmers Federation chief executive Tony Mahar said industry evidence showed farmers had great difficulties getting adequate labour, to a much greater extent than the ABARES report suggested.
A report this year commissioned by Vegetables WA and developed by Joanna Howe of the University of Adelaide found 40 per cent of vegetable growers had been unable to fill vacancies over a five-year period, and 22 per cent said they experienced difficulties attracting workers almost all of the time.
"Alarmingly, Dr Howe confirmed the stark reality that some growers feel they are forced to rely upon 'undocumented' migrants who work and remain in Australia, in breach of their visa conditions and to engage in practices which do not comply with Australian labour standards," Mr Mahar said.
ABARES surveyed more than 2400 farms covering broadacre, dairy, vegetable and some irrigation industries.
"Family and other Australian workers make up the majority of the agricultural workforce," ABARES acting executive director Peter Gooday said.
According to the ABARES report, farmers surveyed generally filled their vacancies, and recruitment difficulties were similar or less common than businesses across the rest of the economy.
However, Mr Gooday stressed: "Some farmers are having difficulty recruiting and farms in more remote areas had more difficulty recruiting."
"These farms have a smaller pool of local labour to draw on and some backpackers may be less willing to travel to work," he said.
He also pointed out that vegetable farms near cities had more difficultly recruiting workers.
"They may face greater competition for workers and they can't offer work qualifying backpackers for a visa extension," Mr Gooday said.
"Overall, farms had more difficulty recruiting higher skilled positions."
"This issue is not unique to agriculture and highlights the importance of access to agricultural training and the need to offer competitive wages and conditions."
The NFF said the ABARES report "doesn't match farmers' lived experience and fails to provide appropriate or current evidence that will help fix the much talked about problem of labour shortages."
"The survey doesn't align with what farmers are saying, did not cover many of the main fruit growing regions and instead focused on fruit growing in the Murray-Darling Basin," Mr Mahar said.
SOURCE
Posted by John J. Ray (M.A.; Ph.D.).
For a daily critique of Leftist activities, see DISSECTING LEFTISM. To keep up with attacks on free speech see Tongue Tied. Also, don't forget your daily roundup of pro-environment but anti-Greenie news and commentary at GREENIE WATCH . Email me here