Who killed Australia Day?
Terry Barnes, below, claims that "Australians" killed Australia day. That is mindlessly inclusive. It was only a small Leftist minority that did it. Australia day became the latest victim of the never-ending Leftist search for things to hate. We should not bow down to them.

Most Australians this year did not. There were maybe some thousands who "protested" but millions just had family BBQs and the like.

I celebrated by replacing the Gadsden flag I usually have up outside my house with the Australian flag. And I took my girlfriend out for lunch, after which we had a very nice snooze together

And respect for the day can probably be found in surprising places. During the day, one of my tenants spoke to me and said: "Long live the Empire". He was referring to the British Empire and noting that Australia Day marks the successful completion of a great Imperial project. His own heritage is Greek but he is a great student of history

But it is sad that some Australians seem to have drunk the Leftist Koo-Aid about the matter. There were once many cars on the street on the day with Austalian flags flying from them. I saw few of those this year. Let us not be bullied out of a very well-justified and enjoyable celebration by the eternal malcontents of the Left
Australia Day was once a big deal Down Under, but in recent years the annual celebration has been somewhat muted. Take the Australian Open, currently running in Melbourne. The organisers have dedicated days throughout the tournament for a range of causes: there has been a Pride day and a day celebrating indigenous art and culture. But although the semi-finals are being played today, on Australia Day itself, there will be no recognition of the country's national day. 'We are mindful there are differing views, and at the Australian Open we are inclusive and respectful of all,' Tennis Australia said in a statement.
Tennis fans aren't the only ones missing out: Victoria's state government has quietly axed Melbourne's Australia Day parade. 'We recognise Australia Day represents a day of mourning and reflection for some Victorians and is a challenging time for First Peoples,' a government spokesperson said.
The recently-elected federal Labor party government is also doing its bit to water down the festivities: civil servants and parliamentary staff are being allowed to work through Australia Day, and take a day off in lieu when it suits them.
Protest-by-working is sweeping corporate Australia. Vicki Brady, the chief executive of Australia's largest telecommunications company, Telstra, announced ostentatiously that she would work through the holiday'
'I'll be choosing to work and will take a different day of leave with my family, because that feels right for me. For many First Nations peoples, Australia Day… marks a turning point that saw lives lost, culture devalued and connections between people and places destroyed,' she wrote on LinkedIn, stating the protest case in a nutshell.
Only three decades ago, Australia Day was a day of national unity and pride
Brady's look-at-me declaration reflects a fault line that's tearing through Australian society. The row over Australia Day is more than a culture war between left and right. The controversy exposes a nation which doubts itself; its angst about its past reveals a collective lack of confidence about our country's future. We Australians are no longer the laconic, easy-going, 'she'll be right' people of national mythology. Rather, we're the world's teenagers, questioning our identity and parentage and rebelling against the western values and heritage – including British culture, institutions and the rule of law – that for so long made Australia the envy of the world. Anti-colonial, anti-British culture warriors and grievance merchants are now setting the national agenda. But we, as an uncertain nation, are allowing them to.
Australia's treatment of its original inhabitants after the First Fleet landed at Sydney Cove in 1788 was far from perfect. But this shouldn't detract from celebrating the outstanding success of the country's national story, or accepting 26 January 1788 as the day that marks the intersection of our continent's ancient past with its future.
Aborigines, who make up just 3 per cent of Australia's population, very much share in the country's progress and prosperity; their culture and heritage enriches Australia. Australia Day, however, is doomed. Many Aussie millennials accept the anti-colonial, anti-western narrative as received wisdom. Perhaps it's no surprise that the downgrading of the holiday has unfolded quickly.
Thirty-five years ago today, Australia celebrated the arrival of Britain's First Fleet – with its motley cargo of 1,400 seamen, soldiers and convicts – with a year-long 'celebration of a nation', as it was officially billed. On the 200th anniversary itself, huge crowds lined the shores of Sydney Harbour under a brilliant blue sky while thousands of pleasure boats were on the water to greet a second First Fleet. This was a commercially-sponsored flotilla of sailing vessels that sailed from Portsmouth to Sydney, recreating the original journey.
Foremost among the crowd was the then Prince and Princes of Wales and Australia's then prime minister, Labor's Bob Hawke. Most Australians recognised that the 1988 anniversary was not universally embraced by descendants of the Aborigines who saw the tall ships come in 1788. But it did not overshadow the day, nor the year's programme of bicentenary events that highlighted the diversity of Australians old and new and celebrated how we, as a country, were proud of who we are and the nation we had become.
Australia Day 1988 was a fabulous day, never to be forgotten – and destined never to be repeated.
Only three decades ago, Australia Day was a day of national unity and pride. It reflected a view that European settlement, blended with indigenous heritage, was overwhelmingly a good thing. Now, however, a significant and growing number of influential Australians are demanding it be moved to another date, because for some it is painful and shameful – and for many it is contentious.
A national day that divides rather than unites is pointless: it may be a vocal minority that brings it down, but unlike that wonderful Australia Day in 1988, a national day that is an official orphan in its own country is no national day at all. Better, like Britain, to not have one.
Activism as a performance, a hideous theatre of the absurd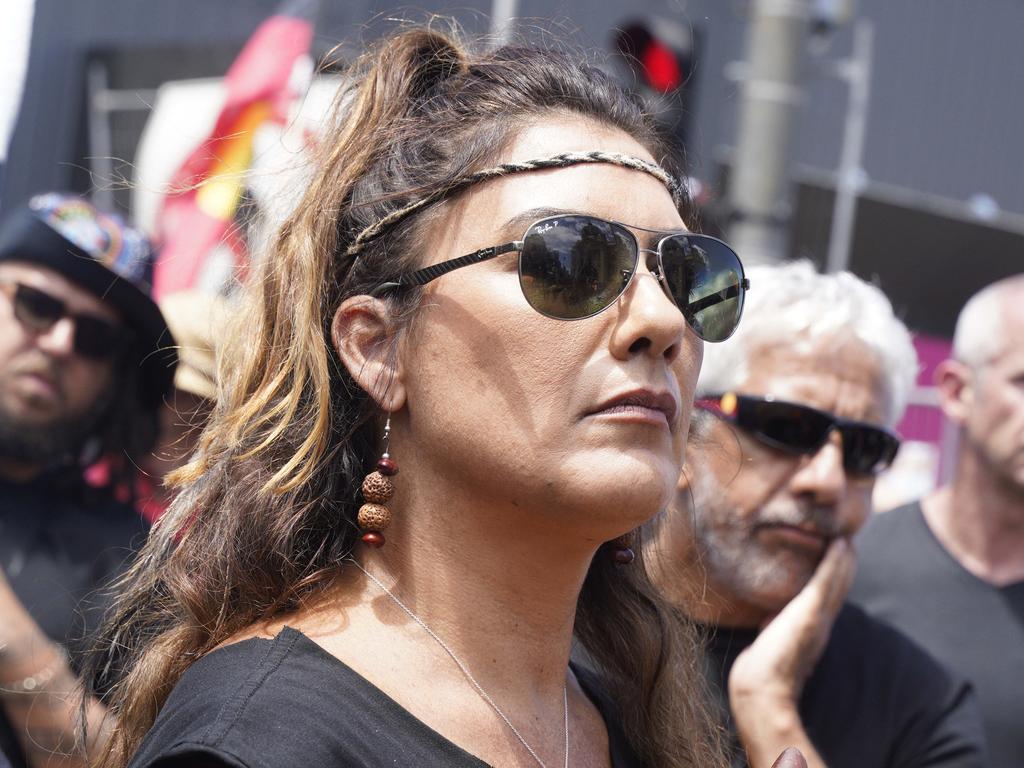 "Protestor" Thorpe
Activists' sound and fury signify that the world is being overrun by posturing idiots.
By CHRIS KENNY
The idea that the world is a stage upon which we mortals act out our lives is an ancient one, popularised by Shakespeare. In the digital age, we seem to have flipped this, so that instead of attempting to solve even the world's most complex problems, we turn them into endless pantomimes and sideshows, just for entertainment and self-­aggrandisement.
Those who claim there is an ­existential threat to life on this planet bely their own alarm by ­expressing it through confected theatre sports. Stunts and memes have replaced rational debate; slacktivism has usurped real commitment and practical efforts.
Imagine, for instance, that an inspired satirist might attempt to mock the global elite and their climate fearmongering. Could you conceive of a better spoof than sending an Al Gore impersonator to the climate-controlled luxury of the World Economic Forum's annual talkfest in the Swiss alpine village of Davos, where billionaires and politicians turn up in private jets to lecture the world on what sacrifices others must make.
You could just see this impersonator of the multi-millionaire former US vice-president (a man with a vast carbon footprint whose alarmist predictions have stubbornly failed to materialise) portraying him getting ever angrier and more hysterical. He might have Gore equating our carbon emissions to "600,000 Hiroshima-class atomic bombs exploding every single day on earth" and ranting about "boiling the oceans, creating these atmospheric rivers, and the rain bombs, and sucking the moisture out of the land, and creating the droughts, and melting the ice and raising the sea level and causing these waves of climate refugees predicted to reach one billion in this century".
Apart from having your audience falling in the aisles, this act would expose the hypocrisy and hysteria of the self-appointed ­climate elites. But I guess you know where this is going – yes, that is exactly what the real Gore did, and said, last week.
These people are beyond ­parody.
Greta Thunberg, the teenage activist who passed out of her teens earlier this month, turned up at Davos just days after being ­arrested at a coalmine protest in Germany, where she posed, smiled, and joked with the arresting officers while the media got their pictures. Theatre.
At Davos, Thunberg rattled off all the well-worn socialist cliches that might have been uttered by her parents in the 1960s or 70s: "self-greed", "corporate greed", "short-term profits", and "profits before people". Thunberg said the people at Davos were the same ones "fuelling the destruction of the planet".
Sitting there, as she was, in the Swiss ski village, Thunberg noted that "the people who we really should be listening to are not here". You can say that again.
Pantomime.
Closer to home, the whole country has had the longstanding and recently escalated social and criminal traumas endemic in Alice Springs' Indigenous communities brought to their attention. In the Alice, and in dozens of other regional towns and ­remote communities, this blight of violent crimes, substance addiction, abused women and children and wasted lives is nothing new.
It is our greatest national shame, all too often ignored, stemming from complex issues of culture, dependency, discrimination and a lack of agency. But instead of visiting these communities, or ­offering solutions to this horror, the Greens spokesperson on First Nations people, Senator Lidia Thorpe, addressed a protest in Melbourne on Australia Day. "This is a war," Thorpe screamed, "a war that was declared on our people over 200 years ago. That war has never ever ended in this country against my people, they are still killing us."
Some in the crowd seemed to be cheering these words as Thorpe added "they are stealing our ­babies" and "killing our men" and "raping our women".
No facts, no conciliation, and no co-operation. Just a grotesque theatre of the absurd.
None of this can achieve anything. It is not designed for outcomes – it is purely performative.
We are such a wonderfully ­diverse and inclusive country that every year there is an increasing focus on Indigenous place names and recognition of country, and more celebration of Diwali, Eid, and the Lunar New Year. The only occasions we try to stifle seem to be Christmas (which highlights the Christian ethos that encourages tolerance) and the celebration of Australia Day (recognising a nation that fosters diversity).
One Nation Chief of Staff James Ashby says Greens Senator Lidia Thorpe does not stand for "every Aboriginal in this country". "You can't take… the stupidity of one woman and make out that she stands for every Aboriginal in this country," he told Sky News host Cory Bernadi. "I believe More
That tennis tournament in Melbourne wants more Australian tax dollars, and thrives on Australian patronage as it celebrates gay pride and Indigenous culture, and it calls itself the ­Australian Open. But it rejects the very mention of Australia Day. Farcical.
Now we are seeing complaints, apparently, about the staging of the musical Miss Saigon, because actors might play roles that differ from their heritage (yes acting, remember, is pretence) and because the musical objectifies women by telling the story of sexual and romantic relationships between US soldiers and Vietnamese women. Madama Butterfly will be next, and My Fair Lady and West Side Story.
Don't even think about Love Story and Last Tango in Paris – all lust and romance soon will be ­cancelled except for Brokeback Mountain. We are eradicating real theatre and film at the same time we are turning the serious ­issues into theatre sports.
Think about how we have no idea what our favourite sports teams or organisations think about communism, freedom of expression, the global scourges of malaria and tuberculosis, women's rights in Muslim theocracies, or the critical role of cheap, reliable energy in lifting people out of poverty. But we all know they support climate posturing and changing the date of Australia Day.
Like Seinfeld's Kramer being attacked for joining the AIDS march without wearing a ribbon, it does not seem to matter what you do, the new public square is only interested in what you display, whether you run with the crowd.
This is the essence of virtue-signalling.
Logic counts for zero. The same organisations that endorse Earth Hour, where they switch off electrical lights in a global-warming gesture, support Vivid, a blaze of electric lights for fun.
The same sporting organisations that trumpet climate concerns and net-zero goals use gas-fired flame effects and fireworks at their games. They seem to emulate Gore, right down to the ­blatant hypocrisy.
This week there was a dramatic pivot in the national conversation towards the social problems in the Red Centre that some of us have been discussing with Jacinta Nampijinpa Price and others for years. Just seven or eight months ago, Price was warning that the scrapping of alcohol bans and the cashless welfare card would exacerbate existing problems.
Nothing happened. But this week the Prime Minister and his team flew in, stage left, and were gone, stage right, within hours. Some changes were made.
But the reforms were the bare minimum in addressing a current escalation in generational problems. The long-term solutions do not make great theatre, they ­require hard, sustained and co-­operative work.
You have to wonder whether we, as a nation, are capable of handling such challenges. Do we have the attention span to go ­beyond a couple of acts?
Energy chaos: the shape of things to come
Australian governments have made energy policies focused on achieving higher shares of renewable energy that they claim is the cheapest source of power. The Commonwealth government is planning for renewables to reach 82 per cent of supply by 2030, while the Liberal Party's plan is for 85 per cent by 2050 and 61 per cent by 2030. State governments have additional plans. In pursuit of these goals, governments around Australia are being sucked into a vortex requiring ever-increasing controls, while seeing mounting cost increases.
Subsidies that amount to $6.9 billion per year have propelled wind and solar, which had virtually no market presence 20 years ago, to their current market share of 27 per cent. The CSIRO and other bodies claim that these are the cheapest forms of electricity, but the absurdity of this is demonstrable – the market shares of wind and solar would be negligible without these subsidies. And the subsidies themselves amount to over one-third of what electricity generation would cost if renewable requirements did not push up prices.
A recent study from the UK identifies a similar magnitude of costs to support renewables (which now provide 36 per cent of the nation's electricity). The hidden subsidies to renewables amounted to 13 billion pounds ($24 billion) in 2021, a little over three times Australia's $6.9 billion cost for a population two and a half times greater. Among major countries only Germany, which has gone even further down the renewables path, has higher energy prices
As in Australia, the UK's growth in subsidised renewables has brought an accelerating increase in prices. That process in both countries predated the Ukraine War. This contradicts Mr Albanese's response, 'News Flash!!! There has been a war in Europe that has had a global impact!' to a question from Chris Kenny on why electricity prices had failed to meet the ALP's projected price fall $275 of per household, but instead had risen by that magnitude.
In fact, European gas and coal prices, though still much higher than a year ago, have fallen (in the case of gas to a quarter of their June-October 2022 levels). That is in spite of a very strong increase in stored reserves. Reasons for this included customer demand response and supply response of non-Russian sources (and Russian sea-borne sources), to high prices, a mild winter and shift from gas to electricity (including coal-generated electricity).
Australia's ballooning energy costs are entirely self-inflicted. They are caused by years of bowing to green ideology by:
increasing taxes on coal and gas;
discrimination against coal and gas by requiring increasing quantities be incorporated in consumers' supplies, this month amplified by obligating an additional 30 per cent cut in emissions from the 215 firms that account for some 28 per cent of electricity demand;
governmental legislative and policy impediments on new mines for coal and gas (as well as the embargo in nuclear) and by government appointed judges' rulings on new mine proposals;
government electricity purchasing that excludes supplies generated by coal or gas.
Australia, like many other countries, is dreaming up new restraints on the use of hydrocarbons. Among these are bans proposed (and already legislated in South Australia) on gas ovens. The rationale for these bans is that, though gas has lower CO2 emissions than coal, an electricity supply comprising solar/wind generation is claimed to have no emissions.
Governments, panicked by the failure of their interventionist energy policies to bring about the low costs they and their advisers confidently projected, have now introduced price caps on coal and gas. With no sense of irony, the objective is to maintain hydrocarbon generators that are being driven out of business by governments' discriminatory energy policies.
The measures exemplify a Hayekian 'road-to-serfdom' process, whereby interventions require consequential additional measures. Having seen policies preventing hydrocarbon developments bring shortages and ballooning prices, the Commonwealth implemented price caps. Predictably, the price caps cause supply shortages from an industry that has been prevented from developing new supplies by government embargoes that have been in place for over a decade. So, governments move on to further control involving specifying levels of production that they think are attainable.
Unsurprisingly, governments working with 'high-level' policy advisers are even botching price cap and associated domestic reserve process.
Companies are unable to interpret the Commonwealth regulations delegated to the ACCC.
New South Wales, working with the Albanese government, is seeking to reserve 22 million tonnes of coal for local consumption. This ex post facto imposition of reserve tonnage requirements will have damaging effects on the reputation of Australia for political certainty and by causing investors to place a premium on future costs, will lower future income levels.
Moreover, much of the planned coal to be reserved for domestic use is of a more valuable quality than that used in domestic power stations. Redirecting it to domestic uses would be wasteful in itself. This would be compounded since burning this higher quality coal in domestic power stations would likely cause damage unless other costs were incurred.
In addition, planning 22 million tonnes of coal to be redirected from exports is evidence of incompetence since even with the Liddell power station open (it is supposed to close in April) only 15 million tonnes were used last year. And if Liddell's output is replaced by that of the remaining four power stations (Bayswater, Vales Point, Eraring, and Mount Piper) their greater efficiency would mean even less coal required.
Imprisoned by the green policies they have set in train, instead of abandoning the embargoes and taxes favouring their preferred renewable sources, governments are doubling down on the restrictions. Yet, each new layer of interventions proves to be inadequate and the mirage of low-cost reliable wind/solar electricity constantly recedes to the horizon.
Unions put in driver's seat: transport operators to pay
Anthony Albanese is preparing to revive Labor's controversial road safety remuneration tribunal powers and set up a fight with 35,000 owner-driver truckies under a new industrial relations crackdown enabling the Fair Work Commission to "set minimum standards" for road transport workers.
The Department of Employment and Workplace Relations has launched consultation with key stakeholders on the government's plan to introduce a safety net of entitlements and protections for those in "employee-like forms of work" and independent contractors.
A leaked government document reveals Labor's second phase of IR reforms will resurrect RSRT-like powers demanded by the Transport Workers Union and NSW Labor senator Tony ­Sheldon, a former TWU national secretary and right-faction powerbroker. Despite a fierce backlash from owner-driver truckies who led protest convoys to Canberra, the Gillard government established the RSRT in 2012 to set pay and conditions for drivers.
The tribunal, which Labor and the TWU claimed would improve driver conditions, lower injuries and combat drug use, was abolished by the Coalition in 2016 over concerns it was discriminating against non-unionised businesses and forcing out mum-and-dad operators.
The Australian can reveal the Albanese government is accelerating its Jobs and Skills Summit pledge to "consider allowing the Fair Work Commission to set fair minimum standards to ensure the road transport industry is safe, sustainable and viable".
According to a department brief, the government's objective is that "all workers, regardless of their working arrangement, have access to a safety net of fair minimum entitlements and protections, while all businesses have the opportunity to compete fairly".
Flagged measures include allowing the Fair Work Commission to set "minimum standards for workers in the road transport industry", reviewing the definition of 'employee' under the Fair Work Act and providing "protections for independent contractors, including the capacity to challenge unfair contract terms".
Workplace Relations Minister Tony Burke – who is leading a separate push to deliver Labor's Same Job, Same Pay labour hire reforms – said there would be "extensive consultation on these measures before we introduce legislation later in the year".
"We made commitments at both the election and at the Jobs and Skills Summit for workers who currently have no minimum standards," Mr Burke told The Australian.
Speaking to union delegates in August, Mr Burke credited TWU national secretary Michael Kaine with helping develop the "idea of giving a flexible power to the Commission".
On closing gaps in the IR system to create a fairer framework for gig economy and road transport workers, Mr Burke told the TWU conference if "you're like an employee in the work that you do, the Fair Work Commission will be able to determine the appropriate minimum pay and conditions for work".
A Small Business Ombudsman inquiry into the effects of the RSRT, ordered by the Turnbull government in 2016, found that payment orders made long-distance and supermarket distribution owner-drivers uncompetitive, contributed to some drivers taking their own lives and created a legal minefield for family-run businesses.
Opposition workplace relations spokeswoman Michaelia Cash, who led the abolishment of the RSRT in 2016, on Thursday accused the government of "putting the interests of its union paymasters above the interests of small and family businesses".
"It is clear that the Albanese government is planning to effectively reintroduce the flawed Road Safety Remuneration Tribunal, putting the livelihoods of 35,000 small-business owner-truck drivers at risk," she told The Australian. "This is all part of Labor's attack on flexible employment arrangements which suit both businesses and employees. It is an attack on how thousands of businesses operate and will lead to job losses and business closures.
"It will be bad for the economy, just like the radical industrial relations laws Labor rushed through the parliament."
Also see my other blogs. Main ones below:
http://dissectleft.blogspot.com
(DISSECTING LEFTISM -- daily)
http://antigreen.blogspot.com
(GREENIE WATCH)
http://pcwatch.blogspot.com
(POLITICAL CORRECTNESS WATCH)
http://edwatch.blogspot.com
(EDUCATION WATCH)
http://snorphty.blogspot.com/
(TONGUE-TIED)
http://jonjayray.com/blogall.html
More blogs
***************************************