Dark Emu documentary reveals new evidence of Aboriginal mining and trading
Although I once taught in a university department that offered courses in anthropology, my contact with the discipline is only a nodding one. I think I have learned enough, however, to offer some preliminary observations about the controversy below. The most original claims below are about the Mithaka are so I will confine my comments to that

And what I see of the "research" involved is pretty ludicrous. Example:


https://www.cambridge.org/core/journals/antiquity/article/hidden-in-plain-sight-the-archaeological-landscape-of-mithaka-country-southwest-queensland/9661E7F90EB7ED535012484DC35FB01A
It consists of little more than "Ethnohistoric accounts". And what are they in plain speech? They are stories recently "remembered" by elderly Aborigines. Which makes them no evidence of anything.
The article also features historical accounts by whites of Aborigines in the middle of the 19th century and as late as the early 1900s. "Diaries and photographs from the early 1900s" are evidence of what pre-settlement Aborigines did??? Should we not instead conclude that Aborigines had learned some things from whites in the previous 150 to 200 years?
And some writers have drawn large conclusions about holes in the sandstone in the Mithaka area. see below
"Mysterious stone formations" have become "more than 200 quarry sites" which are alleged to have produced "grinding stones" Examples below: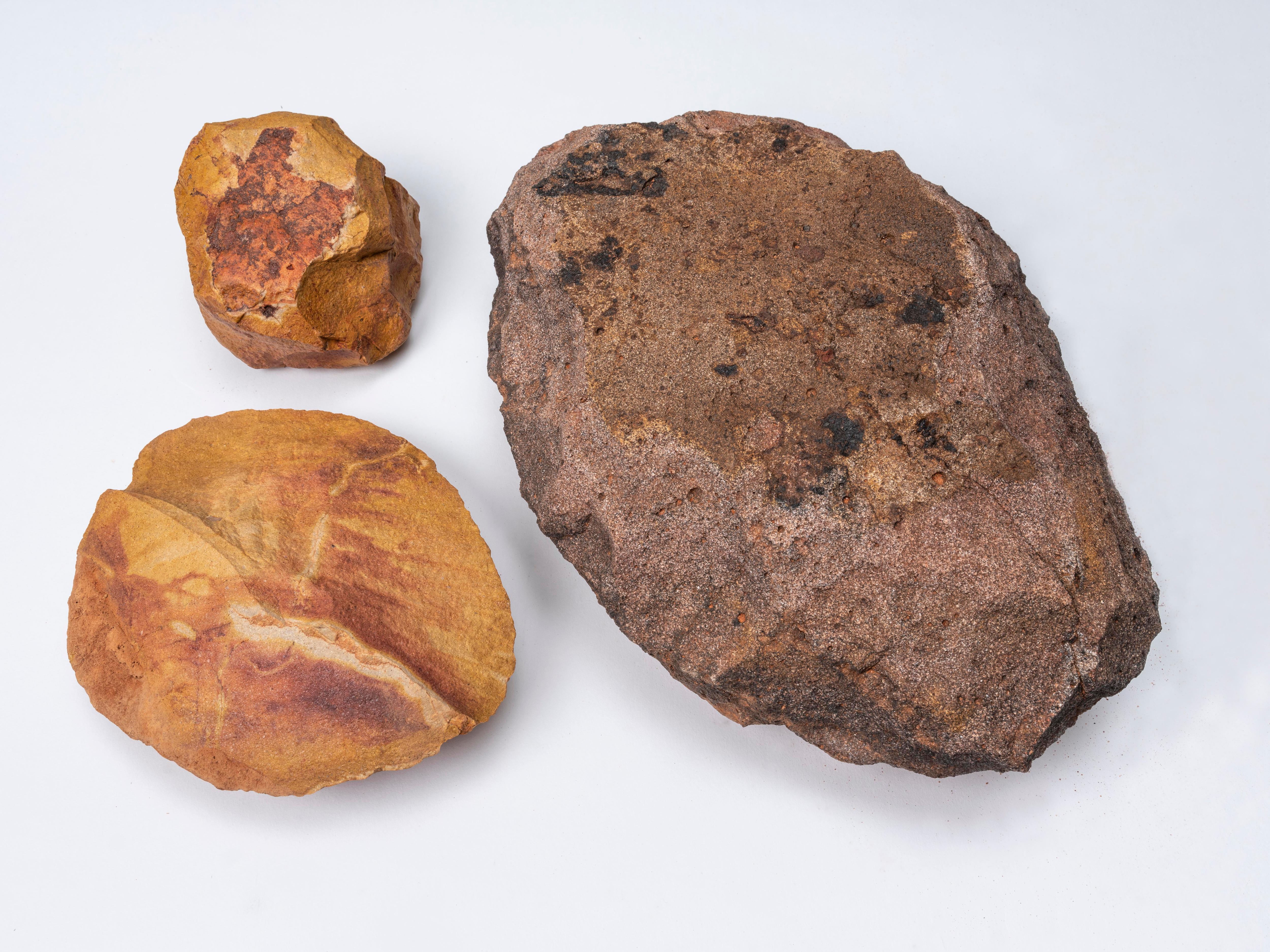 Calling them grinding stones requires imagination. Once when I was a kid I did do a bit of amateur archeology. I went digging in the Innisfail area in a place that was reputed to have been an Aboriginal settlement. And I made a very clear discovery. It was a very recognizable stone axe with grooves to allow it to be fastened to a shaft.
So I know that real Aboringinal artifacts have a shape derived from their use and which suggests their use. Form follows function. I can see nothing of that in the bits of rock above. None of their different shapes suggest grinding of anything. A profusion of well-worn flat stones would have been expected but I see none of that
That is pretty obvious so some writers suggest that these bit of rock were "blanks" to be used for later work to transform them into something. But where are those later works? I can find no mention of lots of them being found
My conclusion is that the sandstone holes are natural formations of some kind. Aborigines may have visited them but are unlikely to have produced them
So why all the excitement? We read that "The current project was initiated in part by the Mithaka Aboriginal group", which suggests that it is just propaganda designed to promote respect for Aborigines.
Bruce Pascoe's bestselling book Dark Emu challenged thinking about Indigenous history – and sparked a fierce culture war – by arguing that Aboriginal people engaged in agriculture, irrigation, construction and baking rather than just being hunter-gatherers before European settlement.
Now the author, academic and farmer has gone even further in a documentary that argues there is new evidence of Aboriginal mining and trading of the grinding stones that were produced.
Writer-director Allan Clarke's The Dark Emu Story, which has a world premiere at Sydney Film Festival on Saturday, refers to a recent archeological site on Mithaka country in south-west Queensland that Pascoe believes reveals a new level of sophistication to Aboriginal land use.
"The people there were engaged in a massive mining operation to extract mining stone cores and dressed them and faced them so that they would be a product for other communities," he said on the way to Sydney for the screening.
"The trade of those stones is yet to be really studied, but it's going to be fascinating because nearly three and a half million stones were mined and then crafted. The vast majority – 95 per cent – were traded."
Pascoe said these sandstone cores, or blanks, were used to grind grain, which indicated that Aboriginal people largely had "a grain-dependent civilisation" before British settlement. Outside the tropics and desert regions that did not produce grass "the vast majority of places were grinding grain into flour".
While the archeological site in the documentary is between Birdsville and Windorah, Pascoe said there was similar evidence of surface mining further west.
"The mining doesn't look like conventional mining," he said. "But any miner would understand that it would be called mining. There's no machinery obviously, but there were tools and levers."
Published in 2014, Dark Emu was critically acclaimed, won major literary awards and has sold a phenomenal 360,000 copies. The Indigenous dance company Bangarra adapted it into a dance and Pascoe wrote a version for young readers.
But there has also been ferocious backlash that questioned Pascoe's claims about the sophistication of Aboriginal culture and the quality of his research.
The most comprehensive rebuttal came two years ago in anthropologist Peter Sutton and archeologist Keryn Walshe's book Farmers or Hunter-Gatherers? The Dark Emu Debate.
They argued that Pascoe was broadly wrong in his claims about the sophistication of Aboriginal culture and that his book was poorly researched, exaggerated many points, selectively emphasised evidence to suit his opinions and ignored information that did not support his case.
Sutton and Walshe raise their concerns in The Dark Emu Story, which will screen on the ABC later this year.
But as producer Darren Dale of Blackfella Films has said, the documentary is "us trying to reclaim some of the debate around the book".
Clarke, a writer-director who is best known for the SBS documentary The Bowraville Murders, is a Muruwari and Gomeroi filmmaker and The Dark Emu Story has Indigenous academic Marcia Langton, broadcasters Stan Grant and Narelda Jacobs, choreographer Stephen Page and others arguing for the book's importance despite the criticisms.
Originally planned as a three-part series, it is now a single feature-length documentary that is competing in the festival's $60,000 competition for "audacious, cutting-edge and courageous" films.
"Because the culture wars erupted the way they did, that had to be addressed," Pascoe said. "That's now quite a significant part of the film's purpose, to talk about those issues and how they manifest themselves in Australia."
Pascoe rejected the criticisms in Sutton and Walshe's book.
"I find it a little bit embarrassing that people of such great intelligence can avert their eyes from the bleeding obvious," he said. "The film addresses that and the significance of the new archaeologies is unmissable and this is what I hope Australians will cheer about.
"They will find after watching the film that there are many examples of Aboriginal people having a really strong, well-founded society and economy."
The controversy has been hard on Pascoe, who says in the documentary that it resulted in him separating from his wife, author Lyn Harwood, for four years and that they still live in different houses, adding: "I just feel very tired in my spirit."
Before the screening, Pascoe said he expected the backlash.
"I was also expecting the kind of [positive] response that the book had because during its production over a period of five or seven years, I'd come to understand Australia's craving for a more realistic telling of the history," he said. "But I knew that there were some in the country that could not tolerate anything but a colonial Raj mentality."
Andrew Bolt and other conservative commentators have called Dark Emu a literary hoax and claim Pascoe invented an Aboriginal family background.
"I wasn't surprised at all," Pascoe said. "Eighty-five per cent of my genes are Cornish and English so I can see both sides of the fence.
"That's a difficult position to be in. You ask any Aboriginal person how difficult it is to honour both families.
"But it's really the Australian condition, where we have to come to terms with the fact that for 30, 40 years there were virtually no white women in this country. As a consequence, there are a lot of mixed-race Aboriginal people."
Pascoe said Australians should be excited by archeological revelations that indicate "a culture that has no other likeness in the world".
"This last 20 or 30 years has been quite revelatory about the culture of Aboriginal and Torres Strait Islander people," he said.
The Voice to parliament referendum, Pascoe said, had been caught up in the same culture war as Dark Emu.
"It's really sad that conversations which should be considered and full of information and progress become three-word slogans – "the Canberra Voice" and things like that, which are just silly," he said. "Aboriginal people who have misgivings now, should the Voice succeed, will find that it changes a lot."
https://www.brisbanetimes.com.au/culture/movies/dark-emu-documentary-reveals-new-evidence-of-aboriginal-mining-and-trading-20230614-p5dgio.html?ref=rss&%3Butm_medium=rss&%3Butm_source=rss_feed
********************************************************
In their own words: 'Demonised' property investors threaten to bail on Qld
Queensland property investors have unleashed on the State Government in a recent survey that revealed more than 80 per cent are considering bailing on the Sunshine State.
The Real Estate Institute of Queensland recently published the results of its survey of more than 3300 Queensland property investors, with 81.4 per cent of respondents saying that recent and proposed tenancy law changes had influenced the likelihood that they would sell up.
Now The Courier-Mail can reveal exactly what some of those investors said in response to questions contained in the survey, and it is not a glowing report card for the Queensland Government.
When asked for their primary reason for considering selling, many pointed to ongoing rental reforms, bad tenants, increasing holding costs and the stigma that all landlords were "greedy, wealthy people" among some of their key gripes.
"The rules keep changing and the government is now trying to tell me what I can and can't do with my asset," one said.
One landlord wrote: "Government at all levels driving up costs, sleight of hand legislative changes such as the recent move to allow rent increases only once every 12 months. QCAT failing to apply the legislation have made it a very risky and onerous investment class. Plus the constant demonisation of landlords, failing to appreciate the risk they take and that they supply the housing government has single-handedly failed to invest in."
Rising interest rates and maintenance costs, falling yields and a cap on rent rises have also made holding on to an investment property untenable for some, according to the survey responses.
"We have not increased rents on our properties to keep up with all the increases in interest, maintenance etc, as we are trying to keep current, settled tenants, but these changes are making our finances dwindle to such an extent that we are considering selling our properties," one investor said.
It comes as property managers warn that the number of investors seeking appraisals is "through the roof" as stage two of the state's latest rental reforms are being considered.
Those proposed reforms include making it easier for tenants to install the safety, security and accessibility modifications they need, helping parties negotiate about making minor personalisation changes to rental properties, finding a balance between tenants' rights to privacy and owners' need for information, ensuring rental bond settings provide appropriate security and parties are transparent and accountable for their bond claims and ensuring that rent payment, utility and re-letting fees and charges are fair and reasonable.
The reforms are supported by Tenants Queensland.
But on the topic of modifications, landlords expressed concerns around tenant-caused damages and liability. "How can a lay person be allowed to alter a property without consent of the person that owns it?", one investor said. "Why should anyone be able to do what they want to our hard earned assets?"
Another said they were already considering selling their four investment properties. "We have done the right thing with our tenants for over 10 years (and) I am not prepared to take on all of the risk and debt associated with owning investment properties," they wrote.
Another investor said they had already made the decision not to renew their current leases and would sell them as a vacant possession.
Ray White AKG CEO Avi Khan, who has over 2000 rental properties on his books, said the number of investors seeking appraisals was "through the roof", adding that the vast majority were interstate investors who perceived that the government was taking away control of their assets.
"And if that continues, it will only make the rental crisis worse," Mr Khan warned.
The latest PropTrack Rental Vacancy report said that while vacancy rates remained steady in May, the rental vacancy rate remained half the level seen before the pandemic.
Rental vacancies ticked up 0.08 per cent in Brisbane during the last quarter, but declined 0.05 per cent in the combined regions.
REIQ CEO Antonia Mercorella said they had shared "overwhelming reports" of private owners selling up or considering getting out of the Queensland market.
"We have maintained that a prominent factor in an owner's decision to withdraw property from the permanent rental market over the last three years has been tenancy law reforms and the perceived lack of control over their assets," she said.
"The proposed stage two rental reforms are the fourth rental law related reform in as many years.
https://www.couriermail.com.au/property/what-property-investors-really-think-about-owning-in-qld/news-story/8e66fe73afd2c0c366f25f51f236e7ea
*************************************************
Government schools losing students
No surprise why. Government schools offer a choice range of chaos and propaganda
Public primary schools in Sydney's east, north shore and inner city have lost more than 4700 students in the past four years, with more children being clustered in composite classes to manage shrinking enrolments.
The decline in public sector enrolments – intensified in more affluent suburbs – comes as more families move suburbs, switch catchments, or leave to secure a place in year 5 at private schools.
In a letter to parents last month, Clovelly Public's principal Matt Jackman made an impassioned appeal to parents urging them to push back against the "pressure and marketing the private sector" places on families and keep children enrolled through to year 6.
"As with most public schools in the eastern suburbs, we are seeing an even greater increase in students leaving the public education system at the end of year 4," he wrote.
"There are a variety of reasons this happens, but the one I hear most is that private schools can't guarantee placements in year 7 if the child does not transfer over in year 5."
The fall has occurred as schools in the east and north have recorded the fastest growth in composite classes – where students from different years are grouped – rising by 35 classes, or 20 per cent between 2019 and 2022.
Principals say cost of living pressures mean families are relocating to more affordable parts of Sydney, while private schools are competing for top-achieving students in year 5 by offering scholarships or encouraging parents to enrol before year 7 to avoid forfeiting a place.
A NSW Education Department spokesperson said there had been a surge in births between 2005 and the end of the baby bonus payments in 2014, which was translating into falling enrolments.
Public primary schools in the eastern suburbs have been hit with the biggest enrolment drop, declining by 13 per cent in four years, followed by the northern beaches, North Sydney and inner west.
In Maroubra Junction Public's latest annual report, the school notes declining enrolments are partly due to families moving "out of the local area for financial reasons, transferring into their local school closer to their new residence".
Morag Bond said she opted for Coogee Public for her son Jonah – who is now in year 4 – because of the school's proximity to the family home, the teachers and extension activities offered.
"Coogee is our local school, and we really saw the benefits in that. But it's been hard this year. He's losing his friends as they go into private and Catholic schools," she said. "I appreciate it's such an individual decision, but we are happy, and he will stay until the end of year 6."
She is undecided about secondary options, except that it will be a school close to home. "There is also the massive financial pressure of private education. People can get seduced by well-kept grounds, or the facilities, but it's important to look at the school as a whole," she said.
Despite an overall decline in public school enrolments due to population changes and lower migration, private schools have retained a steady share of students over the past four years.
Independent schools increased enrolments from year 4 to year 5 by 1500 students in 2022, up by 35 per cent from 2020. Year 5 is the biggest intake grade into private schools after year 7.
Another parent, Heather Shepherd, who has a son in year 4 at Randwick Public, said there was a noticeable difference in year 5 and 6 class sizes.
"There is a lot of pressure on parents to get them into a private school, or they are moving away from Randwick because there is no co-ed public high school option. Families leave for different reasons, but I think staying at the school until year 6 is such a rite of passage," she said.
NSW Department of Education Secretary Murat Dizdar said he wants parents to see public schools as the first choice. "I know independent and Catholic schools compete strongly for enrolments. I want our public schools to be competing too, and that starts with attracting and retaining the very best teachers and school leaders," he said.
The department spokesperson said it was common for schools across NSW to have composite classes and the evidence shows they do not disadvantage students compared with single grade classes.
https://www.smh.com.au/national/nsw/the-parents-resisting-the-shift-to-enrol-year-5-kids-in-private-schools-20230614-p5dgg6.html
**************************************************
That's what friends are for: Labor and the trade unions
Everyone knows there is a close connection between the Australian Labor party and the trade unions. Arguably, the ALP is just a fully owned subsidiary of the trade unions.
Every time Labor is in power, both federally and at the state level – and that's a lot of the time these days – a principal role of that government is to dole out favourable treatment to the unions. By tightly controlling pre-selections, the trade unions ensure these special deals are ongoing.
Of course, it's a case of 'you scratch my back and I'll scratch yours'. The unions come good with financial support for Labor at election time as well as providing organisational support, with members doing much of the legwork associated with elections. We can now add in the money that comes via industry super funds with their close links to the sponsoring unions, something which Senator Andrew Bragg has been energetically tracking.
Of course, any sensible, liberal-minded person doesn't object to trade unions. It's a fundamental right in any democracy for individuals to associate and combine to create groups to represent their interests. Indeed, Australia signed up to the Freedom of Association convention of the International Labour Organisation many, many years ago.
But where it gets tricky is that freedom of association is limited to registered trade unions in Australia – that is, to those organisations given the tick of approval by the regulator. Life is made very difficult for alternative organisations that are prevented from competing on equal terms. And as Speccie readers know, monopolies are bad, no matter what form they take.
We have witnessed the valiant efforts of the Red Union Support Hub based in Queensland, but with membership now across Australia and New Zealand, establishing alternative unions for nurses, teachers and a number of other occupations. By guaranteeing that no union funds will be directed to political parties as well as offering lower fees, these new unions have an attractive product to sell to members.
Needless to say, the existing trade unions have been none too impressed with this development and have called in favours from the political wing of the movement. The Queensland government has obliged by making life very difficult for the Red Union Support Hub by enacting specific legislation to preclude these new unions from providing industrial representation for their members. The federal government has also been happy to oblige with some legislative changes to make life difficult for the Red Unions.
But returning to the issue of the favours that Labor governments hand out to their mates in registered trade unions, sadly there are no handy lists hanging around to quickly assess the actual assistance provided and its magnitude. It's a matter of ferreting around, keeping your ear to the ground. Sometimes information leaks out unexpectedly.
Take, for instance, the recent review by IBAC (Independent Broad-based Anti-Corruption Commission) in Victoria. Short of declaring what happened to be corrupt, the review did establish a series of events that failed to meet the standards of good governance. Dan the Man described the report as 'educational'.
In brief, the state secretary of the Health Services Unions had complained to the Labor government that her union was not receiving the sort of financial assistance that other unions were. To appease her, a dodgy scheme was concocted – the union was to be granted a large sum of money (over $3 million) in order to train workers to deal with violence in health-care settings.
The project was not properly specified, there were no criteria established for the selection of the successful candidate and the money was simply handed to the HSU, notwithstanding the hesitation of some public servants. The truth be told, neither the premier nor the health minister gave the awarding of this money – money for nothing really – a second thought.
Staying with Victoria, the government has decided that kindergarten (pre-school) for three- and four-year-olds should be free – OK, free of charge – both at stand-alone kindergartens and when delivered at childcare. In order for the childcare operators to receive the subsidies from the government, they must enter into model agreements with the United Workers' Union. This involves workers being 'encouraged' (made) to join the union.
The UWU also covers aged care workers, with the exception of those with nursing qualifications. It is keen to sign up more unions in a sector that is traditionally poorly unionised – like childcare. One of the ways this is being achieved is through government restrictions on aged-care operators importing workers independently rather than through a union-controlled arrangement.
How this works is that the minimum wage that must be paid to temporary workers is about to be lifted quite significantly – it is currently $53,900 per year but is about to be raised to $70,000. When a consortium of aged-care operators (who are beset by worker shortages) sought a lower figure for their sector, the minister quickly declined.
His advice was to use the union scheme which allows migrant aged-care workers to be paid less! (Yes, you read that correctly. It's how the minimum wage works in parts of the US – unionised workers can be paid less than non-unionised ones.)
We have also seen union involvement in the Pacific Australia Labour Mobility Scheme in which persons from the Pacific Islands come to Australia to work on farms. Recently, the union has decided that the PALM workers must be guaranteed work of at least 30 hours per week – or paid for these hours – notwithstanding the variability of the demand for farm workers. In turn, groups representing the farmers have pointed out that this will make the scheme unviable and they will be turning to alternative workers such as backpackers and grey nomads.
Then there is the Productivity, Education and Training fund set up by Jimbo, with an initial allocation of $8.9 million last year, but topped up to $20 million in the most recent federal budget. 'The purpose of the PET fund is to ensure stakeholder groups are properly resourced to educate their members and engage in the government over our reforms so we can get the best outcomes for Australian workers'. Each union – or possibly each state branch of each union – will be eligible for grants of up to $200,000 'to engage in industrial relations legislation'. (In theory, employer associations can also apply.)
I am only scratching the surface here. There are numerous examples of favours being doled out to unions and union enemies punished.
Even so, the unions still face an existential threat with falling membership and shaky finances (with the exception of the CFMMEU). For them, Labor governments are essential.
https://www.spectator.com.au/2023/06/thats-what-friends-are-for/
************************************
Also see my other blogs. Main ones below:
http://dissectleft.blogspot.com
(DISSECTING LEFTISM -- daily)
http://antigreen.blogspot.com
(GREENIE WATCH)
http://pcwatch.blogspot.com
(POLITICAL CORRECTNESS WATCH)
http://edwatch.blogspot.com
(EDUCATION WATCH)
http://snorphty.blogspot.com/
(TONGUE-TIED)
http://jonjayray.com/blogall.html
More blogs
***************************************