A leftist mind on display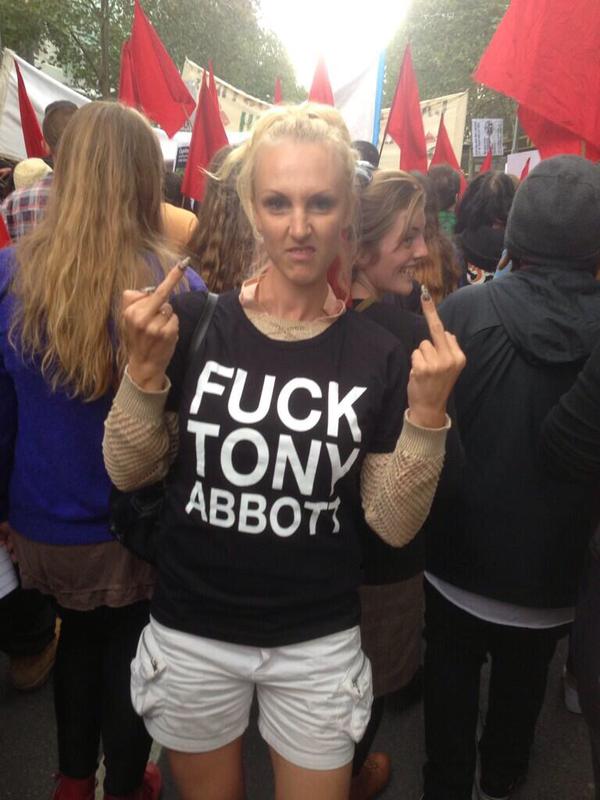 Feel the hate
Economic illiteracy at the ABC
The ABC's Fran Kelly couldn't help herself on Tuesday morning when she interviewed visiting American economist Arthur Laffer on Radio National. Not happy to simply tell her listeners who Laffer was and let him speak for himself, before he had even said a word, Kelly started the interview by describing what he was going to talk about as "whacky". And just to make sure ABC listeners got the message Kelly later tweeted: "Boost growth by cutting taxes to rich. Huh? Ex-Reagan adviser Arthur Laffer explains how @rnbreakfast."
Arthur Laffer is the author of the most famous diagram in modern economics – the Laffer curve. It shows something simple and obvious. When the tax rate is zero, the government will collect no revenue. When the tax rate is 100 per cent, the government won't collect any revenue either. The insight of Laffer and so-called "supply side economics" is that reducing the tax rate can stimulate economic activity and ultimately generate more government revenue. Which is exactly what happened under Reagan.
Fran Kelly's reaction is not unusual. Few things are more likely to befuddle an ABC journalist than being told lower taxes are good for economic growth. But to be fair, given the argument for cutting taxes is made so rarely in Australia these days, it's no surprise Kelly was perplexed. If the majority of public policy commentators in this country are calling for higher taxes, that's what the ABC will report.
The Labor Party, trade unions, the welfare lobby and government-funded think tanks certainly don't argue for lower taxes. Nor (sadly) does the Coalition. Worse, the Coalition raises taxes.
The Coalition's "deficit levy" on high income earners is assumed to raise $3 billion over the next four years. Over that time Commonwealth government revenue is projected to be a total of $1710 billion. For the sake of a 0.175 per cent difference in revenue over four years (in the scheme of things, a rounding error) the Coalition gave Australia one of the highest top marginal rates of personal income tax in the world. The government demonstrated that in the name of "fairness" it would penalise those who already paid more than their fair share of taxes. The Coalition can now hardly complain about how its first budget is attacked because it's "unfair'", when it was the Coalition itself that decided the budget must be "fair".
It's no wonder that in an interview with Jonathan Shapiro for The Australian Financial Review, Laffer said of the deficit levy: "I'm not Australian. I don't know enough about the country, but if that was done in my country, the people that recommended those surcharges would be hypocritical political hacks … Rich people are different from us. They can hire lawyers, accountants, deferred income specialists, senators … we can't. The one thing we know about US taxes is that whenever you raise tax rates on the rich you collect less money from them and whenever you lower tax rates on the rich, you collect more money from them."
Instead of the Abbott government arguing with the left about "fairness" – a debate the government should never have started in the first place (because "fairness" is only a code word for redistribution) – Tony Abbott and Joe Hockey should been explaining how to grow the economy.
The PM and Treasurer could do worse than study the principles for tax reform set out in Laffer's book The End of Prosperity: How Higher Taxes Will Doom the Economy – If We Let It Happen. The first principle is: "When you tax something you get less of it and when you tax something less, you get more of it." Another is: "The higher the tax rate, the more damage to the economy and the greater the economic gain from reducing the tax rate."
Perhaps the most important of Laffer's principles for tax reform is about social justice.
"The best tax system helps make more poor people rich, not rich people poor."
Maybe the question of how tax cuts can help poor people could be the topic of conversation when Laffer is next interviewed on the ABC. And in the meantime, a copy of The End of Prosperity is on its way to Fran Kelly.
SOURCE
Disability scheme rollout soon in NSW
John Della Bosca, Every Australian Counts campaign director said: "The news that the NDIS will be a reality in Western Sydney and the Blue Mountains from September, more than nine months ahead of schedule is a game changer for the disability community."
Today Premier Baird committed that if re-elected he would sign an agreement with the Commonwealth to start delivering early intervention services for up to 2,000 young people with disability living in Penrith and the Blue Mountains from September this year, rather than July 2016 as currently scheduled.
John Della Bosca, continued: "Mike Baird is the first Premier to formally commit to move the NDIS from a trial to a delivery phase. The NDIS is now on the move – it's growing and that's exciting.
"As this news sinks in people with disability and their families across Australia will be asking the question of their Premiers that if Mike Baird can speed up the NDIS why can't they?
"The NSW Government has championed disability reform. They were the first state to sign up to the NDIS, the only state to seriously invest in funding service providers to prepare for the NDIS and now are the first state to start the NDIS roll out beyond the trial sites.
"The Every Australian Counts campaign acknowledges the strong bi-partisan support for the NDIS and we expect the NSW Opposition will also commit to speeding up the roll out of the NDIS."
John Della Bosca concluded, "The most exciting part of today's announcement is that it's not a committee, or a policy paper. It's real action which will allow more people with disability to receive the supports and services they desperately need."
Press release
Former NSW Labor treasurer Michael Costa accuses his party of a $10 billion taxpayer betrayal in opposing poles and wires sale
FORMER Labor treasurer and union supremo Michael Costa has launched a blistering attack on his ex-comrades, accusing them of running a campaign of "desperate lies" and costing the taxpayer billions.
Mr Costa said unions had already cost the NSW public almost $10 billion by knifing the power privatisation he and Morris Iemma attempted in 2008, all so they could protect their own self-interest.
And Bob Carr's $25 billion privatisation plan would have delivered $35 billion in today's dollars had unions and the Labor Party machine not blocked it, he said.
His comments were backed up by Labor elder Martin Ferguson in an interview. "This misinformation that we've got led by my own party the Labor Party of NSW suggesting that privatisation will be the detriment of consumers, that is just a bald lie," Mr Ferguson told Keith Orchison in an interview on website onpower.com.au.
Writing exclusively in The Daily Telegraph, Mr Costa — who rose through the union ranks to Unions NSW secretary and eventually treasurer in the Iemma Government — fully endorsed Liberal Premier Mike Baird's "sensible and moderate" proposal to lease 49 per cent of the state's poles and wires to fund a comprehensive infrastructure plan for the state.
"For two decades NSW has been cursed with a dishonest debate on electricity privatisation which has resulted in a small, privileged special interest group, the electricity unions, maintaining their advantages at the expense of the general good," he said.
"Lie after desperate lie is being thrown at the public in an attempt to frighten the electorate into rejecting the Baird government's sensible and moderate reforms to the electricity industry."
Mr Costa noted the Australian Energy Regulator's findings that NSW electricity capital and operating costs were up to 35 per cent higher than they could be, costs that were eventually borne by consumers.
As well as Mr Carr, Mr Iemma and Mr Ferguson, Mr Costa joins former Labor leaders Paul Keating and Mark Latham, who have all backed electricity privatisation.
"The only conclusion any sensible person can draw is that electricity privatisation is overwhelmingly good for NSW," Mr Latham told radio 2UE yesterday.
"What I'm worried about with Luke Foley is the denial of facts … To wipe the facts is just a Luddite position unworthy of a party like Labor."
Mr Costa said even Mr Foley realised the current system was inefficient. "That's why he says he is supporting the Australian Energy Regulator's revenue path even though it will lead to significant job losses in the sector."
Mr Costa said that under his and Mr Iemma's planned 2008 privatisation, the state could have raised $15 billion from the sale of retailers and generators alone.
After a brutal union revolt, ALP head office pulled its support and in the end a piecemeal compromise proposal yielded just $5.3 billion. "In short, union action destroyed nearly $10 billion of potential value," Mr Costa said.
In the aftermath, Mr Costa was dumped as treasurer by Mr Iemma, who was then dumped as premier in turn and replaced by Nathan Rees.
The Baird plan to lease 49 per cent of the poles and wires for 99 years is estimated to yield some $20 billion in combined revenue and savings that could then be ploughed into infrastructure.
A UBS report released this week predicted $11 billion in proceeds from the lease and $15 billion in cleared debt.
Unions NSW secretary Mark Lennon said last night he stood by the union's campaign claims that prices would rise if the poles and wires were sold and said its view was supported by the public.
"We stand by our campaign that privatisation will lead to higher prices for the public."
SOURCE
New Leftist Victorian government: Climate variability out, climate change in
Climate change is back on the political agenda in Victoria, with the Andrews Government considering going it alone with a state-based greenhouse gas emissions reduction target.
In a symbolic but significant gesture, Environment Minister Lisa Neville has ordered bureaucrats in her department to "call it what it is - climate change", banning the phrase "climate variability" preferred by the former Napthine government.
In a speech to the Australian Coastal Councils Conference last week, Ms Neville declared "we are putting climate change back on the agenda in Victoria", promising to make the state a national and international leader on the issue.
"In the absence of national leadership on this critical issue, we understand as a State Government we must take the lead on climate change and are committed to reinvigorating climate action within our state, and restoring Victoria's status as a leader in Australia and internationally," Ms Neville said.
Although the environment barely featured in the recent election campaign, the comments suggest the Andrews government wants to make it a central political issue. It is believed a push by the former Bracks Labor government to introduce a state-based emissions trading scheme could potentially be reinvigorated, with Victoria in discussions with both South Australian and New South Wales.
Asked about such a possibility, Ms Neville told Fairfax Media it was too early to make any commitments, suggesting the outcome of global climate talks in Paris later this year would shape the state's policy.
As a first step, the state government is considering whether a Victorian emissions reduction target might be introduced.
"We are currently reviewing legislation and programs and whether a state carbon emissions reduction target would be effective," Ms Neville told the conference. "We're also refocusing the role of Sustainability Victoria to assist communities to take practical action locally and assessing the need for additional policies and programs."
Ms Neville has been picked to lead the national "climate adaptation working group" of environment ministers. She said support for action on climate change had slipped by 20 per cent in the last four years, suggesting people have a hard time accepting solutions to a problem that is essentially long term.
"We must recognise that we have been here before," she said. "We tried to create that bigger picture federally and it fell over."
Given the global nature of the problem, business groups have expressed alarm about the possibility of unilateral action.
Australian Industry Group Victorian director Tim Piper said he had no problem with Victoria taking on a leadership role. "But we also know that unilateral regulations which don't bring the rest of the country with us disadvantage Victorian companies and consumers and are bound to fail," Mr Piper said.
Environment Victoria chief executive Mark Wakeham said he was optimistic Labor was genuinely committed to "decarbonising" the economy.
"Labor's commitment to reintroducing an emissions reduction target for the state, and its appetite for working with other states like SA and NSW to increase and lead national efforts on decarbonisation is an extremely positive development in the lead up to international climate negotiations in Paris," Mr Wakeham said.
SOURCE
Norfolk Island going into administration
A remote island in the Pacific whose residents are descendants of the swashbuckling British sailors and Tahitian women immortalised in the Mutiny on the Bounty movies is set to lose its right to self-rule.
Norfolk Island, 900 miles east of the Australian coast and settled by the relatives of Fletcher Christian and other HMS Bounty mutineers in 1856, has about 1,800 residents and has governed itself since 1979.
But it is effectively bankrupt and on Thursday, Canberra said it would introduce legislation next week to scrap the Australian territory's parliament.
Australian Prime Minister Tony Abbott has come under fire for the move - with the descendants of the mutineers leading the opposition.
If it passes, the island's legislative assembly will be temporarily replaced by an advisory council, before local government elections in 2016.
Personal and business tax will be introduced from July 2016 and residents will in return be able to access social security, healthcare benefits and services enjoyed by Australians.
The island, which has it's own native dialect called Norfuk, will no longer run its own immigration, customs, quarantine, education, police and social services, according to The Telegraph.
Australia's assistant regional development minister, Jamie Briggs, said the changes were long overdue and it was not sustainable to ask a community of just 1,800 to deliver local, state and federal services.
He said the infrastructure on Norfolk Island was run down, the health system is not up to standard and the laws are out of date.
'The community overwhelmingly supports reform and is of the view that the current governance arrangements are not suitable,' he said, adding that Norfolk Island was effectively in administration and reliant on Australian bailouts.
'It is diabolical -- it is quite concerning that it's been left for so long,' he added.
Norfolk Island Chief Minister Lisle Snell said it was unfair to impose such a decision on the tiny outcrop, just five miles long by three miles wide.
'Norfolk Islanders will lose their identity, they will lose their way of life,' Mr Snell told the Australian Broadcasting Corporation.
Most of the population are descendants of the mutineers who set Captain William Bligh adrift from British Royal Navy ship HMS Bounty in 1789.
The mutiny gained such a romantic gloss that chief mutineer Christian has been portrayed by a series of Hollywood heartthrobs over the years, including Errol Flynn, Clark Gable, Marlon Brando and Mel Gibson.
The mutineers settled in Tahiti but later fled, along with their Tahitian women, to remote Pitcairn Island to escape arrest.
Some 60 years after arriving on Pitcairn, almost 200 descendents of the original mutineers relocated to Norfolk Island to avoid famine.
Queen Victoria granted them the right to settle in the abandoned former penal colony.
SOURCE